Angry Birds™ Red Bird & Bad Piggy DecoSet®
The Magic of Cakes® Page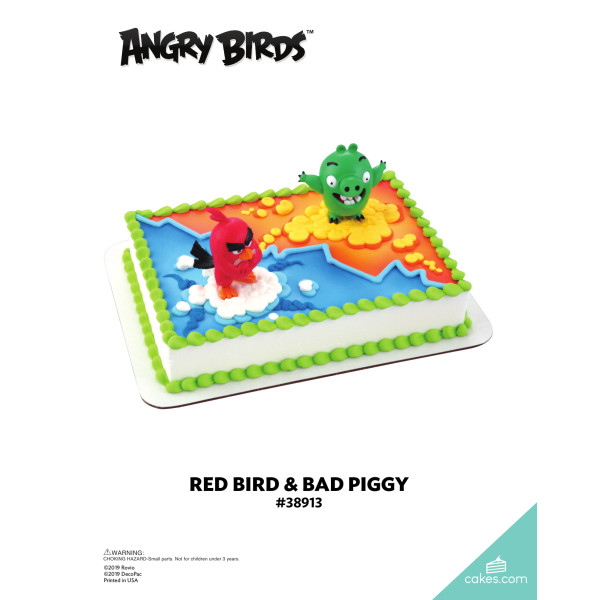 *Note: These support items are free of charge and ship automatically with your first order.
Product Details
Show your customers the excitement of this cake design by adding it to The Magic of Cakes Book at your location! This page coordinates with the Angry Birds™ Red Bird & Bad Piggy DecoSet and features an iced cake design.
ANGRY BIRDS TM & © 2016 Rovio Entertainment Ltd. All Rights Reserved.
Related Items
[#<Spree::Product id: 3624, name: "Angry Birds™ Why So Angry?", description: "The Angry Birds™ are ready to party and these ring...", available_on: "2019-09-17 05:00:00", deleted_at: nil, slug: "angry-birds-why-so-angry-cupcake-rings", meta_description: "", meta_keywords: "angry birds; bad piggie; rings;", tax_category_id: nil, shipping_category_id: 1, created_at: "2017-09-08 06:38:58", updated_at: "2019-09-17 19:08:51", promotionable: true, meta_title: "", discontinue_on: "2020-12-31 06:00:00", product_group_id: nil, photocake_frame_item: false, choking_hazard: false, trademark_short_description: "ANGRY BIRDS TM & © 2016 Rovio Entertainment Ltd. A...", name_2: "Cupcake Rings", new_prenew: nil, avail_to_purchase: true, coming_soon: false, search_sequence_number: 640, coming_soon_date: nil, product_type: "item", display_dimensions: ["RING(RED,GREEN,YELLOW,ORANGE): 1.55 x 1.45 x 0.65 inches"], custom: false, generic: false, no_shipping: false, image_credit_item: false, limited_quantities: false, tax_cloud_tic: "00000">, #<Spree::Product id: 7268, name: "Angry Birds™ Red Bird & Bad Piggy", description: "The Angry Birds™ are at it again! Help Red Bird an...", available_on: "2019-09-17 05:00:00", deleted_at: nil, slug: "angry-birds-red-bird-bad-piggy-decoset", meta_description: nil, meta_keywords: "Angry Birds; red bird; bad piggie;", tax_category_id: nil, shipping_category_id: 1, created_at: "2017-09-08 06:50:59", updated_at: "2019-09-18 03:03:20", promotionable: true, meta_title: nil, discontinue_on: "2030-12-31 06:00:00", product_group_id: nil, photocake_frame_item: false, choking_hazard: true, trademark_short_description: "ANGRY BIRDS TM & © 2016 Rovio Entertainment Ltd. A...", name_2: "DecoSet®", new_prenew: nil, avail_to_purchase: true, coming_soon: false, search_sequence_number: 746, coming_soon_date: nil, product_type: "item", display_dimensions: ["Red Bird Figurine: 1.8 x 2.4 x 3.05 inches", "Bad Piggy Figurine: 2.4 x 2.45 x 3.05 inches"], custom: false, generic: false, no_shipping: false, image_credit_item: false, limited_quantities: true, tax_cloud_tic: "00000">]