Batman™ Chase is On
Cake Decorating Instruction Card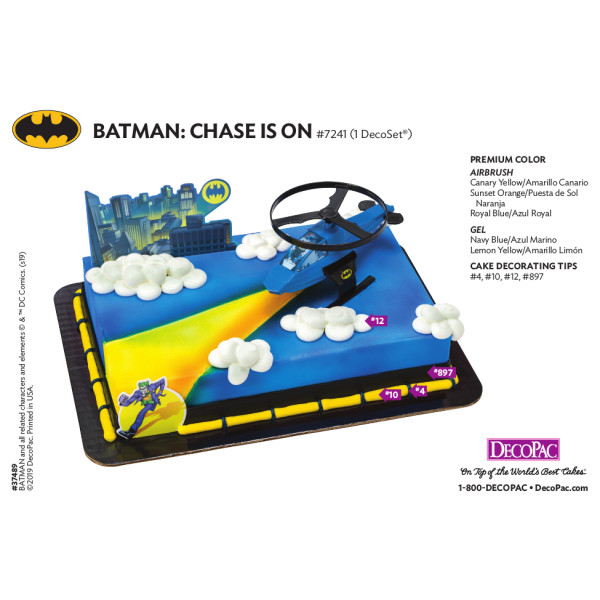 *Note: These support items are free of charge and ship automatically with your first order.
Product Details
Follow the instructions to WOW your customers! This decorating instruction card provides instructions to create this beautiful Batman™ Chase Is On DecoSet cake design.
BATMAN and all related characters and elements are trademarks of and © DC Comics.
Related Items
[#<Spree::Product id: 2168, name: "Batman™ Chase is On", description: "The chase is on as Batman™ flies his Batcopter aro...", available_on: "2019-09-20 05:00:00", deleted_at: nil, slug: "batman-chase-is-on-decoset", meta_description: nil, meta_keywords: "Batman™; batcopter; joker; Gotham;", tax_category_id: nil, shipping_category_id: 1, created_at: "2017-09-08 06:34:35", updated_at: "2019-09-20 22:06:58", promotionable: true, meta_title: nil, discontinue_on: "2020-12-31 06:00:00", product_group_id: 45, photocake_frame_item: false, choking_hazard: true, trademark_short_description: "BATMAN and all related characters and elements are...", name_2: "DecoSet®", new_prenew: nil, avail_to_purchase: true, coming_soon: false, search_sequence_number: 759, coming_soon_date: nil, product_type: "item", display_dimensions: ["LAYON LARGE: 5.25 x 4.15 x 0.45 inches", "HELICOPTER: 6.05 x 3.95 x 2.8 inches", "LAYON SMALL: 2.7 x 2.3 x 0.01 inches"], custom: false, generic: false, no_shipping: false, image_credit_item: false, limited_quantities: false, tax_cloud_tic: "00000">, #<Spree::Product id: 2215, name: "Batman™ Chase is On", description: "The chase is on as Batman™ flies his Batcopter aro...", available_on: "2019-09-20 05:00:00", deleted_at: nil, slug: "batman-chase-is-on-decoset-16077f64-cac4-415e-a245...", meta_description: nil, meta_keywords: "Batman; logo; birthday;", tax_category_id: nil, shipping_category_id: 1, created_at: "2017-09-08 06:34:45", updated_at: "2019-09-20 22:06:50", promotionable: true, meta_title: nil, discontinue_on: "2030-12-31 06:00:00", product_group_id: 45, photocake_frame_item: false, choking_hazard: true, trademark_short_description: "BATMAN and all related characters and elements are...", name_2: "DecoSet®", new_prenew: nil, avail_to_purchase: true, coming_soon: false, search_sequence_number: 760, coming_soon_date: nil, product_type: "item", display_dimensions: ["LAYON LARGE: 5.25 x 4.15 x 0.45 inches", "HELICOPTER: 6.05 x 3.95 x 2.8 inches", "LAYON SMALL: 2.7 x 2.3 x 0.01 inches"], custom: false, generic: false, no_shipping: false, image_credit_item: false, limited_quantities: true, tax_cloud_tic: "00000">, #<Spree::Product id: 6987, name: "Batman™ Kaa-Boom", description: "Batman™ is ready to jump into action! As a favorit...", available_on: "2019-09-20 05:00:00", deleted_at: nil, slug: "batman-kaa-boom-photocake-image", meta_description: nil, meta_keywords: "Batman; logo; birthday;", tax_category_id: nil, shipping_category_id: 1, created_at: "2017-09-08 06:50:04", updated_at: "2019-09-20 19:38:09", promotionable: true, meta_title: nil, discontinue_on: "2020-12-31 06:00:00", product_group_id: nil, photocake_frame_item: true, choking_hazard: false, trademark_short_description: "BATMAN and all related characters and elements are...", name_2: "PhotoCake® Edible Image®", new_prenew: nil, avail_to_purchase: true, coming_soon: false, search_sequence_number: 1262, coming_soon_date: nil, product_type: "item", display_dimensions: [], custom: false, generic: false, no_shipping: true, image_credit_item: false, limited_quantities: false, tax_cloud_tic: "31000">, #<Spree::Product id: 8040, name: "Batman™ Pow! Whooshhh!", description: "Batman™ is ready to save the city with these fun c...", available_on: "2019-09-20 05:00:00", deleted_at: nil, slug: "batman-pow-whooshhh-cupcake-rings", meta_description: nil, meta_keywords: "batman; birthday rings;", tax_category_id: nil, shipping_category_id: 1, created_at: "2017-09-08 06:53:27", updated_at: "2019-09-20 22:05:30", promotionable: true, meta_title: nil, discontinue_on: "2020-12-31 06:00:00", product_group_id: nil, photocake_frame_item: false, choking_hazard: false, trademark_short_description: "BATMAN and all related characters and elements are...", name_2: "Cupcake Rings", new_prenew: nil, avail_to_purchase: true, coming_soon: false, search_sequence_number: 167, coming_soon_date: nil, product_type: "item", display_dimensions: ["BAT SIGNAL RING (72): 1.2 x 1.2 x 1.15 inches", "COMIC PANEL RING (STICKERED BATMAN/JOKER)(72): 1.6 x 1.05 x 1.2 inches"], custom: false, generic: false, no_shipping: false, image_credit_item: false, limited_quantities: false, tax_cloud_tic: "00000">]