Batman Chase is On
The Magic of Cakes® Page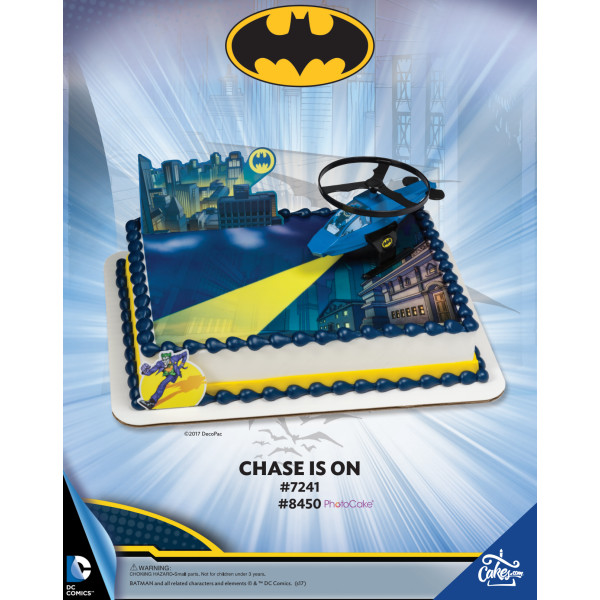 *Note: These support items are free of charge and ship automatically with your first order.
Product Details
Batman is ready to catch The Joker with this PhotoCake DecoSet Background that coordinates exclusively with the Batman Chase is On DecoSet. Easily creates an action packed design via the PhotoCake system. For use with DecoPac Extended Media Sizes.
BATMAN and all related characters and elements are trademarks of and © DC Comics.
Related Items
[#<Spree::Product id: 2215, name: "Batman™ Chase is On", description: "The chase is on as Batman™ flies his Batcopter aro...", available_on: "2019-06-15 05:00:00", deleted_at: nil, slug: "batman-chase-is-on-decoset-16077f64-cac4-415e-a245...", meta_description: nil, meta_keywords: "Batman; logo; birthday;", tax_category_id: nil, shipping_category_id: 1, created_at: "2017-09-08 06:34:45", updated_at: "2019-06-15 22:36:01", promotionable: true, meta_title: nil, discontinue_on: "2020-12-31 06:00:00", product_group_id: 45, photocake_frame_item: false, choking_hazard: true, trademark_short_description: "BATMAN and all related characters and elements are...", name_2: "DecoSet®", new_prenew: nil, avail_to_purchase: true, coming_soon: false, search_sequence_number: 750, coming_soon_date: nil, product_type: "item", display_dimensions: ["LAYON LARGE: 5.25 x 4.15 x 0.45 inches", "HELICOPTER: 6.05 x 3.95 x 2.8 inches", "LAYON SMALL: 2.7 x 2.3 x 0.01 inches"], custom: false, generic: false, no_shipping: false, image_credit_item: false, limited_quantities: false, tax_cloud_tic: "00000">, #<Spree::Product id: 8040, name: "Batman™ Pow! Whooshhh!", description: "Batman™ is ready to save the city with these fun c...", available_on: "2019-06-15 05:00:00", deleted_at: nil, slug: "batman-pow-whooshhh-cupcake-rings", meta_description: nil, meta_keywords: "batman; birthday rings;", tax_category_id: nil, shipping_category_id: 1, created_at: "2017-09-08 06:53:27", updated_at: "2019-06-15 19:34:29", promotionable: true, meta_title: nil, discontinue_on: "2020-12-31 06:00:00", product_group_id: nil, photocake_frame_item: false, choking_hazard: false, trademark_short_description: "BATMAN and all related characters and elements are...", name_2: "Cupcake Rings", new_prenew: nil, avail_to_purchase: true, coming_soon: false, search_sequence_number: 156, coming_soon_date: nil, product_type: "item", display_dimensions: ["BAT SIGNAL RING (72): 1.2 x 1.2 x 1.15 inches", "COMIC PANEL RING (STICKERED BATMAN/JOKER)(72): 1.6 x 1.05 x 1.2 inches"], custom: false, generic: false, no_shipping: false, image_credit_item: false, limited_quantities: false, tax_cloud_tic: "00000">, #<Spree::Product id: 8159, name: "Batman™ Chase is On", description: "Background coordinates with the displayed DecoSet®...", available_on: "2019-06-15 05:00:00", deleted_at: nil, slug: "batman-chase-is-on-photocake-decoset-background", meta_description: nil, meta_keywords: "Batman™; Gotham; bat signal;", tax_category_id: nil, shipping_category_id: 1, created_at: "2017-09-08 06:53:49", updated_at: "2019-06-15 06:55:25", promotionable: true, meta_title: nil, discontinue_on: "2020-12-31 06:00:00", product_group_id: nil, photocake_frame_item: true, choking_hazard: false, trademark_short_description: "BATMAN and all related characters and elements are...", name_2: "PhotoCake® Edible Image® DecoSet® Background", new_prenew: nil, avail_to_purchase: true, coming_soon: false, search_sequence_number: 1079, coming_soon_date: nil, product_type: "item", display_dimensions: [], custom: false, generic: false, no_shipping: true, image_credit_item: false, limited_quantities: false, tax_cloud_tic: "31000">]