Bubble Guppies™ Gil, Molly & Gang
DecoSet®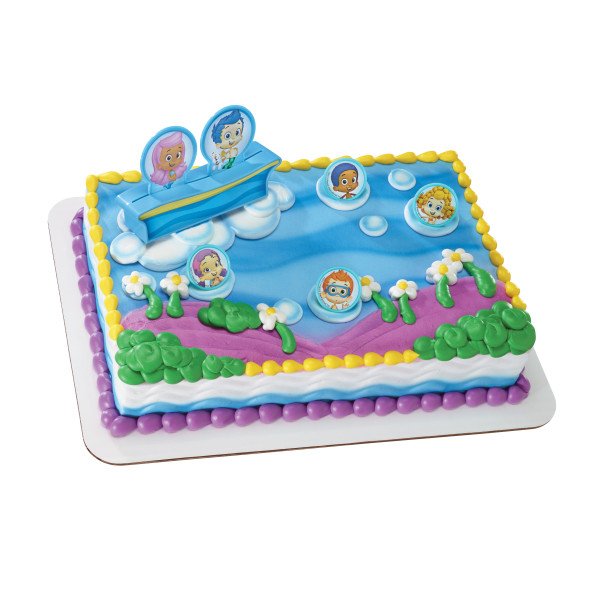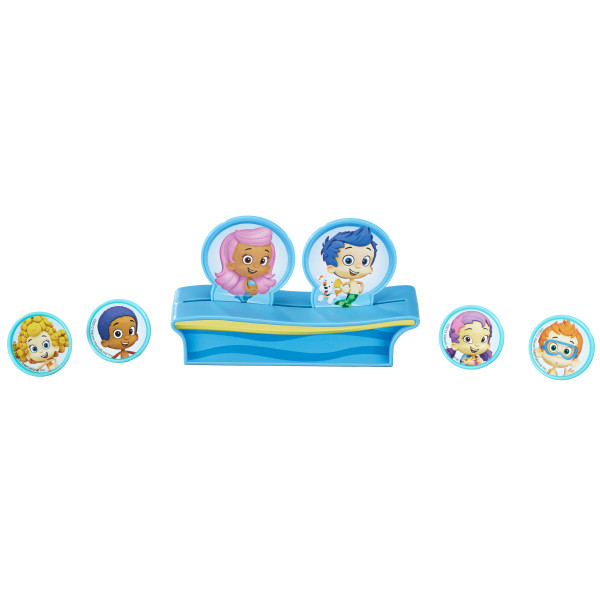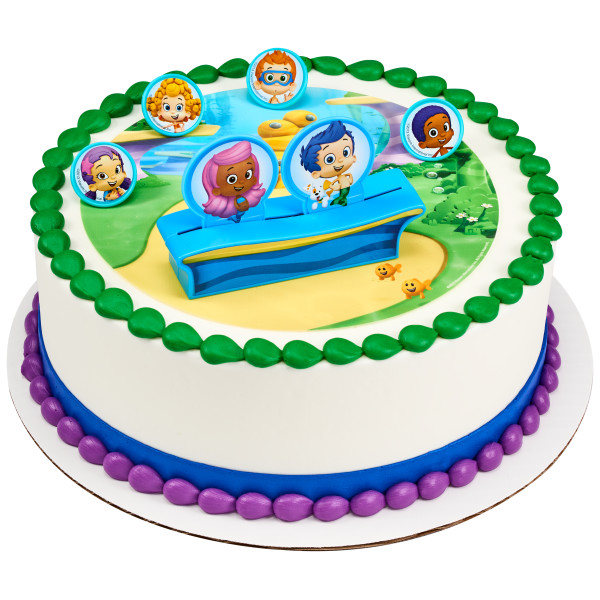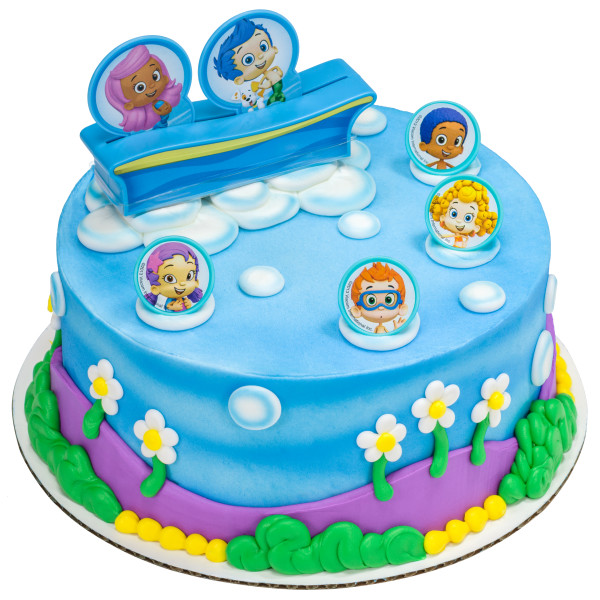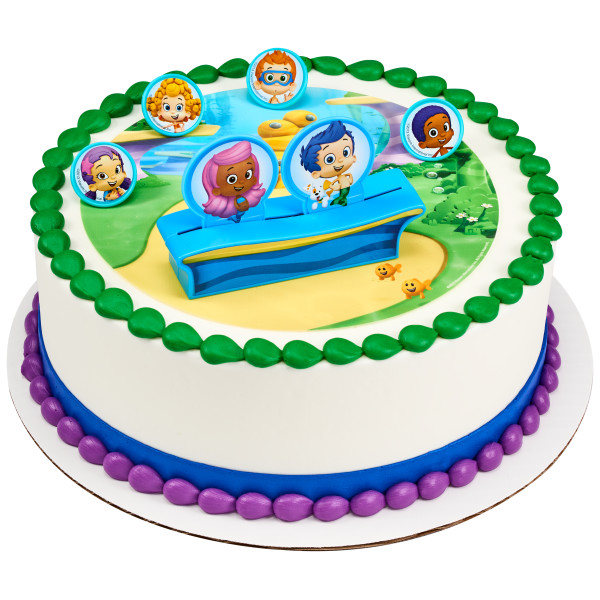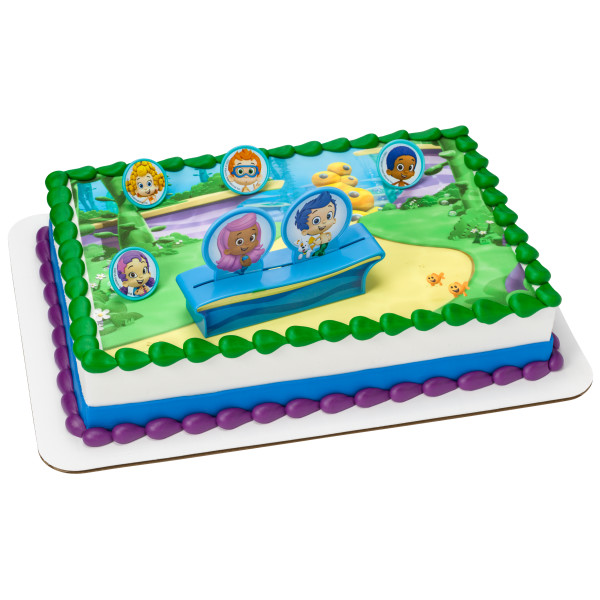 *Note: These support items are free of charge and ship automatically with your first order.
Product Details
Make a splash with Gil, Molly & Gang in this Bubble Guppies™ DecoSet! This fun set includes four rings, and Gil and Molly in a wave. 7-Piece set.
Dimensions:
Backgound Stand: 5.1 x 1.45 x 2.85 inches
Bubble Guppy Rings: 1.2 x 0.85 x 1.0 inches
WARNING: CHOKING HAZARD. Small parts. Not for children under 3 years.
© Viacom International Inc.
Related Items
[#<Spree::Product id: 755, name: "The Lion Guard Destiny Roars!", description: "ROAR with The Lion Guard. DecoSet featuring Kion f...", available_on: "2019-08-25 05:00:00", deleted_at: nil, slug: "the-lion-guard-destiny-roars-decoset", meta_description: nil, meta_keywords: "Simba; Lion King;", tax_category_id: nil, shipping_category_id: 1, created_at: "2017-09-08 06:30:10", updated_at: "2019-08-25 11:56:51", promotionable: true, meta_title: nil, discontinue_on: "2029-12-31 06:00:00", product_group_id: nil, photocake_frame_item: false, choking_hazard: true, trademark_short_description: "©Disney", name_2: "DecoSet®", new_prenew: nil, avail_to_purchase: true, coming_soon: false, search_sequence_number: 1046, coming_soon_date: nil, product_type: "item", display_dimensions: ["Lion Figurine: 2.05 x 1.25 x 2.05 inches", "Stand: 3.1 x 1.9 x 1.0 inches", "Background Stand: 3.95 x 0.3 x 3.05 inches"], custom: false, generic: false, no_shipping: false, image_credit_item: false, limited_quantities: true, tax_cloud_tic: "00000">, #<Spree::Product id: 5723, name: "Dora the Explorer™ Birthday Celebration", description: "Let's go on an adventure with Dora the Explorer ™ ...", available_on: "2019-08-25 05:00:00", deleted_at: nil, slug: "dora-the-explorer-birthday-celebration-decoset", meta_description: nil, meta_keywords: "Dora the Explorer; birthday", tax_category_id: nil, shipping_category_id: 1, created_at: "2017-09-08 06:45:56", updated_at: "2019-08-25 07:02:34", promotionable: true, meta_title: nil, discontinue_on: "2020-12-31 06:00:00", product_group_id: nil, photocake_frame_item: false, choking_hazard: true, trademark_short_description: "©2016 VIACOM INTERNATIONAL INC. All Rights Reserve...", name_2: "DecoSet®", new_prenew: nil, avail_to_purchase: true, coming_soon: false, search_sequence_number: 793, coming_soon_date: nil, product_type: "item", display_dimensions: ["Dora Figurine: 1.5 x 1.35 x 2.75 inches", "Diego Figurine: 1.2 x 1.3 x 3.05 inches", "Cake: 1.75 x 1.7 x 2.3 inches", "Boots Layon: 2.55 x 1.4 x 0.4 inches", "Cheetah Layon: 1.55 x 1.45 x 0.35 inches"], custom: false, generic: false, no_shipping: false, image_credit_item: false, limited_quantities: false, tax_cloud_tic: "00000">, #<Spree::Product id: 5897, name: "Bubble Guppies™ Gil, Molly, & Bubble Puppy", description: "Bring the love of Bubble Guppies™ to any fan by ad...", available_on: "2019-08-25 05:00:00", deleted_at: nil, slug: "bubble-guppies-gil-molly-bubble-puppy-photocake-fr...", meta_description: nil, meta_keywords: "Bubble Guppies™; birthday; ocean;", tax_category_id: nil, shipping_category_id: 1, created_at: "2017-09-08 06:46:34", updated_at: "2019-08-25 06:45:42", promotionable: true, meta_title: nil, discontinue_on: "2020-12-31 06:00:00", product_group_id: nil, photocake_frame_item: true, choking_hazard: false, trademark_short_description: "© Viacom International Inc.", name_2: "PhotoCake® Edible Image® Frame", new_prenew: nil, avail_to_purchase: true, coming_soon: false, search_sequence_number: 2395, coming_soon_date: nil, product_type: "item", display_dimensions: [], custom: false, generic: false, no_shipping: true, image_credit_item: false, limited_quantities: false, tax_cloud_tic: "31000">, #<Spree::Product id: 11860, name: "Vampirina Sweetly Vee", description: "Vampirina is Sweet as can Vee with these rings. As...", available_on: "2019-08-25 05:00:00", deleted_at: nil, slug: "vampirina-sweet-as-can-vee", meta_description: nil, meta_keywords: "Vampirina; rings;", tax_category_id: nil, shipping_category_id: 1, created_at: "2018-11-03 07:08:28", updated_at: "2019-08-25 06:58:27", promotionable: true, meta_title: nil, discontinue_on: "2021-12-31 06:00:00", product_group_id: nil, photocake_frame_item: false, choking_hazard: false, trademark_short_description: "©Disney", name_2: "Cupcake Rings", new_prenew: nil, avail_to_purchase: true, coming_soon: false, search_sequence_number: 737, coming_soon_date: nil, product_type: "item", display_dimensions: ["STICKERED VAMPIRINA RING (PUR/GRN)(VARIOUS CHARACTERS): 1.7 x 1.3 x 0.9 inches"], custom: false, generic: false, no_shipping: false, image_credit_item: false, limited_quantities: false, tax_cloud_tic: "00000">]