Bubble Guppies™ Gil, Molly and Gang DecoSet®
The Magic of Cakes® Page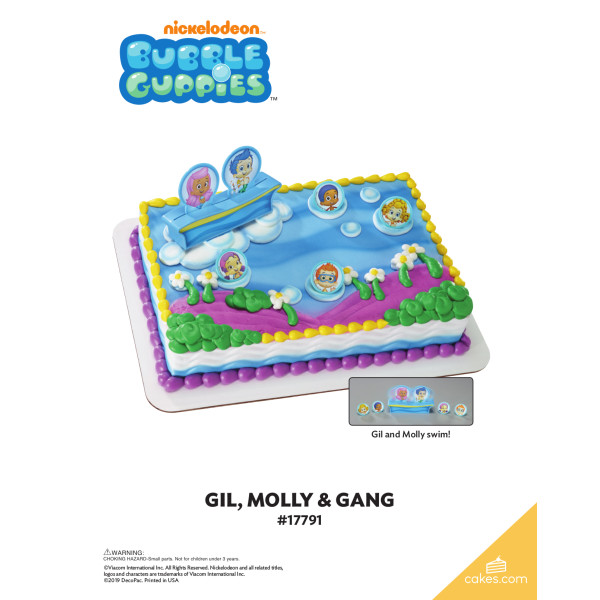 *Note: These support items are free of charge and ship automatically with your first order.
Product Details
Show your customers the excitement of this cake design by adding it to The Magic of Cakes Book at your location! This page coordinates with the Bubble Guppies™ Gil, Molly and Gang DecoSet and features an iced cake design.
© Viacom International Inc.
Related Items
[#<Spree::Product id: 1569, name: "Bubble Guppies™ Gil, Molly & Gang", description: "Make a splash with Gil, Molly & Gang in this Bubbl...", available_on: "2019-10-19 05:00:00", deleted_at: nil, slug: "bubble-guppies-gil-molly-and-gang-decoset", meta_description: nil, meta_keywords: "Bubble Guppies™; birthday; ocean;", tax_category_id: nil, shipping_category_id: 1, created_at: "2017-09-08 06:32:41", updated_at: "2019-10-19 07:05:19", promotionable: true, meta_title: nil, discontinue_on: "2030-12-31 06:00:00", product_group_id: nil, photocake_frame_item: false, choking_hazard: true, trademark_short_description: "© Viacom International Inc.", name_2: "DecoSet®", new_prenew: nil, avail_to_purchase: true, coming_soon: false, search_sequence_number: 166, coming_soon_date: nil, product_type: "item", display_dimensions: ["Backgound Stand: 5.1 x 1.45 x 2.85 inches", "Bubble Guppy Rings: 1.2 x 0.85 x 1.0 inches"], custom: false, generic: false, no_shipping: false, image_credit_item: false, limited_quantities: true, tax_cloud_tic: "00000">, #<Spree::Product id: 5142, name: "Bubble Guppies™ Gil, Molly and Gang", description: "Follow the instructions to WOW your customers! Thi...", available_on: "2019-10-19 05:00:00", deleted_at: nil, slug: "bubble-guppies-gil-molly-and-gang-decorating-card", meta_description: nil, meta_keywords: "decorating, cake, cake decorating", tax_category_id: nil, shipping_category_id: 1, created_at: "2017-09-08 06:44:02", updated_at: "2019-10-19 06:58:21", promotionable: true, meta_title: nil, discontinue_on: "2020-12-31 06:00:00", product_group_id: nil, photocake_frame_item: false, choking_hazard: false, trademark_short_description: "© Viacom International Inc.", name_2: "Cake Decorating Instruction Card", new_prenew: nil, avail_to_purchase: true, coming_soon: false, search_sequence_number: 5287, coming_soon_date: nil, product_type: "instructions", display_dimensions: [], custom: false, generic: false, no_shipping: false, image_credit_item: false, limited_quantities: false, tax_cloud_tic: "00000">, #<Spree::Product id: 5864, name: "Bubble Guppies™ Gil, Molly and Gang", description: "These Bubble Guppies™ rings are perfect for presch...", available_on: "2019-10-19 05:00:00", deleted_at: nil, slug: "bubble-guppies-gil-molly-and-gang-cupcake-rings", meta_description: nil, meta_keywords: "bubble guppies; nickelodeon; rings;", tax_category_id: nil, shipping_category_id: 1, created_at: "2017-09-08 06:46:27", updated_at: "2019-10-19 07:05:18", promotionable: true, meta_title: nil, discontinue_on: "2030-12-31 06:00:00", product_group_id: nil, photocake_frame_item: false, choking_hazard: false, trademark_short_description: "© Viacom International Inc.", name_2: "Cupcake Rings", new_prenew: nil, avail_to_purchase: true, coming_soon: false, search_sequence_number: 984, coming_soon_date: nil, product_type: "item", display_dimensions: ["Blue Flower Shaped Ring (x72): 1.4 x 1.35 x 0.8 inches", "Yellow Star Shaped Rings (x72): 1.4 x 1.3 x 0.85 inches"], custom: false, generic: false, no_shipping: false, image_credit_item: false, limited_quantities: true, tax_cloud_tic: "00000">]