Cars 3 Ahead of the Curve
DecoSet®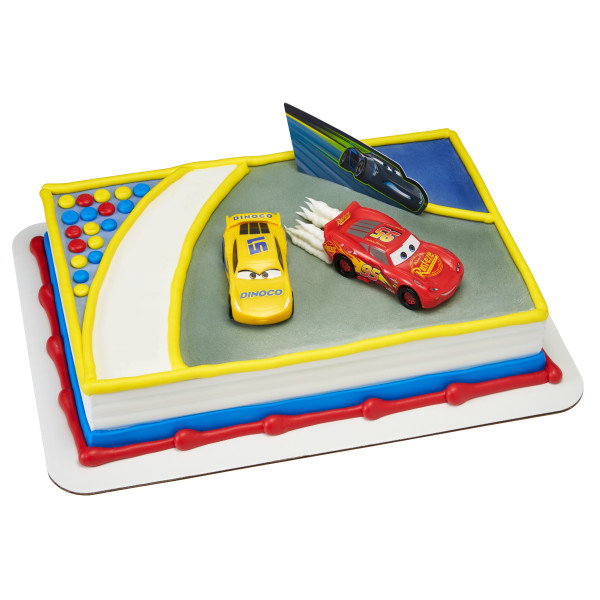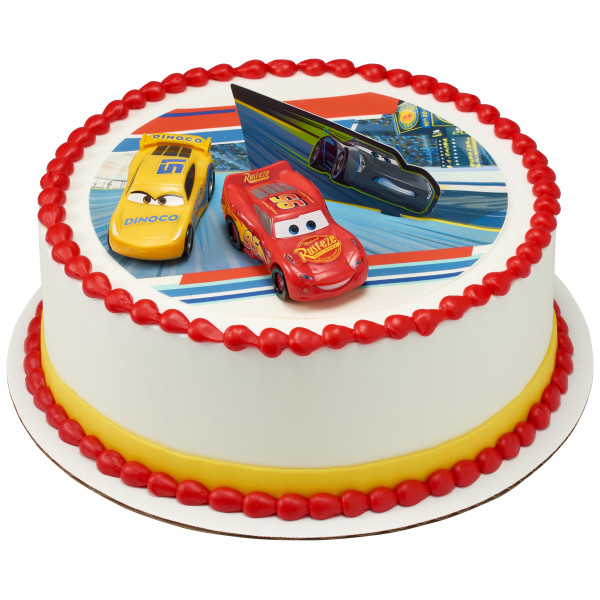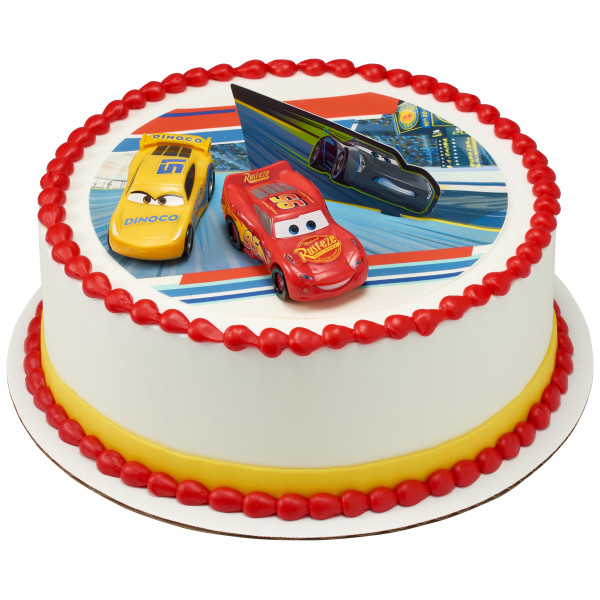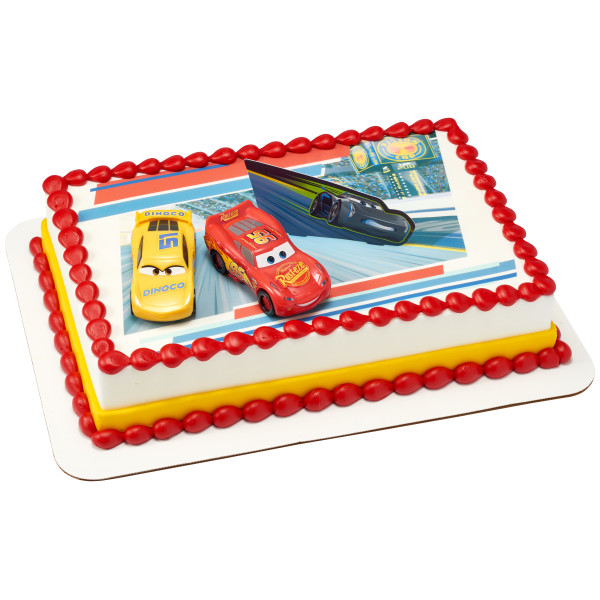 *Note: These support items are free of charge and ship automatically with your first order.
Product Details
Ka-Chow! Join Lighting McQueen and Cruz in this fun DecoSet. Includes two figurines and poly pic background. 3-Piece set.
Dimensions:
Lightning McQueen Figurine: 3.45 x 1.75 x 1.2 inches
Cruz Figurine: 3.35 x 1.6 x 1 inches
Backgroud Pic: 4.45 x 2.85 x 0.1 inches
WARNING: CHOKING HAZARD. Small parts. Not for children under 3 years.
©Disney
Related Items
[#<Spree::Product id: 2000, name: "Cars Piston Cup Championship", description: "Bring the love of Cars to any fan by adding their ...", available_on: "2019-08-25 05:00:00", deleted_at: nil, slug: "cars-piston-cup-championship-photocake-frame", meta_description: nil, meta_keywords: "Cars; personalize; photo frame; 95;", tax_category_id: nil, shipping_category_id: 1, created_at: "2017-09-08 06:34:02", updated_at: "2019-08-25 07:06:32", promotionable: true, meta_title: nil, discontinue_on: "2020-07-31 05:00:00", product_group_id: nil, photocake_frame_item: true, choking_hazard: false, trademark_short_description: "© Disney Enterprises, Inc. and Pixar Animation Stu...", name_2: "PhotoCake® Edible Image® Frame", new_prenew: nil, avail_to_purchase: true, coming_soon: false, search_sequence_number: 2398, coming_soon_date: nil, product_type: "item", display_dimensions: [], custom: false, generic: false, no_shipping: true, image_credit_item: false, limited_quantities: false, tax_cloud_tic: "31000">, #<Spree::Product id: 4446, name: "Cars Mater & McQueen", description: "Mater and McQueen are living life on the highway w...", available_on: "2019-08-25 05:00:00", deleted_at: nil, slug: "cars-mater-mcqueen-cupcake-rings", meta_description: nil, meta_keywords: "cars; McQueen; rings; mater;", tax_category_id: nil, shipping_category_id: 1, created_at: "2017-09-08 06:41:43", updated_at: "2019-08-25 06:48:56", promotionable: true, meta_title: nil, discontinue_on: "2020-07-31 05:00:00", product_group_id: nil, photocake_frame_item: false, choking_hazard: false, trademark_short_description: "© Disney Enterprises, Inc. and Pixar Animation Stu...", name_2: "Cupcake Rings", new_prenew: nil, avail_to_purchase: true, coming_soon: false, search_sequence_number: 167, coming_soon_date: nil, product_type: "item", display_dimensions: ["MATER RING (72): 1.5 x 1.3 x 1.2 inches", "MCQUEEN RING (72): 1.75 x 1.35 x 0.95 inches"], custom: false, generic: false, no_shipping: false, image_credit_item: false, limited_quantities: false, tax_cloud_tic: "00000">, #<Spree::Product id: 4746, name: "Cars 3 Nex-Gen Racers", description: "Kids will get all excited when they see the charac...", available_on: "2019-08-25 05:00:00", deleted_at: nil, slug: "cars-3-nex-gen-racers-cupcake-rings", meta_description: nil, meta_keywords: "cars; McQueen; rings;", tax_category_id: nil, shipping_category_id: 1, created_at: "2017-09-08 06:42:45", updated_at: "2019-08-25 07:09:59", promotionable: true, meta_title: nil, discontinue_on: "2030-07-31 05:00:00", product_group_id: nil, photocake_frame_item: false, choking_hazard: false, trademark_short_description: "©Disney", name_2: "Cupcake Rings", new_prenew: nil, avail_to_purchase: true, coming_soon: false, search_sequence_number: 645, coming_soon_date: nil, product_type: "item", display_dimensions: ["(YELLOW,GREY,ORANGE): 1.75 x 1.15 x 0.75 inches"], custom: false, generic: false, no_shipping: false, image_credit_item: false, limited_quantities: true, tax_cloud_tic: "00000">, #<Spree::Product id: 6232, name: "Cars Built For Speed", description: "Life is a highway! This Cars Signature DecoSet fea...", available_on: "2019-08-25 05:00:00", deleted_at: nil, slug: "cars-built-for-speed-signature-decoset", meta_description: nil, meta_keywords: "Cars; Lightening McQueen;", tax_category_id: nil, shipping_category_id: 1, created_at: "2017-09-08 06:47:41", updated_at: "2019-08-25 07:08:24", promotionable: true, meta_title: nil, discontinue_on: "2020-07-31 05:00:00", product_group_id: 76, photocake_frame_item: false, choking_hazard: true, trademark_short_description: "© Disney Enterprises, Inc. and Pixar Animation Stu...", name_2: "Signature DecoSet®", new_prenew: nil, avail_to_purchase: true, coming_soon: false, search_sequence_number: 242, coming_soon_date: nil, product_type: "item", display_dimensions: ["Mack Semi Figurine: 10.25 x 1.6 x 2.5 inches", "Lightning McQueen: 3.45 x 1.75 x 1.2 inches", "White Fence: 1.25 x 0.65 x 1.6 inches", "Cones: 1.25 x 0.55 x 1.4 inches"], custom: false, generic: false, no_shipping: false, image_credit_item: false, limited_quantities: false, tax_cloud_tic: "00000">]