Descendants 2 Rock This Style
DecoSet®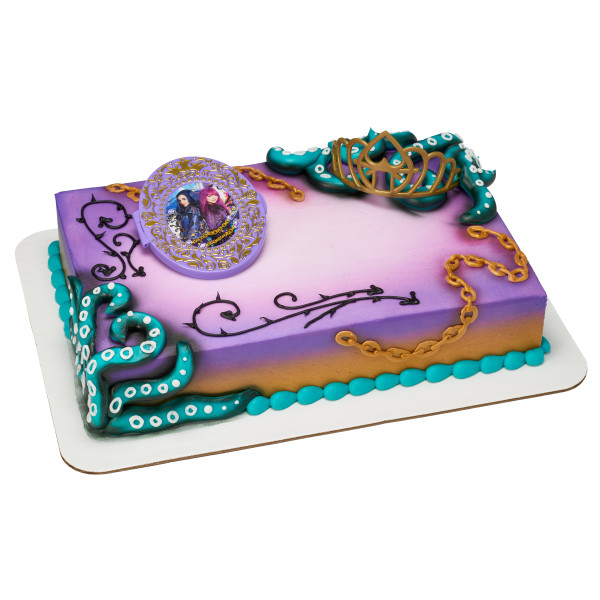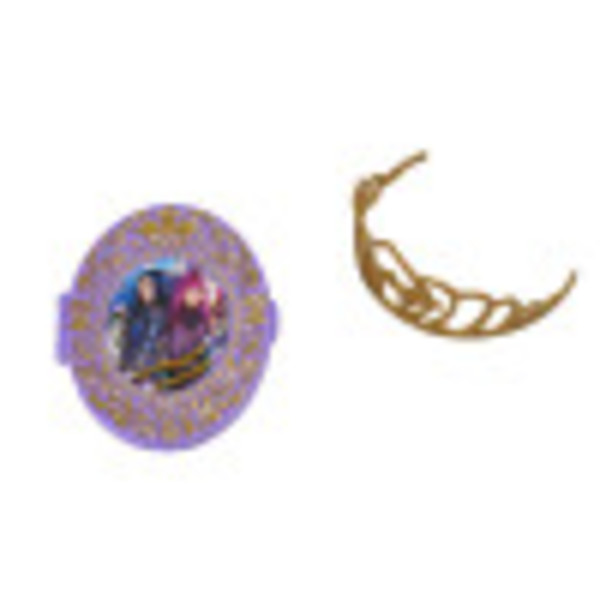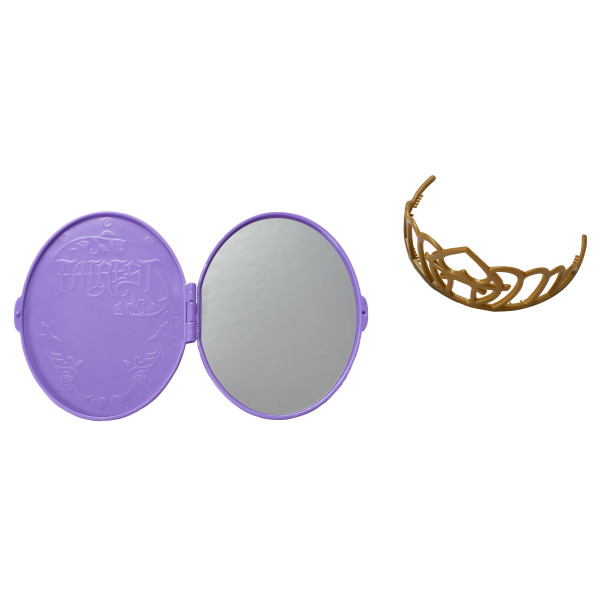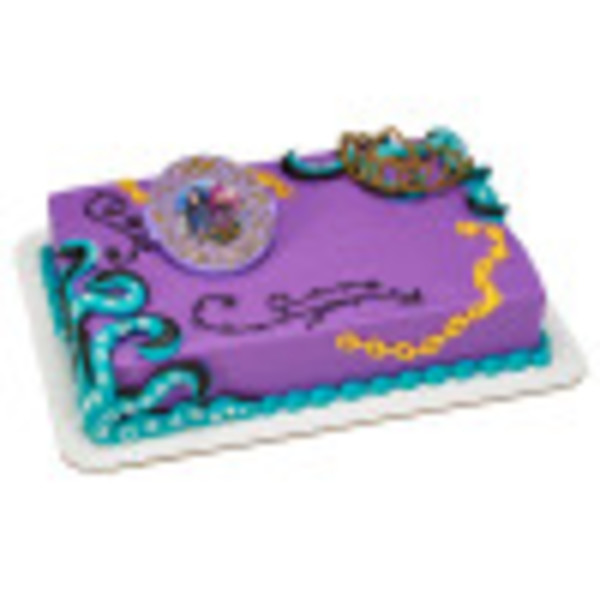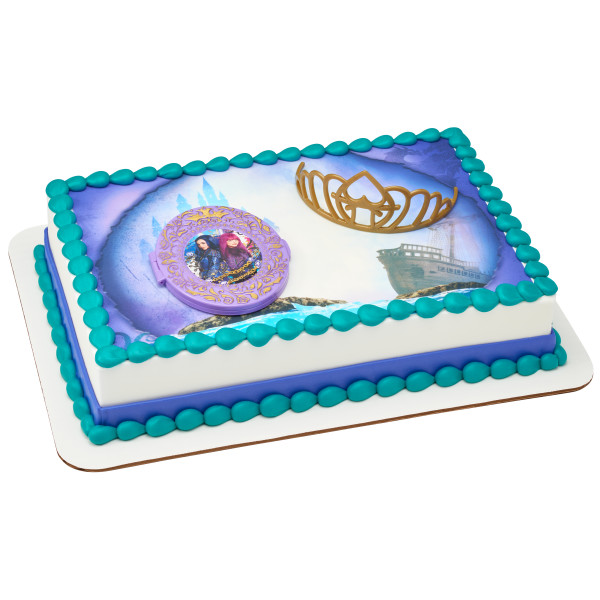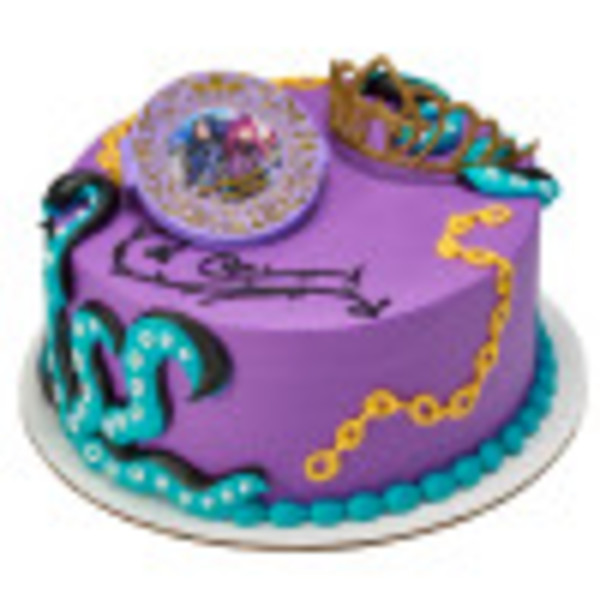 *Note: These support items are free of charge and ship automatically with your first order.
Product Details
Join Evie and Mal from Disney Descendants 2. This DecoSet includes compact mirror and tiara for after celebration fun 2-Piece set.
Dimensions:
GOLD CROWN: 4.1 x 2.2 x 1.9 inches
COMPACT MIRROR: 3.6 x 3.75 x 0.35 inches
WARNING: CHOKING HAZARD. Small parts. Not for children under 3 years.
© Disney
Related Items
[#<Spree::Product id: 1886, name: "Tinker Bell in Flower", description: "Set sail, third start to the Left with Tinker Bell...", available_on: "2019-08-17 05:00:00", deleted_at: nil, slug: "tinker-bell-in-flower-decoset", meta_description: nil, meta_keywords: "Tinker Bell; Disney;", tax_category_id: nil, shipping_category_id: 1, created_at: "2017-09-08 06:33:41", updated_at: "2019-08-17 07:19:06", promotionable: true, meta_title: nil, discontinue_on: "2020-07-31 05:00:00", product_group_id: 37, photocake_frame_item: false, choking_hazard: true, trademark_short_description: "© Disney", name_2: "DecoSet®", new_prenew: nil, avail_to_purchase: true, coming_soon: false, search_sequence_number: 1048, coming_soon_date: nil, product_type: "item", display_dimensions: ["Tinker Bell in Flower Figurine: 3.7 x 3.7 x 2.85 inches"], custom: false, generic: false, no_shipping: false, image_credit_item: false, limited_quantities: false, tax_cloud_tic: "00000">, #<Spree::Product id: 4861, name: "Descendants 2 Rebel Attitude", description: "Fans of Disney Descendants 2 will love to have all...", available_on: "2019-08-17 05:00:00", deleted_at: nil, slug: "disney-descendants-2-rebel-attitude-cupcake-rings", meta_description: nil, meta_keywords: "Descendants; rings;", tax_category_id: nil, shipping_category_id: 1, created_at: "2017-09-08 06:43:08", updated_at: "2019-08-17 07:40:45", promotionable: true, meta_title: nil, discontinue_on: "2029-12-31 06:00:00", product_group_id: nil, photocake_frame_item: false, choking_hazard: false, trademark_short_description: "© Disney", name_2: "Cupcake Rings", new_prenew: nil, avail_to_purchase: true, coming_soon: false, search_sequence_number: 646, coming_soon_date: nil, product_type: "item", display_dimensions: ["DESCENDANTS 2 RING (VARIOUS CHARACTERS): 1.6 x 1.45 x 0.85 inches"], custom: false, generic: false, no_shipping: false, image_credit_item: false, limited_quantities: true, tax_cloud_tic: "00000">, #<Spree::Product id: 6453, name: "Monster High™ Best Beasties", description: "Go to school with Monster High™! This DecoSet feat...", available_on: "2019-08-17 05:00:00", deleted_at: nil, slug: "monster-high-best-beasties-decoset-51dfbef8-2f19-4...", meta_description: nil, meta_keywords: "Monster High™; Frankie Stein; Ghoul friends; birth...", tax_category_id: nil, shipping_category_id: 1, created_at: "2017-09-08 06:48:24", updated_at: "2019-08-17 07:26:54", promotionable: true, meta_title: nil, discontinue_on: "2020-04-13 05:00:00", product_group_id: 28, photocake_frame_item: false, choking_hazard: true, trademark_short_description: "MONSTER HIGH and all associated trademarks are own...", name_2: "DecoSet®", new_prenew: nil, avail_to_purchase: true, coming_soon: false, search_sequence_number: 859, coming_soon_date: nil, product_type: "item", display_dimensions: ["SKULL: 3.45 x 2.85 x 0.2 inches", "BLACK RING: 1.55 x 1.2 x 1.2 inches", "PINK PICTURE FRAME: 4.1 x 3.9 x 0.75 inches"], custom: false, generic: false, no_shipping: false, image_credit_item: false, limited_quantities: false, tax_cloud_tic: "00000">, #<Spree::Product id: 8044, name: "Wonder Woman™ Strength & Power", description: "Turn any ordinary child into a super hero with thi...", available_on: "2019-08-17 05:00:00", deleted_at: nil, slug: "wonder-woman-strength-power-decoset-cake-decoratio...", meta_description: nil, meta_keywords: "Wonder Woman™;", tax_category_id: nil, shipping_category_id: 1, created_at: "2017-09-08 06:53:27", updated_at: "2019-08-17 07:47:15", promotionable: true, meta_title: nil, discontinue_on: "2020-12-31 06:00:00", product_group_id: nil, photocake_frame_item: false, choking_hazard: true, trademark_short_description: "TM/MC & © DC Comics", name_2: "DecoSet®", new_prenew: nil, avail_to_purchase: true, coming_soon: false, search_sequence_number: 1071, coming_soon_date: nil, product_type: "item", display_dimensions: ["Wonder Woman cake topper, bracelet.: 2.05 x 2.05 x 1.0 inches", "Wonder Woman cake topper, Logo.: 2.9 x 1.55 x 0.3 inches", "Wonder Woman cake topper,Crown.: 4.8 x 2.85 x 2.5 inches"], custom: false, generic: false, no_shipping: false, image_credit_item: false, limited_quantities: false, tax_cloud_tic: "00000">]