Disney Princess The Little Mermaid Ariel and Scuttle
DecoSet®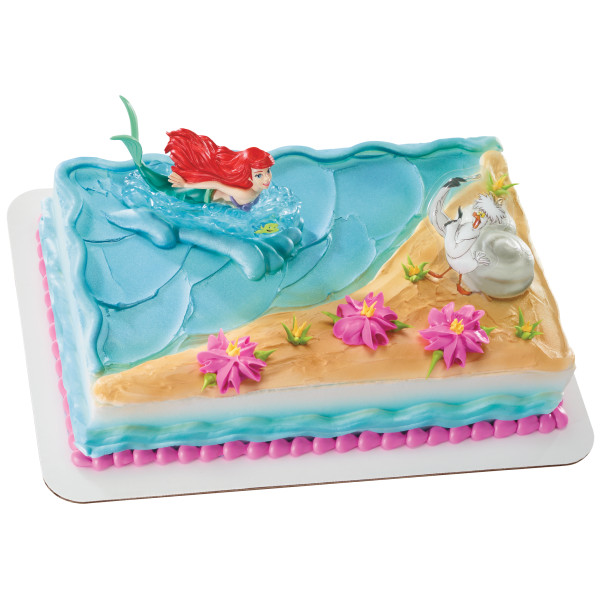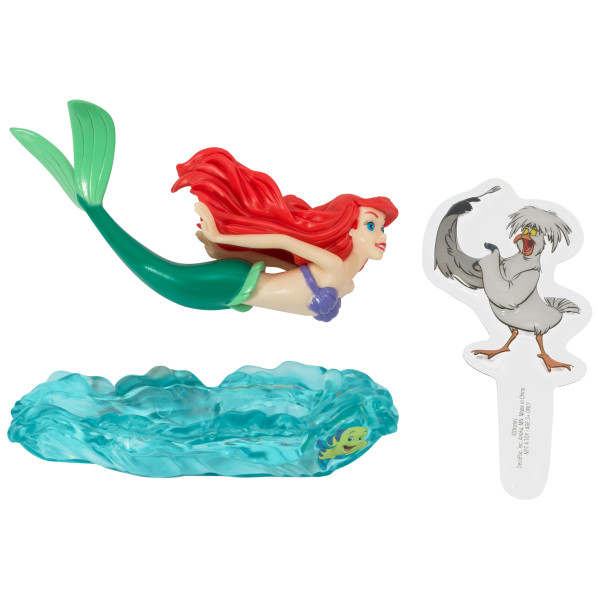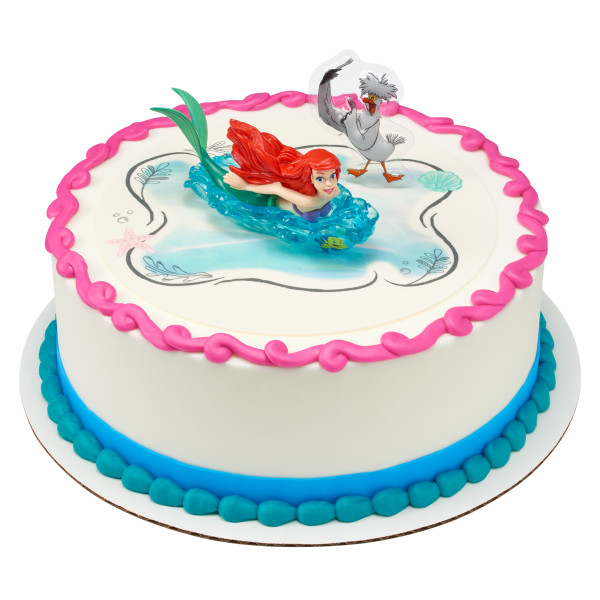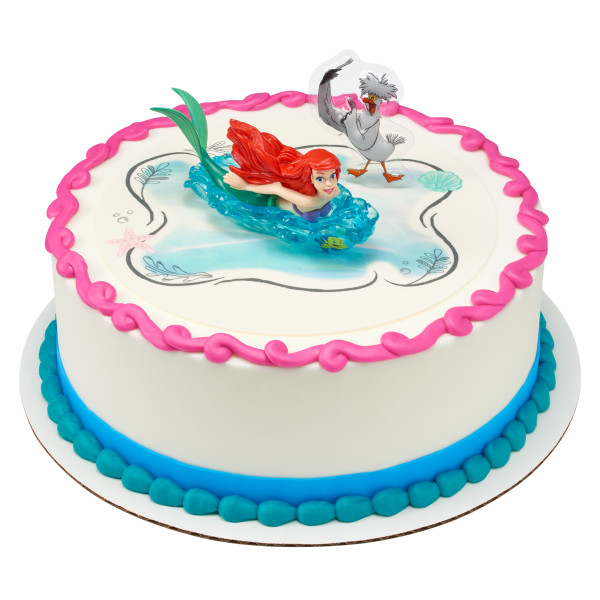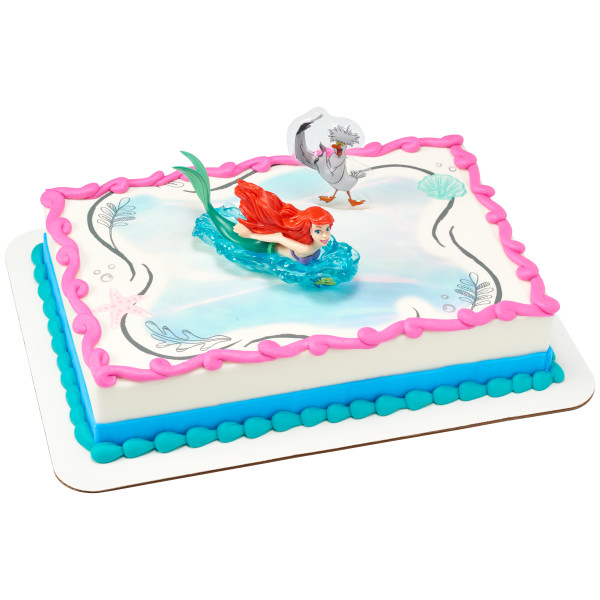 *Note: These support items are free of charge and ship automatically with your first order.
Product Details
We're not Under The Sea anymore when The Little Mermaid, Ariel, visits her friend Scuttle up on dry land. This DecoSet features an Ariel figurine that you can place on a layon of seawater, and a Scuttle pic. 3-Piece set.
Dimensions:
ARIEL: 4.85 x 1.8 x 1.8 inches
WATER STAND: 4.4 x 1.95 x 1.15 inches
SCUTTLE PIC: 1.55 x 0.4 x 4.2 inches
WARNING: CHOKING HAZARD. Small parts. Not for children under 3 years.
©Disney
Related Items
[#<Spree::Product id: 622, name: "Disney Princess Cinderella Transforms", description: "Capture that magical moment when Cinderella transf...", available_on: "2019-10-23 05:00:00", deleted_at: nil, slug: "disney-princess-cinderella-transforms-decoset", meta_description: nil, meta_keywords: "Cinderella; toys; Disney;", tax_category_id: nil, shipping_category_id: 1, created_at: "2017-09-08 06:29:45", updated_at: "2019-10-23 14:06:15", promotionable: true, meta_title: nil, discontinue_on: "2020-07-31 05:00:00", product_group_id: nil, photocake_frame_item: false, choking_hazard: true, trademark_short_description: "©Disney", name_2: "DecoSet®", new_prenew: nil, avail_to_purchase: true, coming_soon: false, search_sequence_number: 193, coming_soon_date: nil, product_type: "item", display_dimensions: ["LAYON: 5.25 x 2.9 x 0.85 inches", "CINDERELLA: 1.6 x 1.85 x 3.05 inches"], custom: false, generic: false, no_shipping: false, image_credit_item: false, limited_quantities: false, tax_cloud_tic: "00000">, #<Spree::Product id: 2024, name: "Disney Princess Once Upon a Moment", description: "Bring princess magic to a cake with this Disney Pr...", available_on: "2019-10-23 05:00:00", deleted_at: nil, slug: "disney-princess-once-upon-a-moment-decoset", meta_description: nil, meta_keywords: "Disney; Princesses", tax_category_id: nil, shipping_category_id: 1, created_at: "2017-09-08 06:34:07", updated_at: "2019-10-23 14:05:45", promotionable: true, meta_title: nil, discontinue_on: "2021-12-31 06:00:00", product_group_id: 40, photocake_frame_item: false, choking_hazard: true, trademark_short_description: "©Disney", name_2: "DecoSet®", new_prenew: nil, avail_to_purchase: true, coming_soon: false, search_sequence_number: 194, coming_soon_date: nil, product_type: "item", display_dimensions: ["Belle Figurine: 2.5 x 2.35 x 2.85 inches", "Cinderella Figurine: 2.3 x 2.6 x 3.05 inches", "Aurora Figurine: 2.55 x 2.15 x 3.05 inches"], custom: false, generic: false, no_shipping: false, image_credit_item: false, limited_quantities: false, tax_cloud_tic: "00000">, #<Spree::Product id: 5906, name: "Disney Princess Happily Ever After", description: "Ever a surprise, this Signature DecoSet features a...", available_on: "2019-10-23 05:00:00", deleted_at: nil, slug: "disney-princess-happily-ever-after-signature-cake-...", meta_description: nil, meta_keywords: "Disney; Princess;", tax_category_id: nil, shipping_category_id: 1, created_at: "2017-09-08 06:46:36", updated_at: "2019-10-23 06:52:24", promotionable: true, meta_title: nil, discontinue_on: "2020-07-31 05:00:00", product_group_id: 74, photocake_frame_item: false, choking_hazard: true, trademark_short_description: "©Disney", name_2: "Signature DecoSet®", new_prenew: nil, avail_to_purchase: true, coming_soon: false, search_sequence_number: 785, coming_soon_date: nil, product_type: "item", display_dimensions: ["Turrets (x2): 2.8 x 2.8 x 5.95 inches", "Castle: 5.8 x 4.95 x 1.2 inches", "Cinderella Figurine: 1.85 x 1.95 x 3.0 inches", "Ariel Figurine: 1.65 x 1.65 x 3.0 inches", "Rapunzel Figurine: 1.4 x 1.4 x 2.95 inches"], custom: false, generic: false, no_shipping: false, image_credit_item: false, limited_quantities: false, tax_cloud_tic: "00000">, #<Spree::Product id: 6053, name: "Disney Princess Belle Beautiful as a Rose", description: "A tale as old as time when you join Disney Belle a...", available_on: "2019-10-23 05:00:00", deleted_at: nil, slug: "disney-princess-belle-beautiful-as-a-rose-decoset-...", meta_description: nil, meta_keywords: "Belle; Beauty and the Beast;", tax_category_id: nil, shipping_category_id: 1, created_at: "2017-09-08 06:47:07", updated_at: "2019-10-23 14:06:18", promotionable: true, meta_title: nil, discontinue_on: "2020-12-31 06:00:00", product_group_id: 57, photocake_frame_item: false, choking_hazard: true, trademark_short_description: "©Disney", name_2: "DecoSet®", new_prenew: nil, avail_to_purchase: true, coming_soon: false, search_sequence_number: 192, coming_soon_date: nil, product_type: "item", display_dimensions: ["Belle Figurine: 2 x 1.85 x 3.1 inches", "Crown: 3.95 x 2.65 x 2.7 inches"], custom: false, generic: false, no_shipping: false, image_credit_item: false, limited_quantities: false, tax_cloud_tic: "00000">]