Doc McStuffins Doc & Lambie
DecoSet®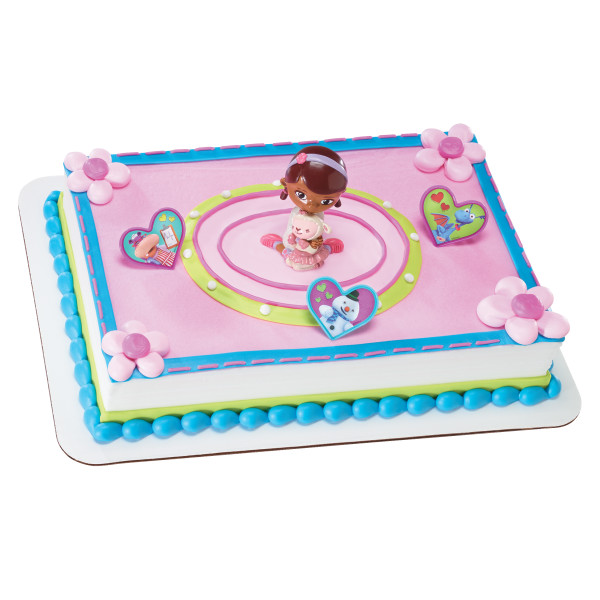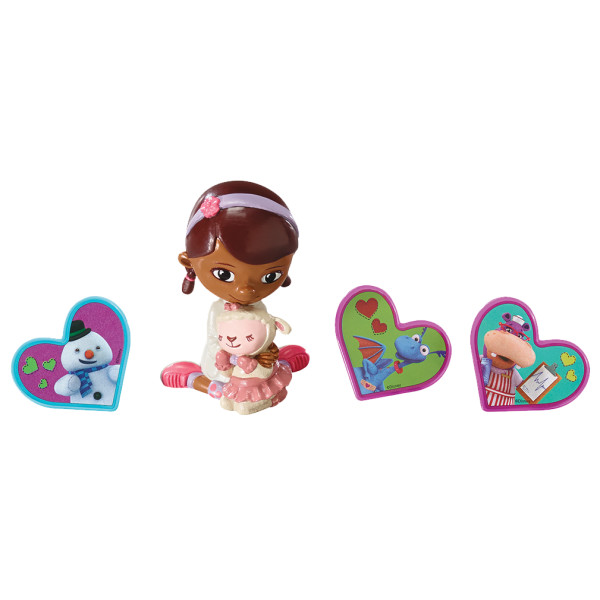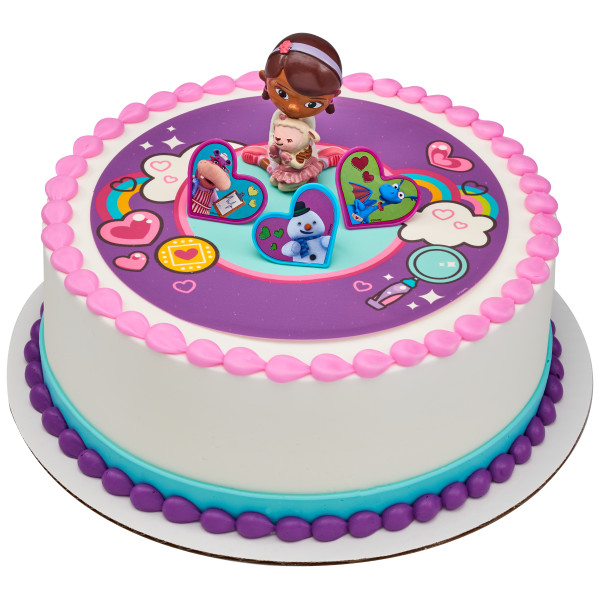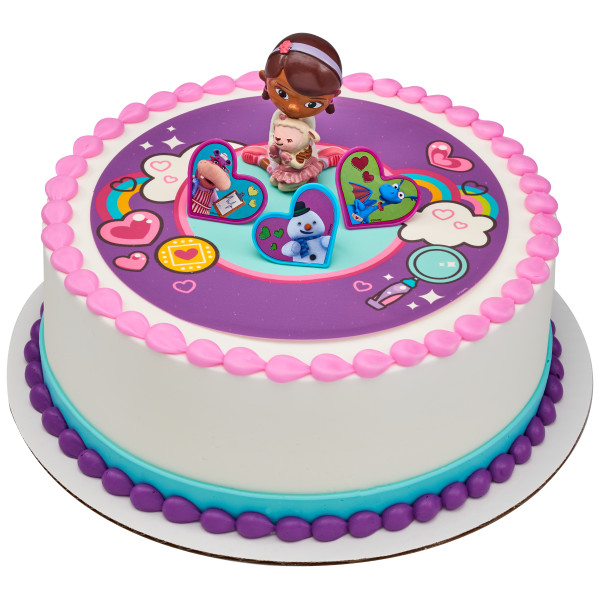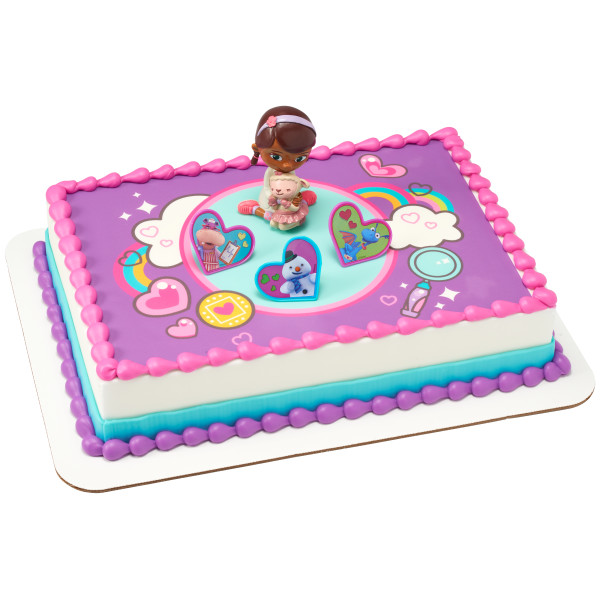 *Note: These support items are free of charge and ship automatically with your first order.
Product Details
Doc McStuffins is here to help all the animals. This DecoSet features Doc and Lambie figurines as they sit patiently atop the birthday cake until the birthday girl is ready to play. Set includes three cupcake rings to share. 4-Piece set.
Dimensions:
Doc and Lambie Figurine: 1.75 x 1.7 x 3.1 inches
3 Cupake Rings Featuring Hallie, Chilly & Stuffy: 1.6 x 0.9 x 1.35 inches
WARNING: CHOKING HAZARD. Small parts. Not for children under 3 years.
©Disney
Related Items
[#<Spree::Product id: 552, name: "Sofia the First Sofia & Castle", description: "A royal cake for a little princess. Sophia the Fir...", available_on: "2019-09-19 05:00:00", deleted_at: nil, slug: "sofia-the-first-sofia-castle-decoset", meta_description: nil, meta_keywords: "Sofia the First; birthday; Disney;", tax_category_id: nil, shipping_category_id: 1, created_at: "2017-09-08 06:29:30", updated_at: "2019-09-19 07:05:49", promotionable: true, meta_title: nil, discontinue_on: "2030-07-31 05:00:00", product_group_id: 21, photocake_frame_item: false, choking_hazard: true, trademark_short_description: "©Disney", name_2: "DecoSet®", new_prenew: nil, avail_to_purchase: true, coming_soon: false, search_sequence_number: 1031, coming_soon_date: nil, product_type: "item", display_dimensions: ["Sofia; cake topper: 5.4 x 2.05 x 2.8 inches", "Sofia;: 1.85 x 1.85 x 3.0 inches"], custom: false, generic: false, no_shipping: false, image_credit_item: false, limited_quantities: true, tax_cloud_tic: "00000">, #<Spree::Product id: 1121, name: "Doc McStuffins The Care Team", description: "Doc McStuffins is here to help all the animals wit...", available_on: "2019-09-19 05:00:00", deleted_at: nil, slug: "doc-mcstuffins-the-care-team-photocake-image", meta_description: nil, meta_keywords: "Doc McStuffins; Lambie; vet; Disney;", tax_category_id: nil, shipping_category_id: 1, created_at: "2017-09-08 06:31:18", updated_at: "2019-09-19 07:13:33", promotionable: true, meta_title: nil, discontinue_on: "2020-07-31 05:00:00", product_group_id: nil, photocake_frame_item: true, choking_hazard: false, trademark_short_description: "©Disney", name_2: "PhotoCake® Edible Image®", new_prenew: nil, avail_to_purchase: true, coming_soon: false, search_sequence_number: 1412, coming_soon_date: nil, product_type: "item", display_dimensions: [], custom: false, generic: false, no_shipping: true, image_credit_item: false, limited_quantities: false, tax_cloud_tic: "31000">, #<Spree::Product id: 4491, name: "Doc McStuffins Friendship", description: "Rectangular design features Doc McStuffins and Lam...", available_on: "2019-09-19 05:00:00", deleted_at: nil, slug: "doc-mcstuffins-friendship-photocake-frame", meta_description: nil, meta_keywords: "Doc McStuffins; personalized; photo frame; birthda...", tax_category_id: nil, shipping_category_id: 1, created_at: "2017-09-08 06:41:53", updated_at: "2019-09-19 07:06:10", promotionable: true, meta_title: nil, discontinue_on: "2020-07-31 05:00:00", product_group_id: nil, photocake_frame_item: true, choking_hazard: false, trademark_short_description: "©Disney", name_2: "PhotoCake® Edible Image® Frame", new_prenew: nil, avail_to_purchase: true, coming_soon: false, search_sequence_number: 2395, coming_soon_date: nil, product_type: "item", display_dimensions: [], custom: false, generic: false, no_shipping: true, image_credit_item: false, limited_quantities: false, tax_cloud_tic: "31000">]