Mickey and the Roadster Racers
DecoSet®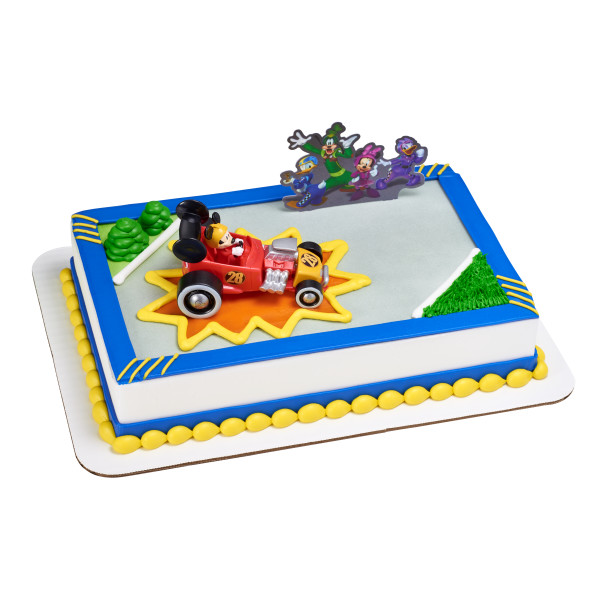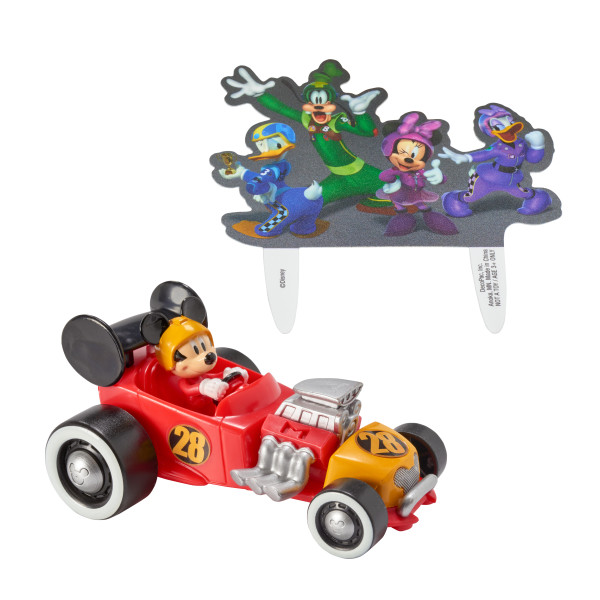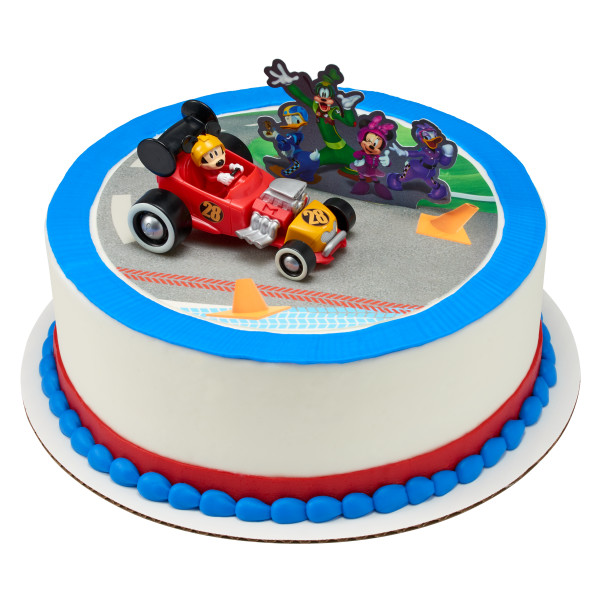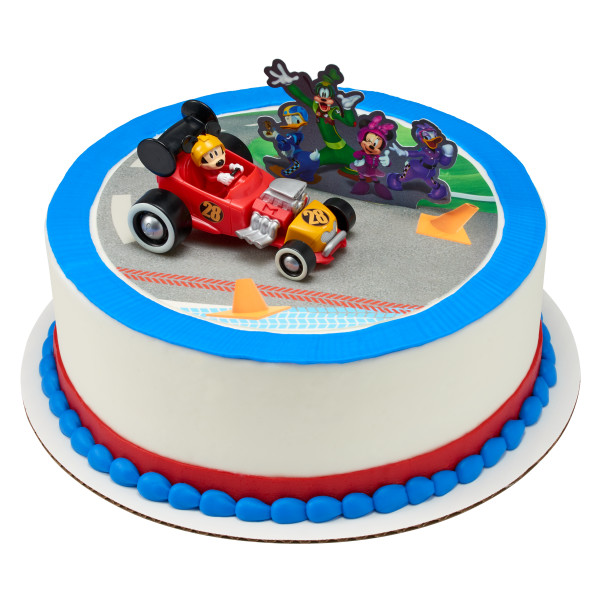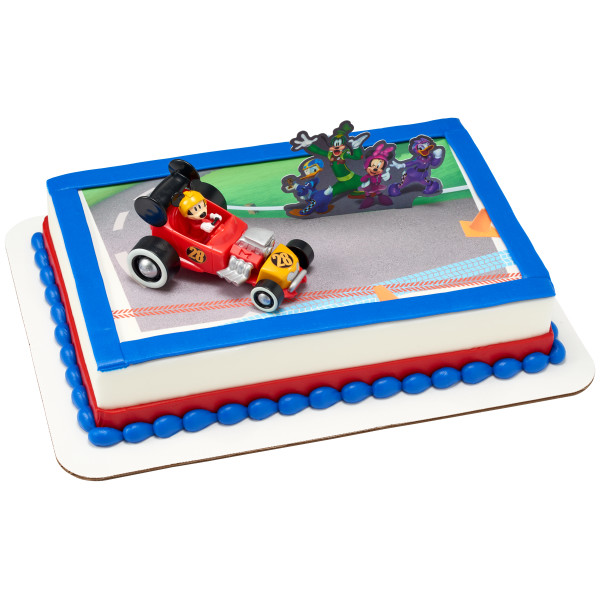 *Note: These support items are free of charge and ship automatically with your first order.
Product Details
Oh Boy! Mickey Mouse is ready to zoom around the cake in this Disney inspired DecoSet. Set features a fully sculpted Mickey in his roadster car and a poly pic with the rest of the gang. 2-Piece set.
WARNING: CHOKING HAZARD. Small parts. Not for children under 3 years.
©Disney
Related Items
[#<Spree::Product id: 6286, name: "Mickey and the Roadster Racers Get Set! Goooo!", description: "Mickey is ready to race in this design, just like ...", available_on: "2019-09-15 05:00:00", deleted_at: nil, slug: "mickey-and-the-roadster-racers-get-set-goooo-photo...", meta_description: nil, meta_keywords: "Mickey Mouse; Disney", tax_category_id: nil, shipping_category_id: 1, created_at: "2017-09-08 06:47:52", updated_at: "2019-09-15 07:11:22", promotionable: true, meta_title: nil, discontinue_on: "2020-07-31 05:00:00", product_group_id: nil, photocake_frame_item: true, choking_hazard: false, trademark_short_description: "©Disney", name_2: "PhotoCake® Edible Image®", new_prenew: nil, avail_to_purchase: true, coming_soon: false, search_sequence_number: 1877, coming_soon_date: nil, product_type: "item", display_dimensions: [], custom: false, generic: false, no_shipping: true, image_credit_item: false, limited_quantities: false, tax_cloud_tic: "31000">, #<Spree::Product id: 6310, name: "Mickey and the Roadster Racers Cool Together", description: "Coordinates with Hey Mickey! PhotoCake Image or ca...", available_on: "2019-09-15 05:00:00", deleted_at: nil, slug: "mickey-and-the-roadster-racers-cool-together-photo...", meta_description: nil, meta_keywords: "Mickey Mouse; Disney", tax_category_id: nil, shipping_category_id: 1, created_at: "2017-09-08 06:47:56", updated_at: "2019-09-15 07:11:32", promotionable: true, meta_title: nil, discontinue_on: "2020-07-31 05:00:00", product_group_id: nil, photocake_frame_item: true, choking_hazard: false, trademark_short_description: "©Disney", name_2: "PhotoCake® Edible Image® Strips", new_prenew: nil, avail_to_purchase: true, coming_soon: false, search_sequence_number: 6398, coming_soon_date: nil, product_type: "item", display_dimensions: [], custom: false, generic: false, no_shipping: true, image_credit_item: false, limited_quantities: false, tax_cloud_tic: "40030">, #<Spree::Product id: 7454, name: "Mickey and the Roadster Racers Hey Mickey!", description: "Mickey is ready to celebrate in this design. Image...", available_on: "2019-09-15 05:00:00", deleted_at: nil, slug: "mickey-and-the-roadster-racers-hey-mickey-photocak...", meta_description: nil, meta_keywords: "Mickey Mouse; Disney", tax_category_id: nil, shipping_category_id: 1, created_at: "2017-09-08 06:51:33", updated_at: "2019-09-15 06:51:41", promotionable: true, meta_title: nil, discontinue_on: "2020-07-31 05:00:00", product_group_id: nil, photocake_frame_item: true, choking_hazard: false, trademark_short_description: "©Disney", name_2: "PhotoCake® Edible Image®", new_prenew: nil, avail_to_purchase: true, coming_soon: false, search_sequence_number: 1878, coming_soon_date: nil, product_type: "item", display_dimensions: [], custom: false, generic: false, no_shipping: true, image_credit_item: false, limited_quantities: false, tax_cloud_tic: "31000">, #<Spree::Product id: 10500, name: "Mickey and The Roadster Racers Fun Together", description: "Mickey and his gang are ready for the party with t...", available_on: "2019-09-15 05:00:00", deleted_at: nil, slug: "mickey-the-roadster-racers-fun-together", meta_description: nil, meta_keywords: "Mickey; Minnie; Mouse; Disney; rings;", tax_category_id: nil, shipping_category_id: 1, created_at: "2017-11-06 15:35:16", updated_at: "2019-09-15 06:58:43", promotionable: true, meta_title: nil, discontinue_on: "2020-01-31 06:00:00", product_group_id: nil, photocake_frame_item: false, choking_hazard: false, trademark_short_description: "©Disney", name_2: "Cupcake Rings", new_prenew: nil, avail_to_purchase: true, coming_soon: false, search_sequence_number: 677, coming_soon_date: nil, product_type: "item", display_dimensions: ["MICKEY HEAD RING (72): 1.5 x 1.5 x 1 inches", "ROADSTER RING (VARIOUS CHARACTERS)(72): 1.4 x 1.4 x 0.95 inches"], custom: false, generic: false, no_shipping: false, image_credit_item: false, limited_quantities: true, tax_cloud_tic: "00000">]