NBA Slam Dunk
DecoSet®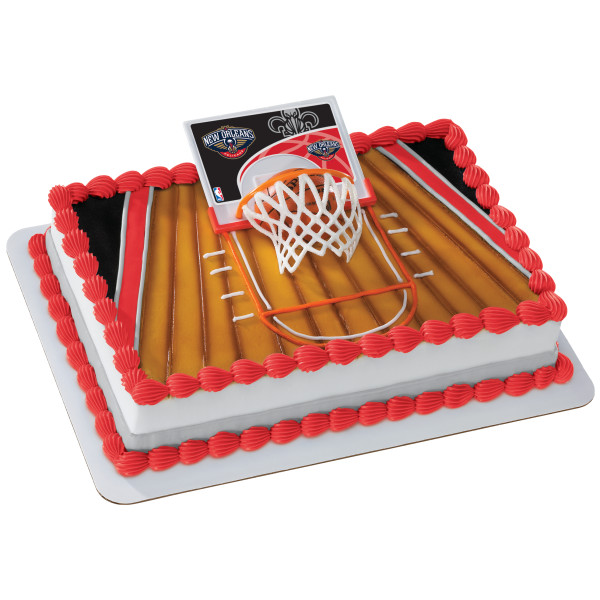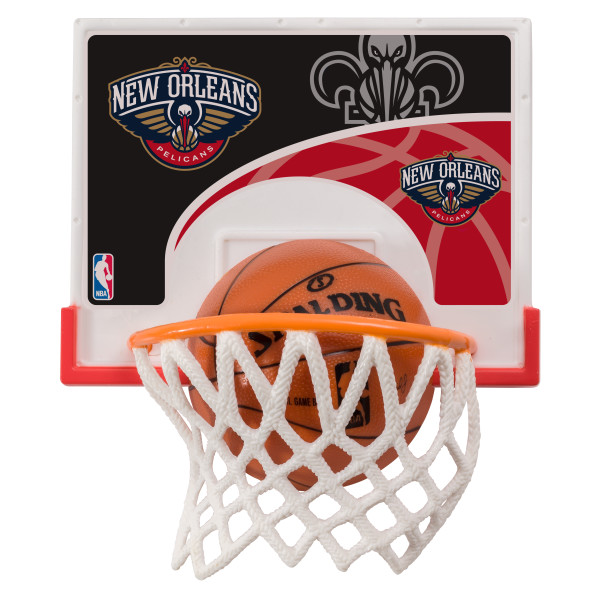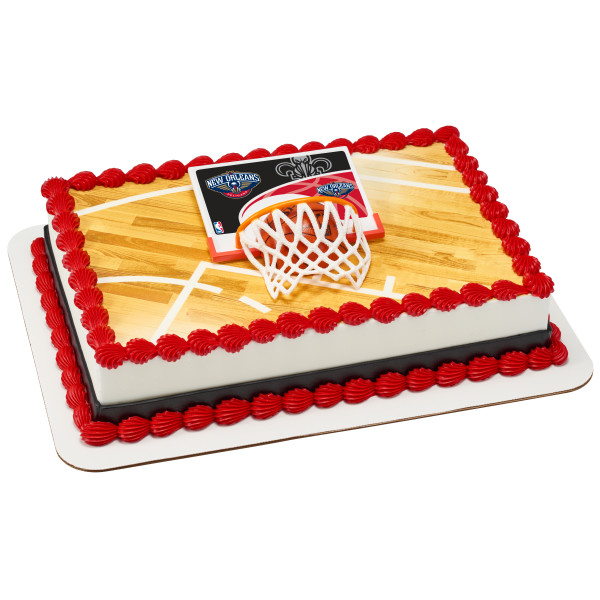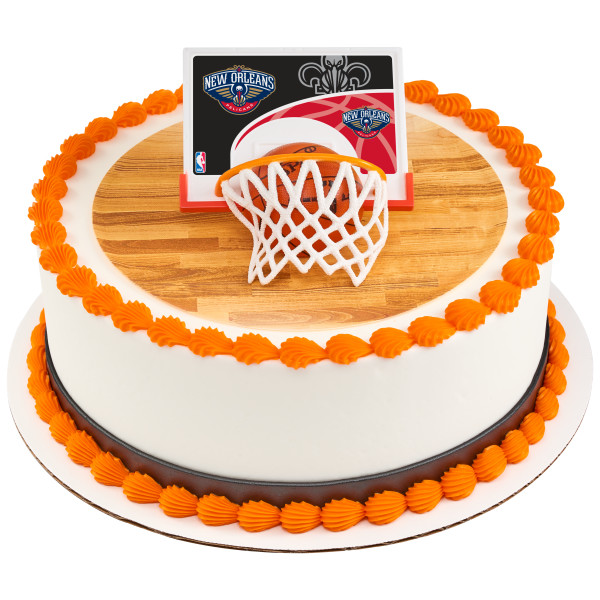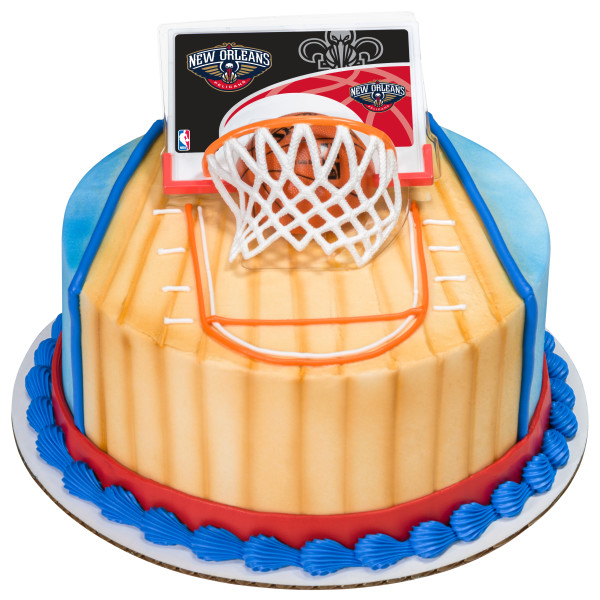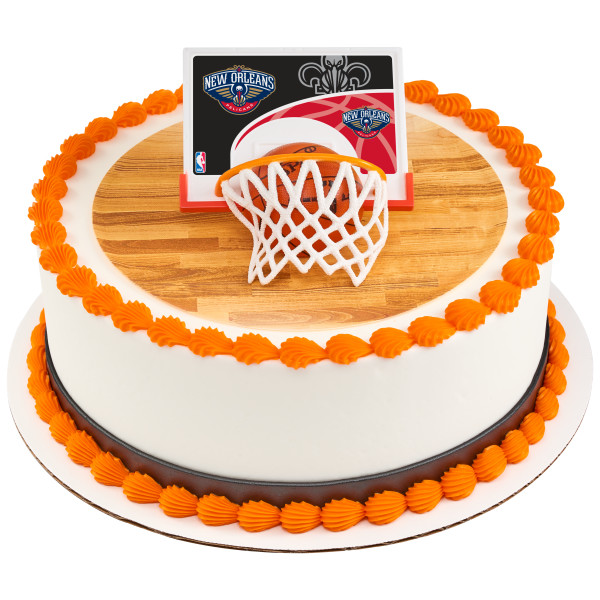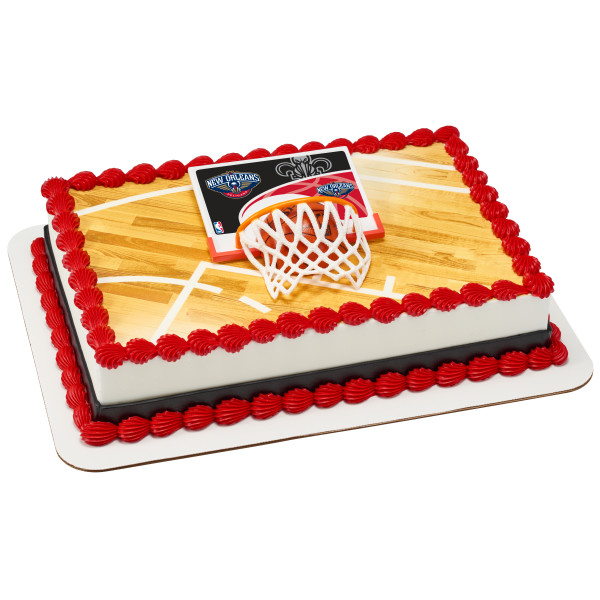 *Note: These support items are free of charge and ship automatically with your first order.
Product Details
Celebrate any special occasion with an NBA New Orleans Pelicans themed cake. This DecoSet features a basketball hoop with the New Orleans Pelicans logo. 2-Piece set.
Dimensions:
Backboard and Net: 5.3 x 4.45 x 1.65 inches
WARNING: CHOKING HAZARD. Small parts. Not for children under 3 years.
©2016 NBA Properties, Inc.
Related Items
[#<Spree::Product id: 544, name: "NFL New Orleans Saints Football & Tee", description: "Score a touchdown with your favorite NFL football ...", available_on: "2019-10-23 05:00:00", deleted_at: nil, slug: "nfl-new-orleans-saints-football-tee-decoset", meta_description: nil, meta_keywords: "New Orleans Saints; Football; NFL;", tax_category_id: nil, shipping_category_id: 1, created_at: "2017-09-08 06:29:28", updated_at: "2019-10-23 06:59:12", promotionable: true, meta_title: nil, discontinue_on: "2020-07-31 05:00:00", product_group_id: 96, photocake_frame_item: false, choking_hazard: true, trademark_short_description: "TM & © NFL Properties, Inc. All Rights Reserved.", name_2: "DecoSet®", new_prenew: nil, avail_to_purchase: true, coming_soon: false, search_sequence_number: 367, coming_soon_date: nil, product_type: "item", display_dimensions: ["FIELD WITH TEAM STICKER: 5.9 x 4.65 x 0.45 inches", "TEE: 2.15 x 2.2 x 1.2 inches", "FOOTBALL: 2.8 x 1.7 x 1.75 inches"], custom: false, generic: false, no_shipping: false, image_credit_item: false, limited_quantities: false, tax_cloud_tic: "00000">, #<Spree::Product id: 1262, name: "MLB® Houston Astros™ Home Run", description: "Hit a home run with the MLB® Houston Astros™ for a...", available_on: "2019-10-23 05:00:00", deleted_at: nil, slug: "mlb-houston-astros-home-run-decoset", meta_description: nil, meta_keywords: "Houston Astros; MLB: Baseball;", tax_category_id: nil, shipping_category_id: 1, created_at: "2017-09-08 06:31:44", updated_at: "2019-10-23 07:05:49", promotionable: true, meta_title: nil, discontinue_on: "2021-12-31 06:00:00", product_group_id: 80, photocake_frame_item: false, choking_hazard: true, trademark_short_description: "Major League Baseball trademarks and copyrights ar...", name_2: "DecoSet®", new_prenew: nil, avail_to_purchase: true, coming_soon: false, search_sequence_number: 296, coming_soon_date: nil, product_type: "item", display_dimensions: ["MLB Pic: 1.95 x 0.65 x 3.85 inches", "Batter Hitting Baseball Layon: 4.75 x 4.9 x 2.65 inches"], custom: false, generic: false, no_shipping: false, image_credit_item: false, limited_quantities: false, tax_cloud_tic: "00000">, #<Spree::Product id: 4498, name: "NHL® Dallas Stars® Slap Shot", description: "Celebrate with a hockey enthusiast with this NHL® ...", available_on: "2019-10-23 05:00:00", deleted_at: nil, slug: "nhl-dallas-stars-slap-shot-decoset-36ec6bba-3377-4...", meta_description: nil, meta_keywords: "Dallas Stars; NHL; Hockey;", tax_category_id: nil, shipping_category_id: 1, created_at: "2017-09-08 06:41:54", updated_at: "2019-10-23 06:56:53", promotionable: true, meta_title: nil, discontinue_on: "2020-07-31 05:00:00", product_group_id: 79, photocake_frame_item: false, choking_hazard: true, trademark_short_description: "NHL and the NHL Shield are registered trademarks o...", name_2: "DecoSet®", new_prenew: nil, avail_to_purchase: true, coming_soon: false, search_sequence_number: 388, coming_soon_date: nil, product_type: "item", display_dimensions: ["Puck: 2.4 x 2.45 x 0.8 inches", "Hockey Stick: 9.6 x 2.4 x 0.55 inches"], custom: false, generic: false, no_shipping: false, image_credit_item: false, limited_quantities: false, tax_cloud_tic: "00000">, #<Spree::Product id: 11712, name: "NBA New Orleans Pelicans", description: "Basketball fans can celebrate with their favorite ...", available_on: "2019-10-23 05:00:00", deleted_at: nil, slug: "nba-new-orleans-pelicans-ring-printed", meta_description: nil, meta_keywords: "New Orleans Pelicans; NBA; Basketball; rings;", tax_category_id: nil, shipping_category_id: 1, created_at: "2018-09-19 06:46:06", updated_at: "2019-10-23 06:49:19", promotionable: true, meta_title: nil, discontinue_on: "2020-07-31 05:00:00", product_group_id: 149, photocake_frame_item: false, choking_hazard: false, trademark_short_description: "©2016 NBA Properties, Inc.", name_2: "Cupcake Rings", new_prenew: nil, avail_to_purchase: true, coming_soon: false, search_sequence_number: 659, coming_soon_date: nil, product_type: "item", display_dimensions: ["NBA PELICANS RING: 1.35 x 1.35 x 0.85 inches"], custom: false, generic: false, no_shipping: false, image_credit_item: false, limited_quantities: false, tax_cloud_tic: "00000">]