Pokémon™ Light Up Pikachu
Cake Decorating Instruction Card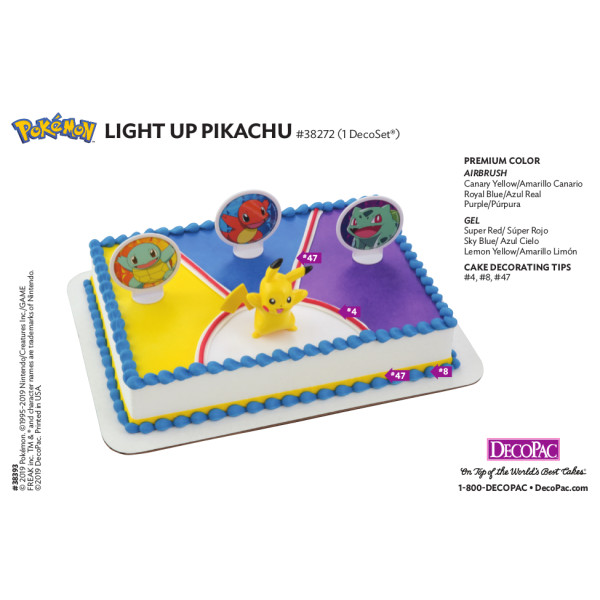 *Note: These support items are free of charge and ship automatically with your first order.
Product Details
Follow the instructions to WOW your customers! This decorating instruction card provides instructions to create this beautiful Pokémon™ Light Up Pikachu DecoSet cake design.
©2016 POKEMON. © 1995-2016 Nintendo/Creatures Inc./GAME FREAK inc. TM, ® and character names are trademarks of Nintendo.
Related Items
[#<Spree::Product id: 1899, name: "Pokémon™ I Choose You", description: "Gotta catch them all! These Pokémon™ rings are fun...", available_on: "2019-09-22 05:00:00", deleted_at: nil, slug: "pokemon-i-choose-you-cupcake-rings", meta_description: nil, meta_keywords: "Pokémon; Pikachu; rings;", tax_category_id: nil, shipping_category_id: 1, created_at: "2017-09-08 06:33:44", updated_at: "2019-09-22 18:37:08", promotionable: true, meta_title: nil, discontinue_on: "2030-02-01 06:00:00", product_group_id: nil, photocake_frame_item: false, choking_hazard: false, trademark_short_description: "©2016 POKEMON. © 1995-2016 Nintendo/Creatures Inc....", name_2: "Cupcake Rings", new_prenew: nil, avail_to_purchase: true, coming_soon: false, search_sequence_number: 713, coming_soon_date: nil, product_type: "item", display_dimensions: ["Poke Ball (x36): 1.4 x 1.35 x 0.75 inches", "Pokemon Charaters (x108): 1.35 x 1.25 x 0.2 inches"], custom: false, generic: false, no_shipping: false, image_credit_item: false, limited_quantities: true, tax_cloud_tic: "00000">, #<Spree::Product id: 2465, name: "Pokémon™ Light Up Pikachu", description: "Pokémon™ lovers will fall in love with this Pikach...", available_on: "2019-09-22 05:00:00", deleted_at: nil, slug: "pokemon-tm-light-up-pikachu-cake-kit", meta_description: nil, meta_keywords: "Pokémon; birthday; gotta catch them all;", tax_category_id: nil, shipping_category_id: 1, created_at: "2017-09-08 06:35:32", updated_at: "2019-09-22 18:41:04", promotionable: true, meta_title: nil, discontinue_on: "2020-12-31 06:00:00", product_group_id: 49, photocake_frame_item: false, choking_hazard: true, trademark_short_description: "©2016 POKEMON. © 1995-2016 Nintendo/Creatures Inc....", name_2: "DecoSet®", new_prenew: nil, avail_to_purchase: true, coming_soon: false, search_sequence_number: 1009, coming_soon_date: nil, product_type: "item", display_dimensions: ["Pokemon Layons: 2.2 x 0.95 x 2.7 inches", "Pickachu Figurine: 1.4 x 2.95 x 3.25 inches"], custom: false, generic: false, no_shipping: false, image_credit_item: false, limited_quantities: false, tax_cloud_tic: "00000">, #<Spree::Product id: 6409, name: "Pokémon™ Light Up Pikachu", description: "Background coordinates with the displayed DecoSet ...", available_on: "2019-09-22 05:00:00", deleted_at: nil, slug: "pokemon-lightup-pikachu-photocake-decoset-backgrou...", meta_description: nil, meta_keywords: "Pokémon; birthday; gotta catch them all;", tax_category_id: nil, shipping_category_id: 1, created_at: "2017-09-08 06:48:15", updated_at: "2019-09-22 06:58:14", promotionable: true, meta_title: nil, discontinue_on: "2020-12-31 06:00:00", product_group_id: nil, photocake_frame_item: true, choking_hazard: false, trademark_short_description: "©2016 POKEMON. © 1995-2016 Nintendo/Creatures Inc....", name_2: "PhotoCake® Edible Image® DecoSet® Background", new_prenew: nil, avail_to_purchase: true, coming_soon: false, search_sequence_number: 1172, coming_soon_date: nil, product_type: "item", display_dimensions: [], custom: false, generic: false, no_shipping: true, image_credit_item: false, limited_quantities: false, tax_cloud_tic: "31000">, #<Spree::Product id: 8287, name: "Pokémon™ Light Up Pikachu", description: "Pokémon™ lovers will fall in love with this Pikach...", available_on: "2019-09-22 05:00:00", deleted_at: nil, slug: "pokemon-lightup-pikachu", meta_description: nil, meta_keywords: "Pokémon; birthday; gotta catch them all;", tax_category_id: nil, shipping_category_id: 1, created_at: "2017-09-27 22:15:53", updated_at: "2019-09-22 06:46:08", promotionable: true, meta_title: nil, discontinue_on: "2020-12-31 06:00:00", product_group_id: 49, photocake_frame_item: false, choking_hazard: true, trademark_short_description: "©2016 POKEMON. © 1995-2016 Nintendo/Creatures Inc....", name_2: "DecoSet®", new_prenew: nil, avail_to_purchase: true, coming_soon: false, search_sequence_number: 1008, coming_soon_date: nil, product_type: "item", display_dimensions: [], custom: false, generic: false, no_shipping: false, image_credit_item: false, limited_quantities: false, tax_cloud_tic: "00000">]