Strawberry Shortcake™ Sweet Celebration
DecoSet®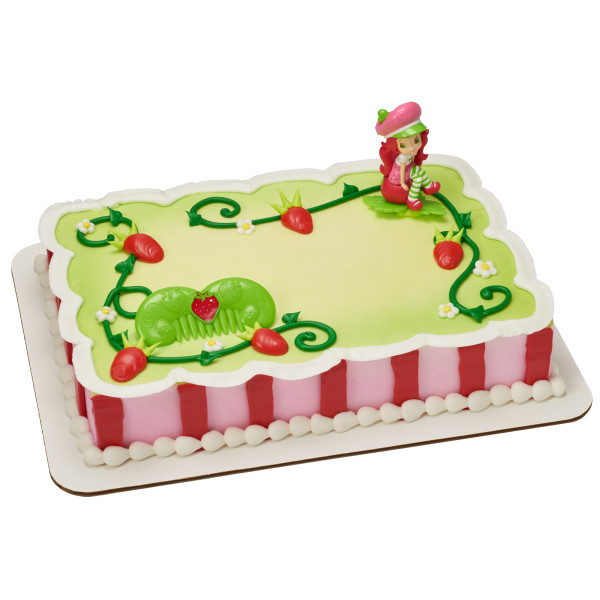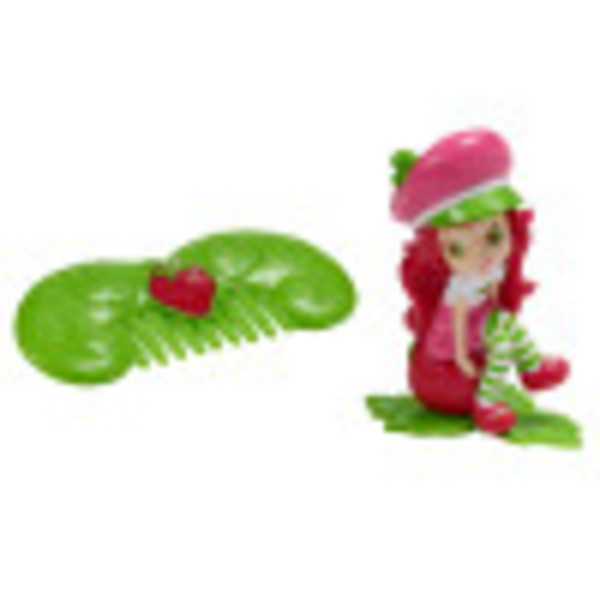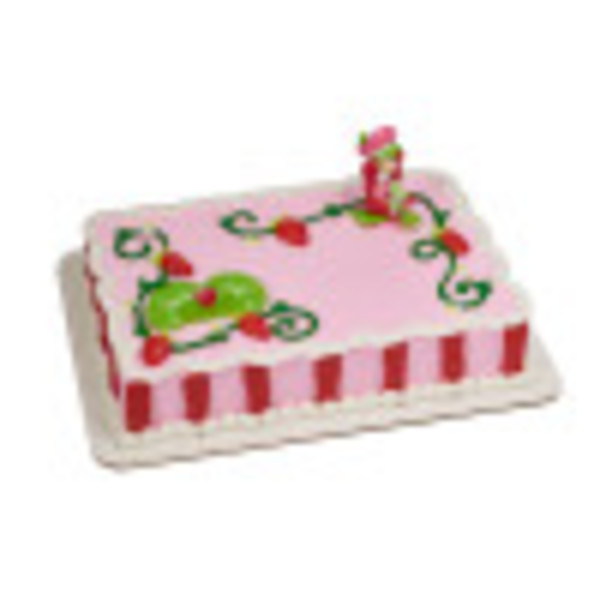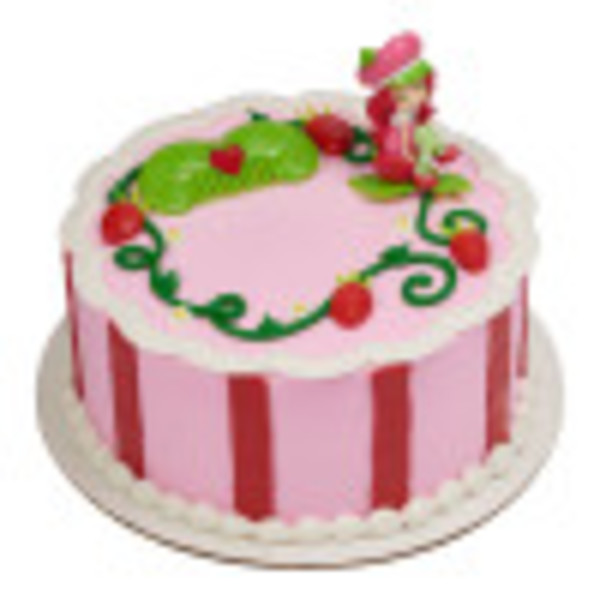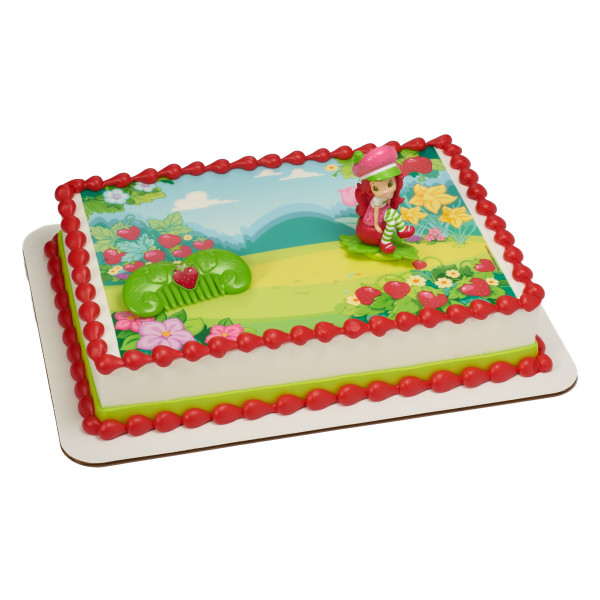 *Note: These support items are free of charge and ship automatically with your first order.
Product Details
Join Strawberry Shortcake™ in a sweet celebration. This DecoSet® features a Strawberry Shortcake™ figurine with a strawberry comb that can double as a backdrop. 3-Piece set.
Dimensions:
Strawberry Shortcake Figurine: 1.85 x 1.5 x 3.0 inches
Green Comb: 3.4 x 1.4 x 0.35 inches
WARNING: CHOKING HAZARD. Small parts. Not for children under 3 years.
TM & © Shortcake IP Holdings LLC
Related Items
[#<Spree::Product id: 552, name: "Sofia the First Sofia & Castle", description: "A royal cake for a little princess. Sophia the Fir...", available_on: "2019-06-20 05:00:00", deleted_at: nil, slug: "sofia-the-first-sofia-castle-decoset", meta_description: nil, meta_keywords: "Sofia the First; birthday; Disney;", tax_category_id: nil, shipping_category_id: 1, created_at: "2017-09-08 06:29:30", updated_at: "2019-06-20 13:05:54", promotionable: true, meta_title: nil, discontinue_on: "2020-07-31 05:00:00", product_group_id: 21, photocake_frame_item: false, choking_hazard: true, trademark_short_description: "©Disney", name_2: "DecoSet®", new_prenew: nil, avail_to_purchase: true, coming_soon: false, search_sequence_number: 1028, coming_soon_date: nil, product_type: "item", display_dimensions: ["Sofia; cake topper: 5.4 x 2.05 x 2.8 inches", "Sofia;: 1.85 x 1.85 x 3.0 inches"], custom: false, generic: false, no_shipping: false, image_credit_item: false, limited_quantities: false, tax_cloud_tic: "00000">, #<Spree::Product id: 2438, name: "Strawberry Shortcake™ Sweet Celebration", description: "Strawberry Shortcake™ can't wait to celebrate! Fan...", available_on: "2019-06-20 05:00:00", deleted_at: nil, slug: "strawberry-shortcake-sweet-photocake-image", meta_description: nil, meta_keywords: "Strawberry Shortcake; sweet; birthday;", tax_category_id: nil, shipping_category_id: 1, created_at: "2017-09-08 06:35:26", updated_at: "2019-06-20 07:03:00", promotionable: true, meta_title: nil, discontinue_on: "2019-08-31 05:00:00", product_group_id: nil, photocake_frame_item: true, choking_hazard: false, trademark_short_description: "TM & © Shortcake IP Holdings LLC", name_2: "PhotoCake® Edible Image®", new_prenew: nil, avail_to_purchase: true, coming_soon: false, search_sequence_number: 2122, coming_soon_date: nil, product_type: "item", display_dimensions: [], custom: false, generic: false, no_shipping: true, image_credit_item: false, limited_quantities: true, tax_cloud_tic: "31000">, #<Spree::Product id: 4473, name: "Doc McStuffins Doc and Lambie", description: "Doc McStuffins is here to help all the animals. Th...", available_on: "2019-06-20 05:00:00", deleted_at: nil, slug: "doc-mcstuffins-doc-lambie-decoset", meta_description: nil, meta_keywords: "Doc McStuffins; Lambie; vet; Disney;", tax_category_id: nil, shipping_category_id: 1, created_at: "2017-09-08 06:41:49", updated_at: "2019-06-20 13:36:03", promotionable: true, meta_title: nil, discontinue_on: "2020-07-31 05:00:00", product_group_id: 51, photocake_frame_item: false, choking_hazard: true, trademark_short_description: "©Disney", name_2: "DecoSet®", new_prenew: nil, avail_to_purchase: true, coming_soon: false, search_sequence_number: 790, coming_soon_date: nil, product_type: "item", display_dimensions: ["Doc and Lambie Figurine: 1.75 x 1.7 x 3.1 inches", "3 Cupake Rings Featuring Hallie, Chilly & Stuffy: 1.6 x 0.9 x 1.35 inches"], custom: false, generic: false, no_shipping: false, image_credit_item: false, limited_quantities: false, tax_cloud_tic: "00000">, #<Spree::Product id: 8139, name: "Strawberry Shortcake™ Sweet Sidekicks", description: "Strawberry Shortcake™ and her friends can't wait t...", available_on: "2019-06-20 05:00:00", deleted_at: nil, slug: "strawberry-shortcake-sweet-sidekicks-photocake-ima...", meta_description: nil, meta_keywords: "Strawberry Shortcake; birthday; side cake image;", tax_category_id: nil, shipping_category_id: 1, created_at: "2017-09-08 06:53:46", updated_at: "2019-06-20 07:20:05", promotionable: true, meta_title: nil, discontinue_on: "2019-08-31 05:00:00", product_group_id: nil, photocake_frame_item: true, choking_hazard: false, trademark_short_description: "TM & © Shortcake IP Holdings LLC", name_2: "PhotoCake® Edible Image® Strips", new_prenew: nil, avail_to_purchase: true, coming_soon: false, search_sequence_number: 6165, coming_soon_date: nil, product_type: "item", display_dimensions: [], custom: false, generic: false, no_shipping: true, image_credit_item: false, limited_quantities: true, tax_cloud_tic: "40030">]