Superman™ Superman
DecoSet®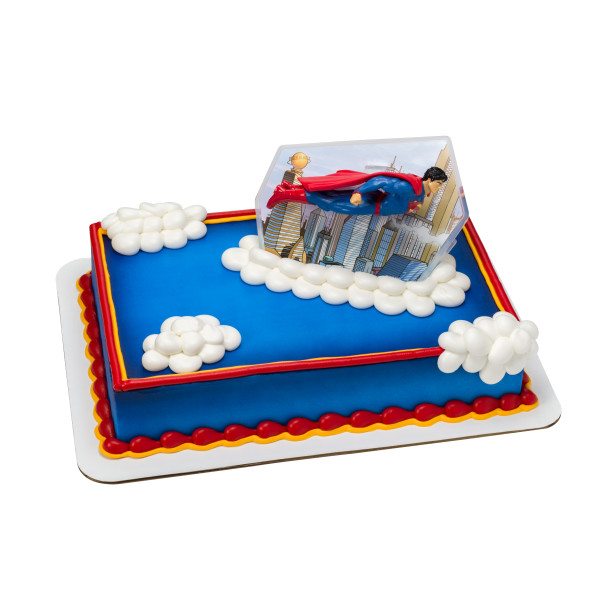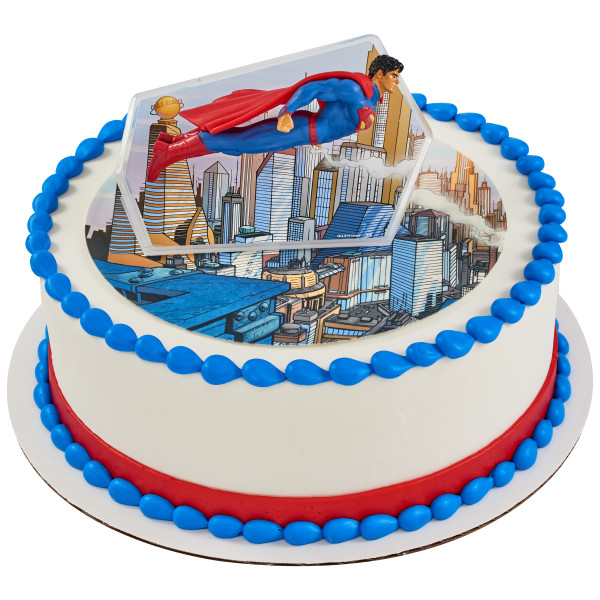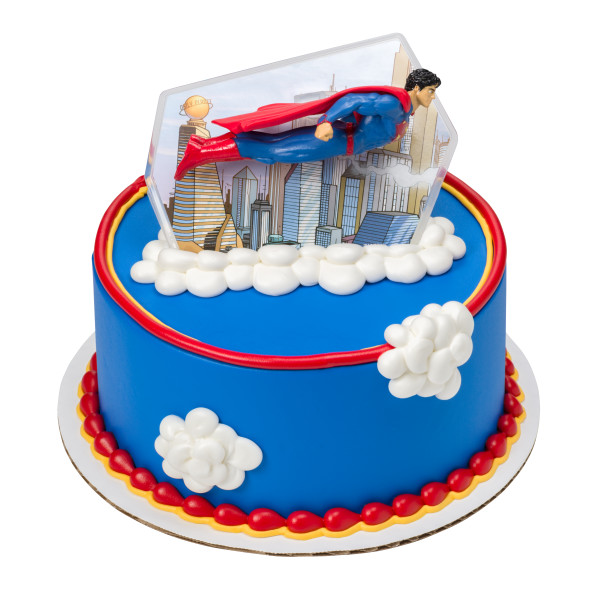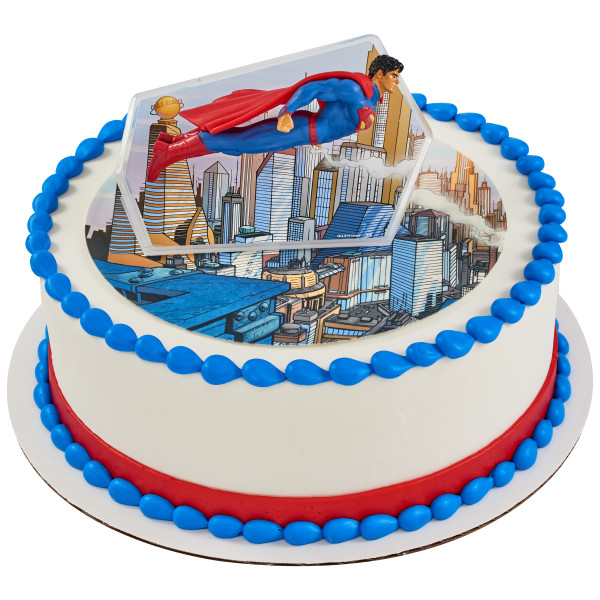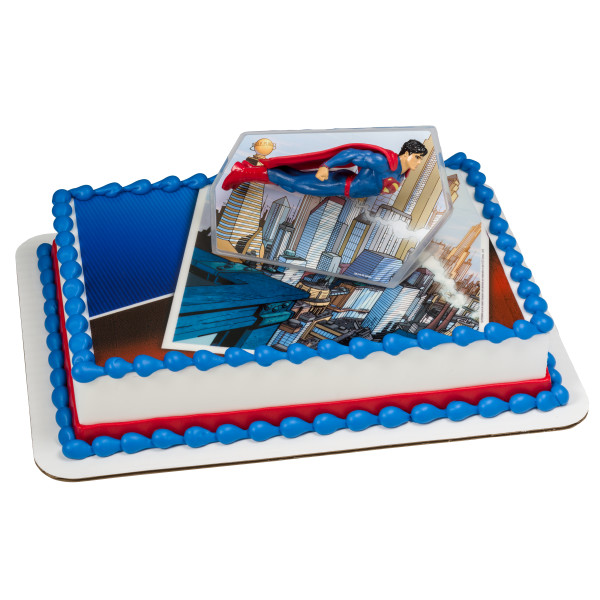 *Note: These support items are free of charge and ship automatically with your first order.
Product Details
Look it's a bird! It's a plane! It's Superman™ here to save the party! Includes collectible figurine on stand. 2-Piece set.
Dimensions:
Superman Flying over City Stand: 6.1 x 3.6 x 3.8 inches
WARNING: CHOKING HAZARD. Small parts. Not for children under 3 years.
SUPERMAN and all related characters and elements are trademarks of and © DC Comics.
Related Items
[#<Spree::Product id: 1061, name: "Superman™ You're My Hero", description: "Dad's are just like Superman™ in all they accompli...", available_on: "2019-09-18 05:00:00", deleted_at: nil, slug: "superman-you-re-my-hero-photocake-image", meta_description: nil, meta_keywords: "Superman; Father's Day;", tax_category_id: nil, shipping_category_id: 1, created_at: "2017-09-08 06:31:07", updated_at: "2019-09-18 07:12:01", promotionable: true, meta_title: nil, discontinue_on: "2020-12-31 06:00:00", product_group_id: nil, photocake_frame_item: true, choking_hazard: false, trademark_short_description: "SUPERMAN and all related characters and elements a...", name_2: "PhotoCake® Edible Image®", new_prenew: nil, avail_to_purchase: true, coming_soon: false, search_sequence_number: 2217, coming_soon_date: nil, product_type: "item", display_dimensions: [], custom: false, generic: false, no_shipping: true, image_credit_item: false, limited_quantities: false, tax_cloud_tic: "31000">, #<Spree::Product id: 3859, name: "Superman™ Saves the Day", description: "Your Superman fans will love this PhotoCake Edible...", available_on: "2019-09-18 05:00:00", deleted_at: nil, slug: "superman-saves-the-day-photocake-frame", meta_description: nil, meta_keywords: "Superman; personalize; photo frame; birthday;", tax_category_id: nil, shipping_category_id: 1, created_at: "2017-09-08 06:39:44", updated_at: "2019-09-18 07:03:57", promotionable: true, meta_title: nil, discontinue_on: "2020-12-31 06:00:00", product_group_id: nil, photocake_frame_item: true, choking_hazard: false, trademark_short_description: "SUPERMAN and all related characters and elements a...", name_2: "PhotoCake® Edible Image® Frame", new_prenew: nil, avail_to_purchase: true, coming_soon: false, search_sequence_number: 2496, coming_soon_date: nil, product_type: "item", display_dimensions: [], custom: false, generic: false, no_shipping: true, image_credit_item: false, limited_quantities: false, tax_cloud_tic: "31000">, #<Spree::Product id: 6991, name: "Superman™ Up, Up and Away", description: "Fly into the party with a cake featuring this Supe...", available_on: "2019-09-18 05:00:00", deleted_at: nil, slug: "superman-up-and-away-photocake-image", meta_description: nil, meta_keywords: "Superman; logo; shield;", tax_category_id: nil, shipping_category_id: 1, created_at: "2017-09-08 06:50:05", updated_at: "2019-09-18 06:53:25", promotionable: true, meta_title: nil, discontinue_on: "2020-12-31 06:00:00", product_group_id: nil, photocake_frame_item: true, choking_hazard: false, trademark_short_description: "SUPERMAN and all related characters and elements a...", name_2: "PhotoCake® Edible Image®", new_prenew: nil, avail_to_purchase: true, coming_soon: false, search_sequence_number: 2216, coming_soon_date: nil, product_type: "item", display_dimensions: [], custom: false, generic: false, no_shipping: true, image_credit_item: false, limited_quantities: false, tax_cloud_tic: "31000">, #<Spree::Product id: 11236, name: "Superman™ Power Up", description: "Your Superman fans will love this PhotoCake Edible...", available_on: "2019-09-18 05:00:00", deleted_at: nil, slug: "superman-power-up", meta_description: nil, meta_keywords: "Superman; logo; shield;", tax_category_id: nil, shipping_category_id: 1, created_at: "2018-03-24 06:57:48", updated_at: "2019-09-18 07:01:57", promotionable: true, meta_title: nil, discontinue_on: "2021-07-31 05:00:00", product_group_id: nil, photocake_frame_item: true, choking_hazard: false, trademark_short_description: "SUPERMAN and all related characters and elements a...", name_2: "PhotoCake® Edible Image®", new_prenew: nil, avail_to_purchase: true, coming_soon: false, search_sequence_number: 2253, coming_soon_date: nil, product_type: "item", display_dimensions: [], custom: false, generic: false, no_shipping: true, image_credit_item: false, limited_quantities: false, tax_cloud_tic: "31000">]