Throwback Party
DecoSet®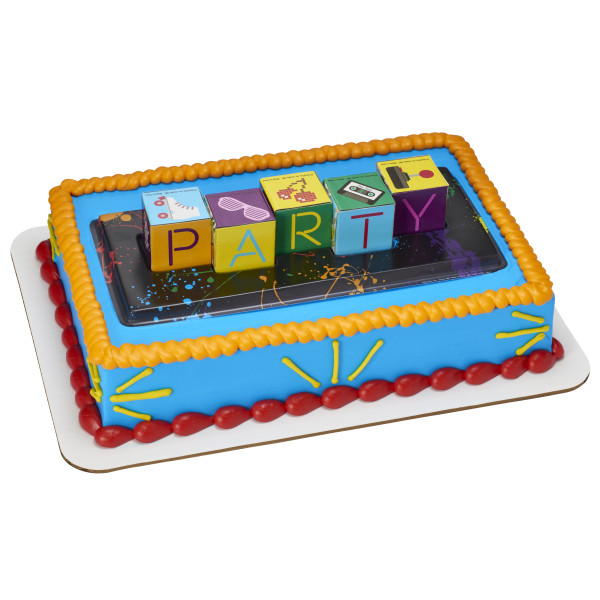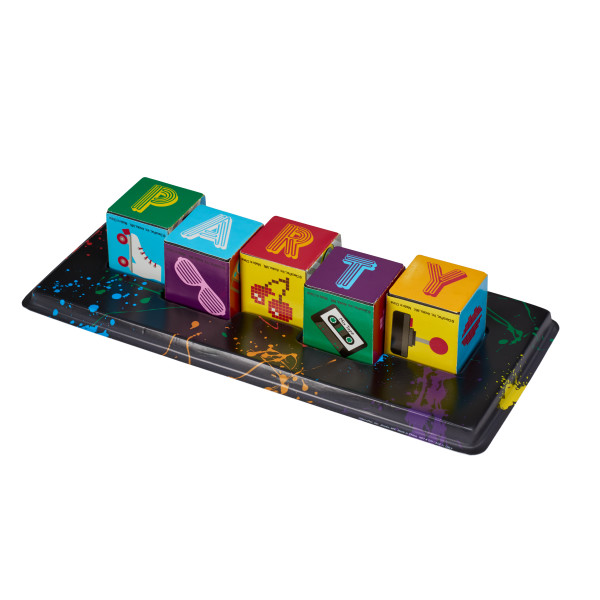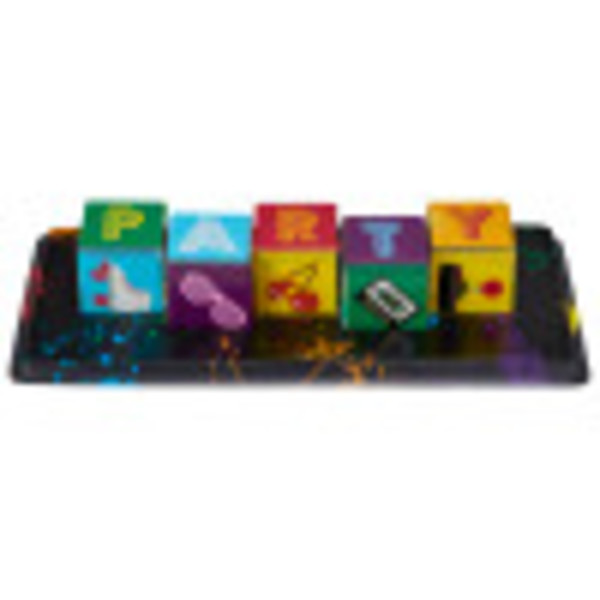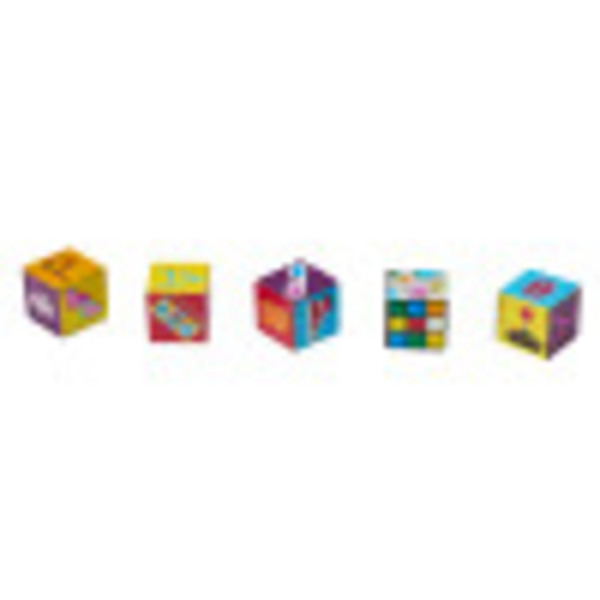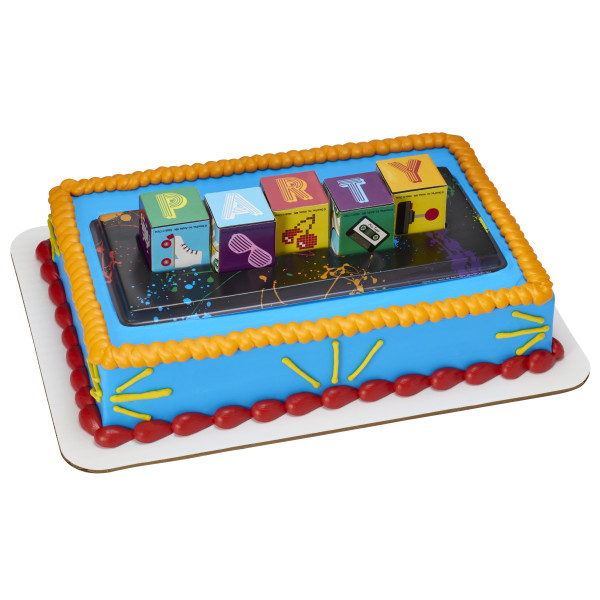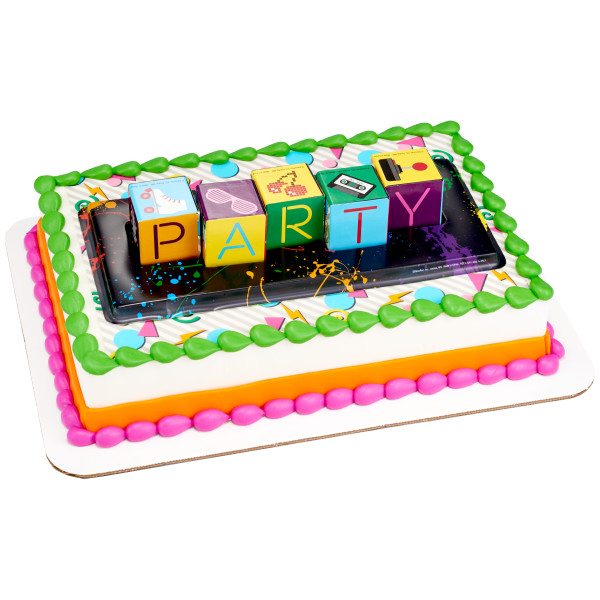 *Note: These support items are free of charge and ship automatically with your first order.
Product Details
Throw it back to the times of boom boxes and arcades with this 80's themed DecoSet! Great for 80's parties or those that miss the fun times. Set includes five blocks that spell out PARTY and have various 80's images on each side, and a fun food-safe plastic tray to display them on. 6-Piece set.
Dimensions:
Party Blocks: 7 x 6.7 x 0.1 inches
WARNING: CHOKING HAZARD. Small parts. Not for children under 3 years.
Related Items
[#<Spree::Product id: 554, name: "Peace", description: "Bring groovy back and add these peace symbol rings...", available_on: "2019-09-18 05:00:00", deleted_at: nil, slug: "peace-cupcake-rings", meta_description: "", meta_keywords: "peace; 70's; rings; groovy;", tax_category_id: nil, shipping_category_id: 1, created_at: "2017-09-08 06:29:31", updated_at: "2019-09-18 13:39:08", promotionable: true, meta_title: "", discontinue_on: "2021-07-31 05:00:00", product_group_id: nil, photocake_frame_item: false, choking_hazard: false, trademark_short_description: nil, name_2: "Cupcake Rings", new_prenew: nil, avail_to_purchase: true, coming_soon: false, search_sequence_number: 228, coming_soon_date: nil, product_type: "item", display_dimensions: ["Peace Sign: 1.4 x 1.35 x 0.85 inches"], custom: false, generic: true, no_shipping: false, image_credit_item: false, limited_quantities: false, tax_cloud_tic: "00000">, #<Spree::Product id: 4658, name: "Fiesta", description: "Start a party with this Fiesta DecoSet! Set includ...", available_on: "2019-09-18 05:00:00", deleted_at: nil, slug: "fiesta-decoset", meta_description: "", meta_keywords: "Fiesta; celebration;", tax_category_id: nil, shipping_category_id: 1, created_at: "2017-09-08 06:42:29", updated_at: "2019-09-18 14:06:14", promotionable: true, meta_title: "", discontinue_on: "2021-07-31 05:00:00", product_group_id: nil, photocake_frame_item: false, choking_hazard: true, trademark_short_description: nil, name_2: "DecoSet®", new_prenew: nil, avail_to_purchase: true, coming_soon: false, search_sequence_number: 824, coming_soon_date: nil, product_type: "item", display_dimensions: ["Guitar: 6.5 x 2.5 x 0.3 inches", "Orange Circle: 3.15 x 3.15 x 0.1 inches", "Green Circle: 3.15 x 3.1 x 0.1 inches", "Purple Circle: 3.15 x 3.15 x 0.1 inches"], custom: false, generic: true, no_shipping: false, image_credit_item: false, limited_quantities: false, tax_cloud_tic: "00000">, #<Spree::Product id: 5553, name: "Groovy Assortment", description: "Get the party groovin' with these 60's inspired de...", available_on: "2019-09-18 05:00:00", deleted_at: nil, slug: "groovy-assortment-dec-ons-decorations", meta_description: nil, meta_keywords: "Groovy, Groovin, Dec-Ons Decorations, edible, colo...", tax_category_id: nil, shipping_category_id: 1, created_at: "2017-09-08 06:45:19", updated_at: "2019-09-18 07:00:39", promotionable: true, meta_title: nil, discontinue_on: "2021-01-31 06:00:00", product_group_id: nil, photocake_frame_item: false, choking_hazard: false, trademark_short_description: "©2016 DecoPac, Inc.", name_2: "Dec-Ons® Decorations", new_prenew: nil, avail_to_purchase: true, coming_soon: false, search_sequence_number: 2779, coming_soon_date: nil, product_type: "item", display_dimensions: ["FLOWER(32): 1.2 x 1.05 x 0.3 inches", "HEART(32): 1.2 x 0.8 x 0.3 inches", "BUTTERFLY(32): 1.1 x 1.05 x 0.25 inches"], custom: false, generic: true, no_shipping: false, image_credit_item: false, limited_quantities: false, tax_cloud_tic: "40030">, #<Spree::Product id: 11489, name: "Color Pop Flowers", description: "Your Spring party guests will leave your party wit...", available_on: "2019-09-18 05:00:00", deleted_at: nil, slug: "color-pop-flowers", meta_description: nil, meta_keywords: "flowers; edible decorations;", tax_category_id: nil, shipping_category_id: 1, created_at: "2018-05-25 06:55:47", updated_at: "2019-09-18 07:01:15", promotionable: true, meta_title: nil, discontinue_on: "2020-10-21 05:00:00", product_group_id: nil, photocake_frame_item: false, choking_hazard: false, trademark_short_description: nil, name_2: "Sweet Décor™ Printed Edible Decorations", new_prenew: nil, avail_to_purchase: true, coming_soon: false, search_sequence_number: 6561, coming_soon_date: nil, product_type: "item", display_dimensions: ["FLOWER 1 (PUR/RED/YLW/GRN)(48): 1.05 x 1.05 x 0.2 inches", "FLOWER 2 (YLW/RED/PUR/PNK)(48): 1.05 x 1.0 x 0.15 inches", "FLOWER 3 (PNK/ORN/BLU)(48): 1.15 x 1.05 x 0.2 inches"], custom: false, generic: true, no_shipping: false, image_credit_item: false, limited_quantities: false, tax_cloud_tic: "40030">]