Trolls Poppy Show Me A Smile
DecoSet®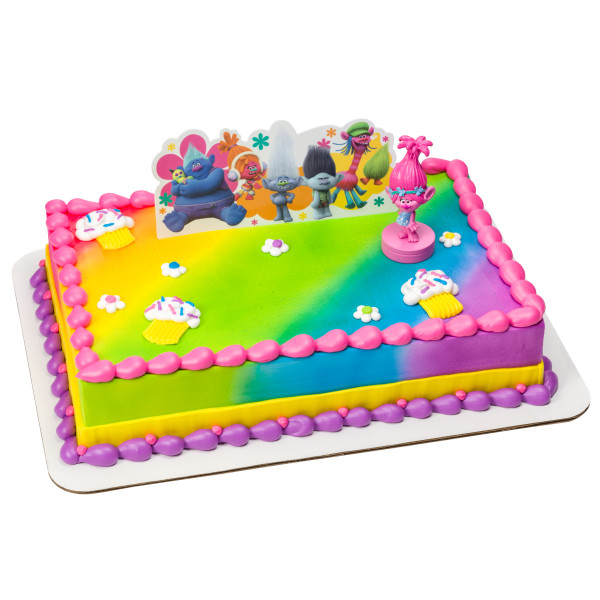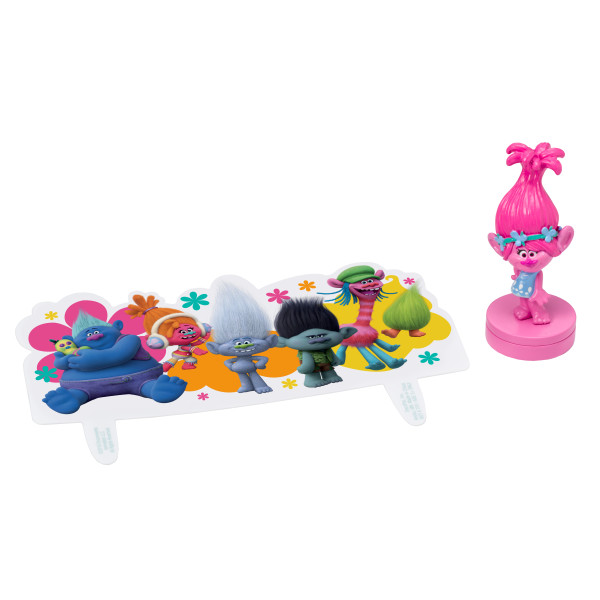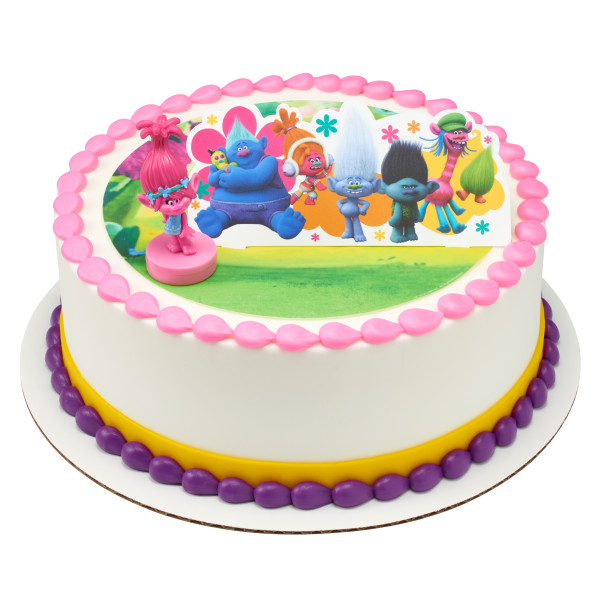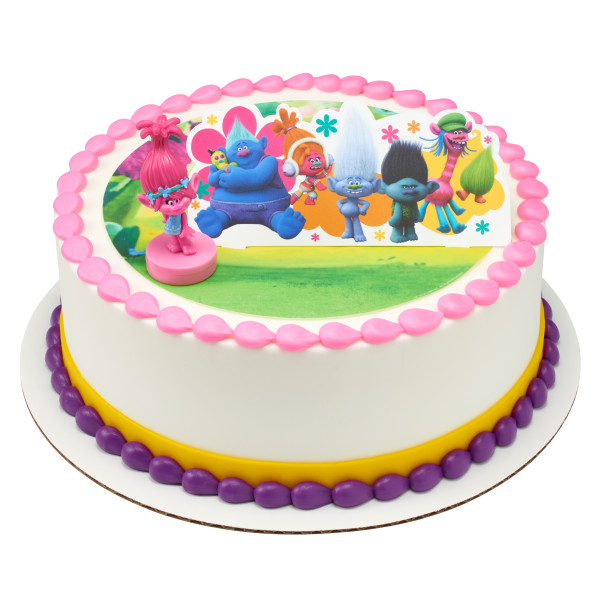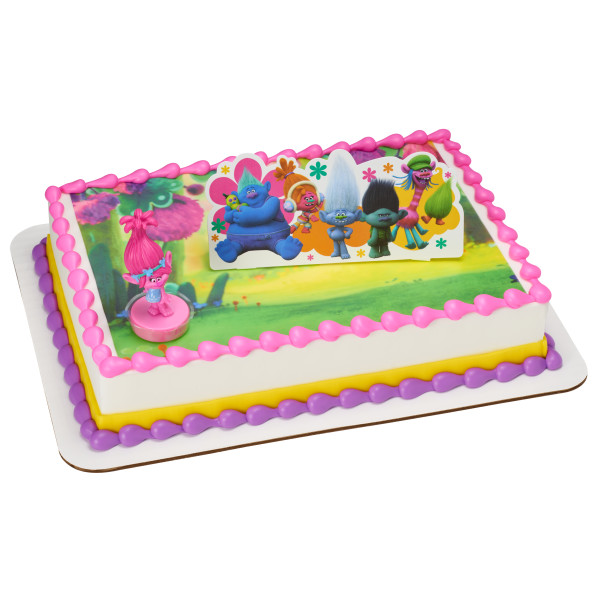 *Note: These support items are free of charge and ship automatically with your first order.
Product Details
Have a hair-raising adventure with Poppy and her other Trolls friends! This DecoSet features a Poppy figurine and a layon of all of her other Trolls friends. 2-Piece set.
Dimensions:
Poppy Figurine: 1.35 x 1.95 x 2.9 inches
Troll Character Background: 6.4 x 3.9 x 0.45 inches
WARNING: CHOKING HAZARD. Small parts. Not for children under 3 years.
TM & © 2016 DreamWorks Animation LLC
Videos
Quick & Easy Decorating with PhotoCake® DecoSet® Backgrounds
Related Items
[#<Spree::Product id: 3977, name: "DreamWorks - Trolls True Colors", description: "These Trolls rings are sure to bring a smile and m...", available_on: "2019-09-22 05:00:00", deleted_at: nil, slug: "trolls-true-colors-cupcake-rings", meta_description: nil, meta_keywords: "Trolls; rings; poppy; branch;", tax_category_id: nil, shipping_category_id: 1, created_at: "2017-09-08 06:40:09", updated_at: "2019-09-22 15:27:22", promotionable: true, meta_title: nil, discontinue_on: "2030-01-31 06:00:00", product_group_id: nil, photocake_frame_item: false, choking_hazard: false, trademark_short_description: "TM & © 2016 DreamWorks Animation LLC", name_2: "Cupcake Rings", new_prenew: nil, avail_to_purchase: true, coming_soon: false, search_sequence_number: 734, coming_soon_date: nil, product_type: "item", display_dimensions: ["(TEAL,LT.PINK,DK.PINK)(5 STICKERS): 1.4 x 1.4 x 0.65 inches", "PINK RING(TROLL FACE): 1.8 x 1.15 x 1.15 inches"], custom: false, generic: false, no_shipping: false, image_credit_item: false, limited_quantities: true, tax_cloud_tic: "00000">, #<Spree::Product id: 4075, name: "DreamWorks - Trolls Rock'n Troll", description: "Enhance your DreamWorks Trolls cake with Poppy dan...", available_on: "2019-09-22 05:00:00", deleted_at: nil, slug: "dreamworks-trolls-rock-n-trolls-image-strips", meta_description: nil, meta_keywords: "Trolls; Poppy; birthday;", tax_category_id: nil, shipping_category_id: 1, created_at: "2017-09-08 06:40:27", updated_at: "2019-09-22 07:05:03", promotionable: true, meta_title: nil, discontinue_on: "2020-12-31 06:00:00", product_group_id: nil, photocake_frame_item: true, choking_hazard: false, trademark_short_description: "TM & © 2016 DreamWorks Animation LLC", name_2: "PhotoCake® Edible Image® Strips", new_prenew: nil, avail_to_purchase: true, coming_soon: false, search_sequence_number: 6389, coming_soon_date: nil, product_type: "item", display_dimensions: [], custom: false, generic: false, no_shipping: true, image_credit_item: false, limited_quantities: false, tax_cloud_tic: "40030">, #<Spree::Product id: 11178, name: "DreamWorks - Trolls Free to Sparkle", description: "It's time to sparkle with Poppy from the DreamWork...", available_on: "2019-09-22 05:00:00", deleted_at: nil, slug: "trolls-free-to-sparkle", meta_description: nil, meta_keywords: "Trolls; Poppy; birthday;", tax_category_id: nil, shipping_category_id: 1, created_at: "2018-03-24 06:51:05", updated_at: "2019-09-22 06:48:43", promotionable: true, meta_title: nil, discontinue_on: "2020-12-31 06:00:00", product_group_id: nil, photocake_frame_item: true, choking_hazard: false, trademark_short_description: "TM & © 2016 DreamWorks Animation LLC", name_2: "PhotoCake® Edible Image®", new_prenew: nil, avail_to_purchase: true, coming_soon: false, search_sequence_number: 2282, coming_soon_date: nil, product_type: "item", display_dimensions: [], custom: false, generic: false, no_shipping: true, image_credit_item: false, limited_quantities: false, tax_cloud_tic: "31000">, #<Spree::Product id: 11248, name: "DreamWorks - Trolls Poppy's Posse", description: "Join with the DreamWorks Trolls as they roll into ...", available_on: "2019-09-22 05:00:00", deleted_at: nil, slug: "trolls-poppy-s-posse", meta_description: nil, meta_keywords: "Trolls; Poppy; birthday;", tax_category_id: nil, shipping_category_id: 1, created_at: "2018-03-24 06:57:53", updated_at: "2019-09-22 06:53:49", promotionable: true, meta_title: nil, discontinue_on: "2020-12-31 06:00:00", product_group_id: nil, photocake_frame_item: true, choking_hazard: false, trademark_short_description: "TM & © 2016 DreamWorks Animation LLC", name_2: "PhotoCake® Edible Image®", new_prenew: nil, avail_to_purchase: true, coming_soon: false, search_sequence_number: 2284, coming_soon_date: nil, product_type: "item", display_dimensions: [], custom: false, generic: false, no_shipping: true, image_credit_item: false, limited_quantities: false, tax_cloud_tic: "31000">]