Creating Beautiful Textures with White Quins
Has this ever happened to you? You're working on a cake design and it's coming together beautifully. But you yearn for something else—an extra special touch to add a bit of depth and texture.
Listen up, fellow cake decorators:
White quins are the key to your quest for cake greatness. Sure you've been using quins for years, but these are pure genius when it comes to adding texture. 
The true super power of these premium white quins is how incredible they look when airbrushed. They're the ultimate chameleons of cake decorating. Use Shimmer Airbrush colors to create an upscale, oh-so-popular encrusted texture. Or choose from over forty different shades of Premium Airbrush colors. Enhance your color of choice with metallic, light-catching dimension by finishing with an overspray of Shimmer Pearlescent Silver or Gold.
For true white quin perfection, here's an important tip: Before airbrushing be sure a good amount of white quins have adhered to your icing. Go ahead and give them a good pat down to secure them in place. A few rogue quins will fly off, but without this little love tap, you'll have quins flying everywhere. You guessed it, this actually happened to me during my first attempt. Sure, it was hilarious to be surrounded by a white quin swirl, but it cost me precious time to clean up and re-do. You can thank me later.
With incredible color adherence, these white quins add a beautiful, sophisticated texture that matches whatever decorating palette you desire. Go on and give them a try. You'll love the ease and your customers will love the look. 
How to Adhere White Quins for a Spectacular Finished Look
Step 1: Base ice your cake. No need to carefuly smooth the icing since you will be covering in quins.
Step 2: Using gloved hands, apply white quins to your freshly-iced cake. On top, pour quins and spread with your hands, patting well so quins adhere to the icing.
Step 3: On the sides of the cake, scoop quins and pat firmly so there are no loose quins.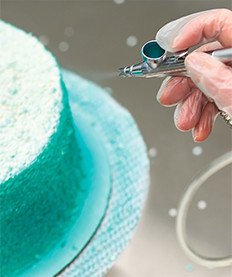 Step 4: To apply color, airbrush all around your cake. Adjust your angle to ensure full color coverage.
---
Hey there, I'm Danielle. I started decorating cakes with my Grandma (Baba) when I was six years old. It was a fun hobby we enjoyed together. As I got older, I dreamt of going to art school or becoming the next Alicia Keys, but when I was sixteen my Grandma passed away. So when Le Cordon Bleu came into my home ec class, I thought, "That's it. I can still be an artist, and have Baba with me the whole time." That's why I love being a cake designer and decorator at DecoPac—I get to create amazing, edible art with my Grandma smiling over my shoulder.

---