Duck Hunting
DecoSet®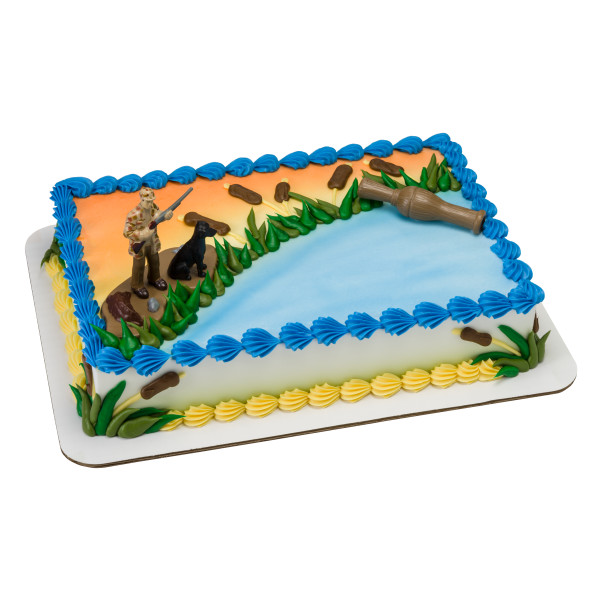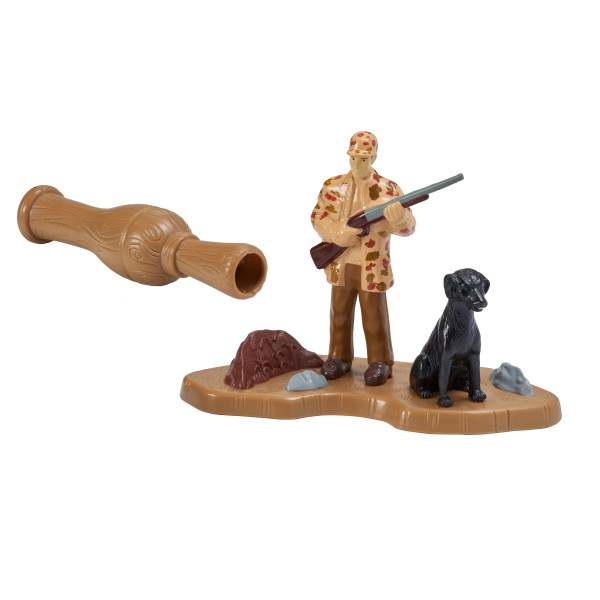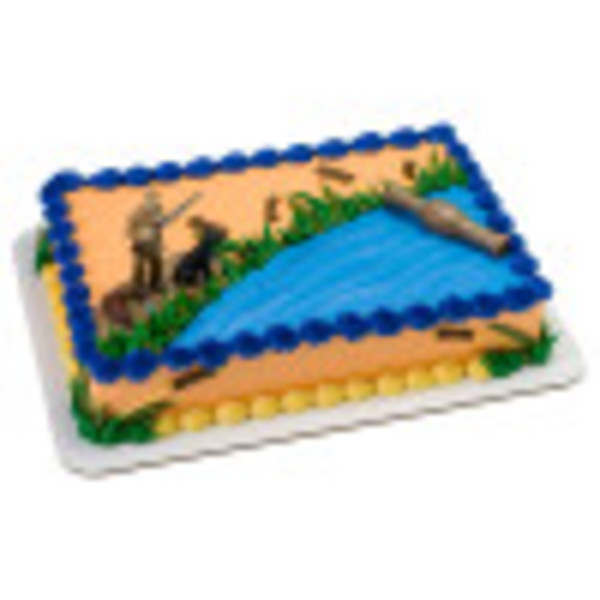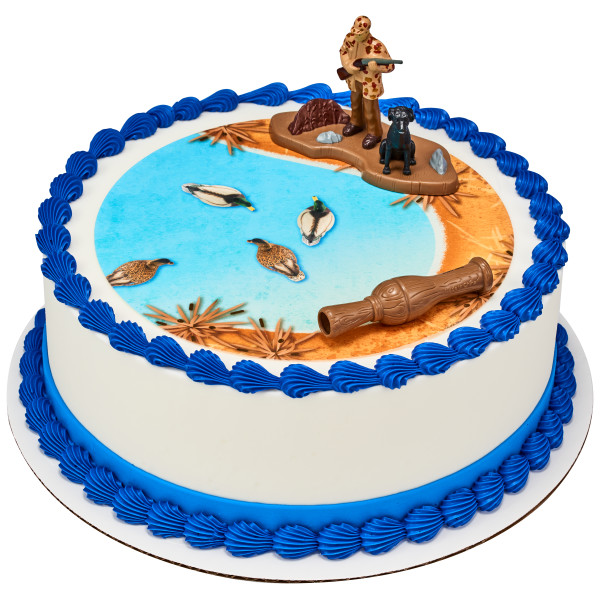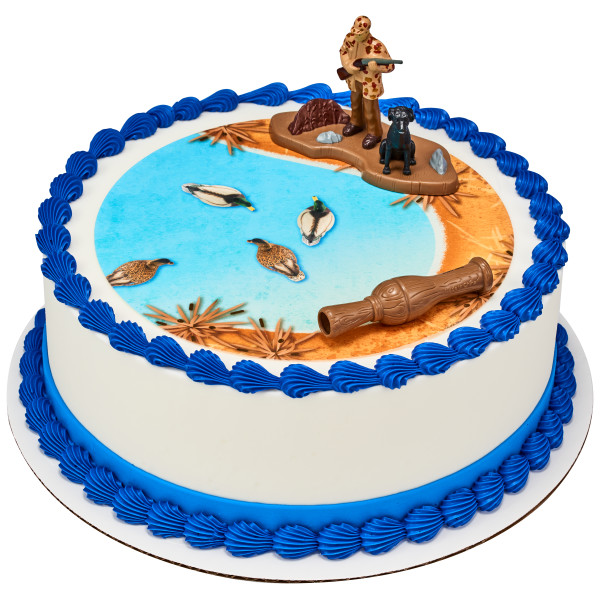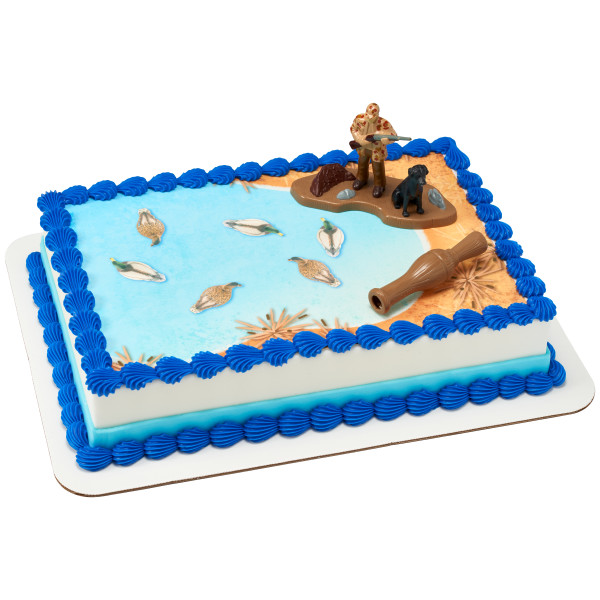 *Note: These support items are free of charge and ship automatically with your first order.
Product Details
Waterfowl hunting is more popular than ever, so this cake design is perfect for celebrating birthdays, first hunts, and love of the sport. The set includes a duck hunter figurine with his loyal companion and a duck call that really works! 2-Piece set.
Dimensions:
Hunter and Dog Figurine: 4.35 x 1.8 x 3.1 inches
Duck Call: 0.75 x 0.8 x 3.55 inches
WARNING: CHOKING HAZARD. Small parts. Not for children under 3 years.
Related Items
[#<Spree::Product id: 2417, name: "Fireside Camp", description: "Camping has become a favorite hobby for people who...", available_on: "2019-08-20 05:00:00", deleted_at: nil, slug: "fireside-camp-decoset", meta_description: nil, meta_keywords: "Camping; tent; canoe; camper;", tax_category_id: nil, shipping_category_id: 1, created_at: "2017-09-08 06:35:23", updated_at: "2019-08-20 15:06:43", promotionable: true, meta_title: nil, discontinue_on: "2021-07-31 05:00:00", product_group_id: nil, photocake_frame_item: false, choking_hazard: true, trademark_short_description: nil, name_2: "DecoSet®", new_prenew: nil, avail_to_purchase: true, coming_soon: false, search_sequence_number: 820, coming_soon_date: nil, product_type: "item", display_dimensions: ["Canoe: 3.9 x 1.1 x 1.1 inches", "Campfire: 1.4 x 1.4 x 1.1 inches", "Paddle: 2.7 x 0.3 x 0.2 inches", "Tent: 2.95 x 2.55 x 1.9 inches"], custom: false, generic: true, no_shipping: false, image_credit_item: false, limited_quantities: false, tax_cloud_tic: "00000">, #<Spree::Product id: 4401, name: "Catching the Big One", description: "It's a BIG ONE! Celebrate with a fishing enthusias...", available_on: "2019-08-20 05:00:00", deleted_at: nil, slug: "catching-the-big-one-decoset", meta_description: nil, meta_keywords: "Fishing; fish; the big one;", tax_category_id: nil, shipping_category_id: 1, created_at: "2017-09-08 06:41:34", updated_at: "2019-08-20 15:05:33", promotionable: true, meta_title: nil, discontinue_on: "2021-07-31 05:00:00", product_group_id: nil, photocake_frame_item: false, choking_hazard: true, trademark_short_description: nil, name_2: "DecoSet®", new_prenew: nil, avail_to_purchase: true, coming_soon: false, search_sequence_number: 768, coming_soon_date: nil, product_type: "item", display_dimensions: ["Fish Figurine: 3.95 x 2.6 x 1.0 inches", "Fishing Line: 3.05 x 1.15 x 1.4 inches", "Forest Background Plaque: 3.9 x 2.05 x 0.45 inches"], custom: false, generic: true, no_shipping: false, image_credit_item: false, limited_quantities: false, tax_cloud_tic: "00000">, #<Spree::Product id: 5797, name: "Fisherman with Action Fish", description: "It's a BIG ONE! Celebrate with a fishing enthusias...", available_on: "2019-08-20 05:00:00", deleted_at: nil, slug: "fisherman-with-action-fish-decoset", meta_description: nil, meta_keywords: "Fishing; fish; the big one;", tax_category_id: nil, shipping_category_id: 1, created_at: "2017-09-08 06:46:13", updated_at: "2019-08-20 15:06:43", promotionable: true, meta_title: nil, discontinue_on: "2021-07-31 05:00:00", product_group_id: 73, photocake_frame_item: false, choking_hazard: true, trademark_short_description: nil, name_2: "DecoSet®", new_prenew: nil, avail_to_purchase: true, coming_soon: false, search_sequence_number: 822, coming_soon_date: nil, product_type: "item", display_dimensions: ["Fisherman with Fish: 3.95 x 2.1 x 2.4 inches", "Evergreen Tree Pics (x2): 2.4 x 1.3 x 1.7 inches"], custom: false, generic: true, no_shipping: false, image_credit_item: false, limited_quantities: false, tax_cloud_tic: "00000">, #<Spree::Product id: 11255, name: "Mossy Oak® Break-Up Country Deer", description: "This PhotoCake Edible Image® is perfect for a Moss...", available_on: "2019-08-20 05:00:00", deleted_at: nil, slug: "mossy-oak-break-up-country-deer", meta_description: nil, meta_keywords: "Hunting; Mossy Oak;", tax_category_id: nil, shipping_category_id: 1, created_at: "2018-03-24 06:57:56", updated_at: "2019-08-20 07:11:11", promotionable: true, meta_title: nil, discontinue_on: "2021-07-31 05:00:00", product_group_id: nil, photocake_frame_item: true, choking_hazard: false, trademark_short_description: nil, name_2: "PhotoCake® Edible Image®", new_prenew: nil, avail_to_purchase: true, coming_soon: false, search_sequence_number: 1971, coming_soon_date: nil, product_type: "item", display_dimensions: [], custom: false, generic: false, no_shipping: true, image_credit_item: false, limited_quantities: false, tax_cloud_tic: "31000">]