HARRY POTTER™ Quidditch™ Chase
DecoSet®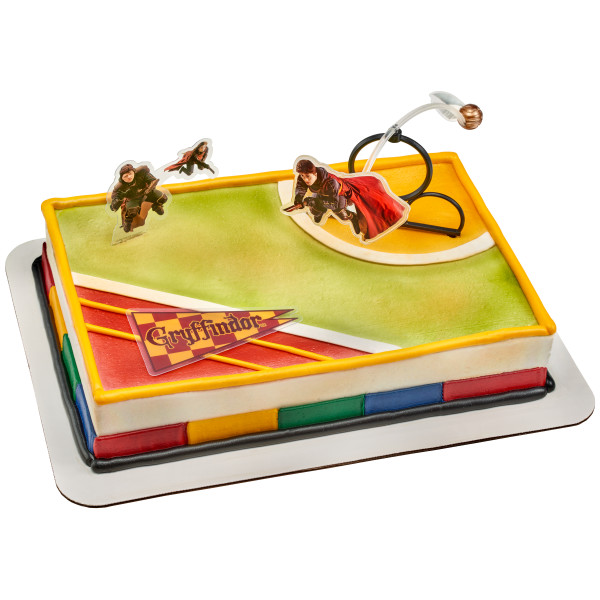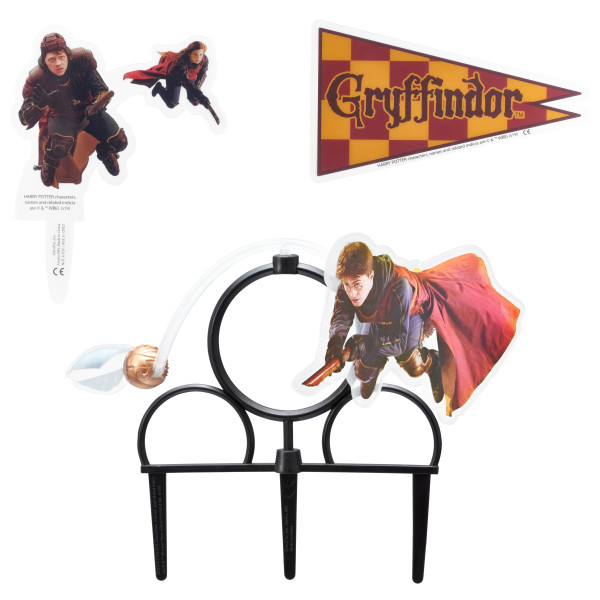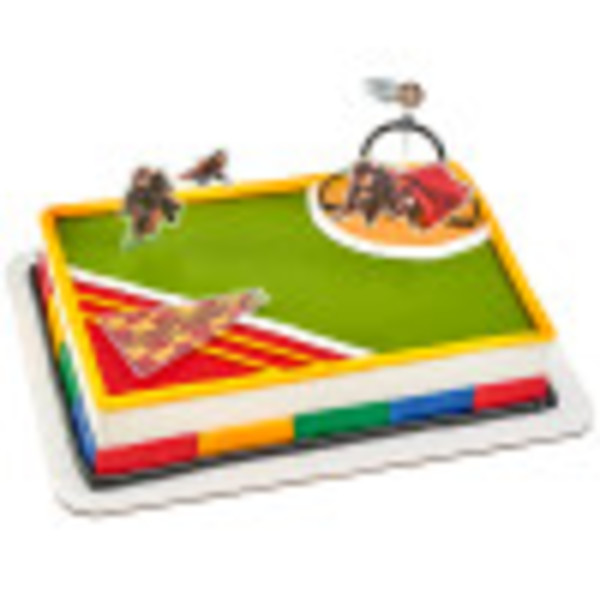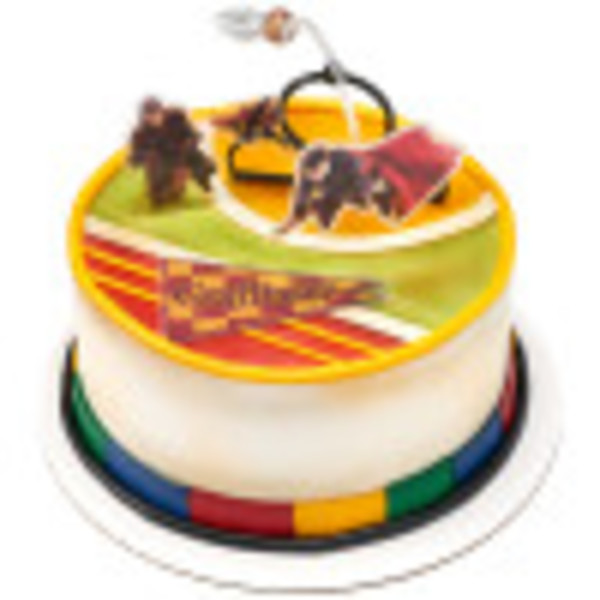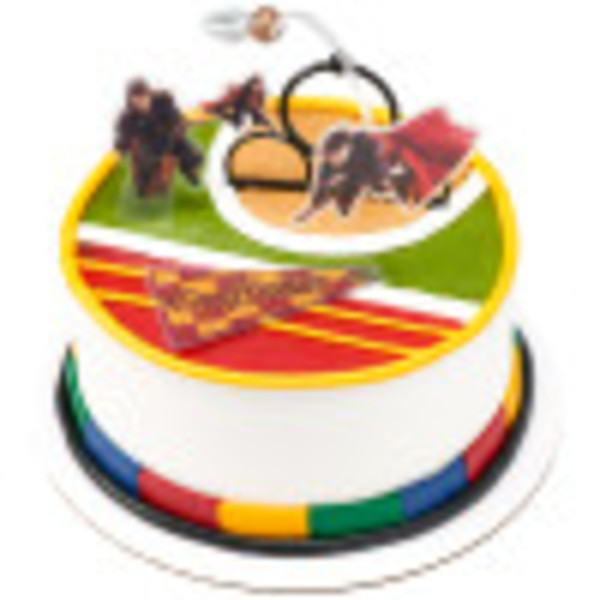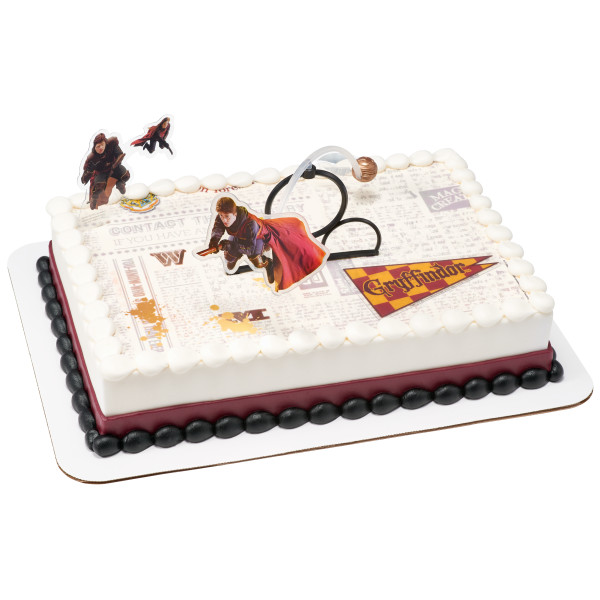 *Note: These support items are free of charge and ship automatically with your first order.
Product Details
Harry Potter™ fans will love this interactive DecoSet®. This fun DecoSet® has a spinning feature as Harry chases the Golden Snitch™. This cake is perfect for any Harry Potter™ fan! 3-piece set.
WARNING: CHOKING HAZARD. Small parts. Not for children under 3 years.
HARRY POTTER, characters, names and related indicia are trademarks of and ©Warner Bros. Entertainment, Inc. Publishing© J.K.Rowling(s16)
Related Items
[#<Spree::Product id: 1843, name: "Star Wars™ Millennium Falcon™", description: "Star Wars™ fans will go into another galaxy when t...", available_on: "2019-10-17 05:00:00", deleted_at: nil, slug: "star-wars-tm-millennium-falcon-tm-signature-cake-d...", meta_description: nil, meta_keywords: "Star Wars; birthday;", tax_category_id: nil, shipping_category_id: 1, created_at: "2017-09-08 06:33:34", updated_at: "2019-10-17 15:35:37", promotionable: true, meta_title: nil, discontinue_on: "2029-12-31 06:00:00", product_group_id: 138, photocake_frame_item: false, choking_hazard: true, trademark_short_description: "©2016 Lucasfilm Ltd. & TM. All Rights Reserved. Us...", name_2: "Signature DecoSet®", new_prenew: nil, avail_to_purchase: true, coming_soon: false, search_sequence_number: 800, coming_soon_date: nil, product_type: "item", display_dimensions: ["X-Wing Layon: 3.55 x 2.7 x 0.1 inches", "Tie Fighter Layon: 4.1 x 2.3 x 0.1 inches", "Star Wars Plaque: 5.1 x 1.2 x 6.3 inches", "Millennium Falcon: 6.45 x 5.05 x 4.2 inches"], custom: false, generic: false, no_shipping: false, image_credit_item: false, limited_quantities: true, tax_cloud_tic: "00000">, #<Spree::Product id: 3762, name: "HARRY POTTER™ HOGWARTS™ Houses", description: "Kids will enjoy getting to pick which HOGWARTS™ ho...", available_on: "2019-10-17 05:00:00", deleted_at: nil, slug: "harry-potter-hogwarts-houses-cupcake-rings", meta_description: nil, meta_keywords: "Hogwarts; Harry Potter; rings;", tax_category_id: nil, shipping_category_id: 1, created_at: "2017-09-08 06:39:25", updated_at: "2019-10-17 20:05:50", promotionable: true, meta_title: nil, discontinue_on: "2020-12-31 06:00:00", product_group_id: nil, photocake_frame_item: false, choking_hazard: false, trademark_short_description: "HARRY POTTER, characters, names and related indici...", name_2: "Cupcake Rings", new_prenew: nil, avail_to_purchase: true, coming_soon: false, search_sequence_number: 1008, coming_soon_date: nil, product_type: "item", display_dimensions: ["YELLOW RING(4 STICKERS): 1.7 x 1.45 x 0.95 inches"], custom: false, generic: false, no_shipping: false, image_credit_item: false, limited_quantities: false, tax_cloud_tic: "00000">, #<Spree::Product id: 8145, name: "MARVEL Comics Originals Unite", description: "Any Marvel fan would find this Team PhotoCake Edib...", available_on: "2019-10-17 05:00:00", deleted_at: nil, slug: "marvel-comics-originals-unite-photocake-image", meta_description: nil, meta_keywords: "Avengers; comic book; comics;", tax_category_id: nil, shipping_category_id: 1, created_at: "2017-09-08 06:53:47", updated_at: "2019-10-17 16:36:09", promotionable: true, meta_title: nil, discontinue_on: "2020-12-31 06:00:00", product_group_id: nil, photocake_frame_item: true, choking_hazard: false, trademark_short_description: "© MARVEL", name_2: "PhotoCake® Edible Image®", new_prenew: nil, avail_to_purchase: true, coming_soon: false, search_sequence_number: 1912, coming_soon_date: nil, product_type: "item", display_dimensions: [], custom: false, generic: false, no_shipping: true, image_credit_item: false, limited_quantities: false, tax_cloud_tic: "31000">, #<Spree::Product id: 10910, name: "HARRY POTTER™ HOGWARTS™ Houses", description: "Enjoy this HARRY POTTER™ HOGWARTS™ Houses PhotoCak...", available_on: "2019-10-17 05:00:00", deleted_at: nil, slug: "harry-potter-houses-photocake-image", meta_description: nil, meta_keywords: "HOGWARTS; Milestone;", tax_category_id: nil, shipping_category_id: 1, created_at: "2017-12-30 07:50:44", updated_at: "2019-10-17 06:55:27", promotionable: true, meta_title: nil, discontinue_on: "2020-12-31 06:00:00", product_group_id: nil, photocake_frame_item: true, choking_hazard: false, trademark_short_description: "HARRY POTTER, characters, names and related indici...", name_2: "PhotoCake® Edible Image®", new_prenew: nil, avail_to_purchase: true, coming_soon: false, search_sequence_number: 1626, coming_soon_date: nil, product_type: "item", display_dimensions: [], custom: false, generic: false, no_shipping: true, image_credit_item: false, limited_quantities: false, tax_cloud_tic: "31000">]