Mega Hat Graduate
DecoSet®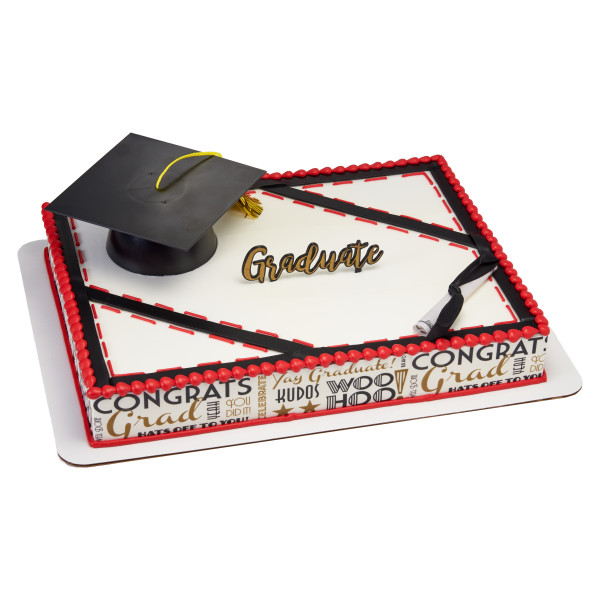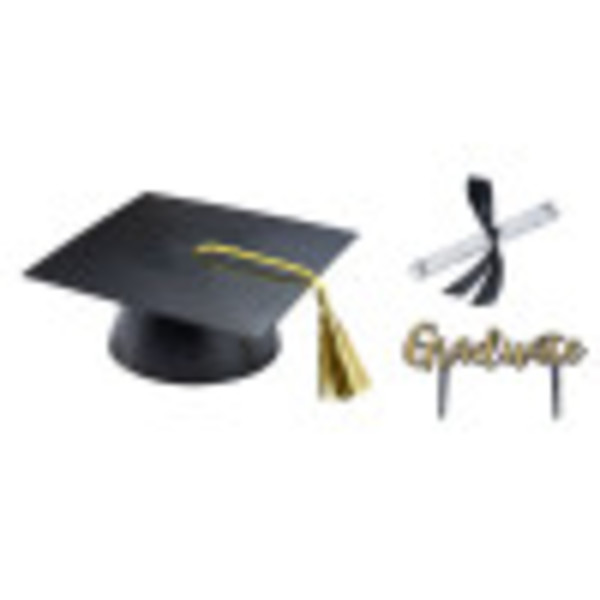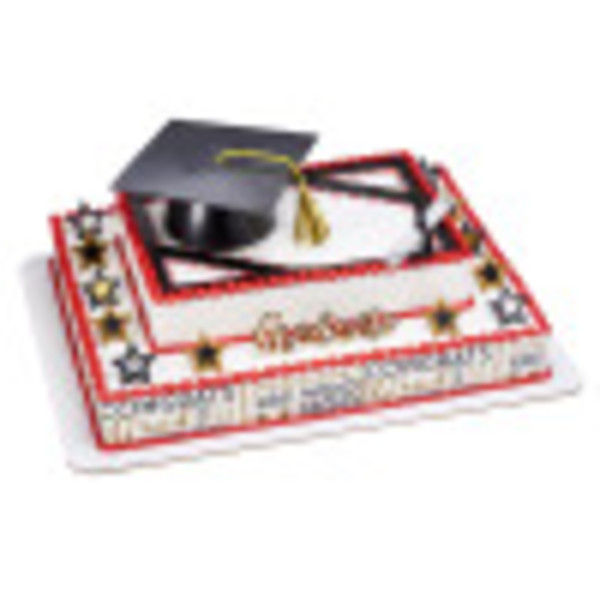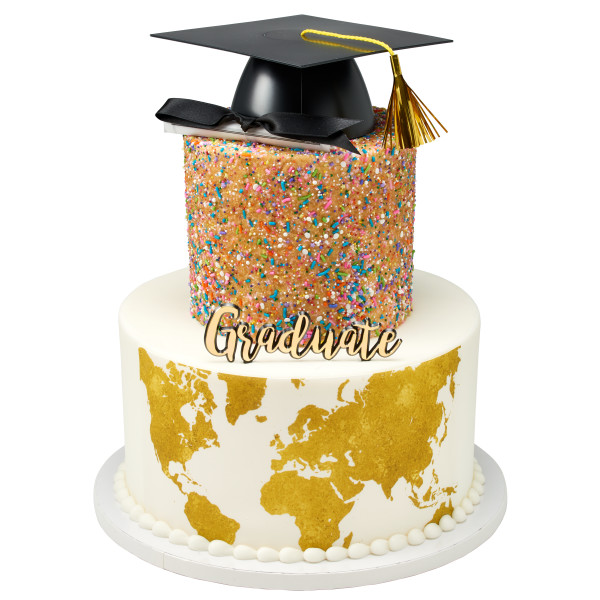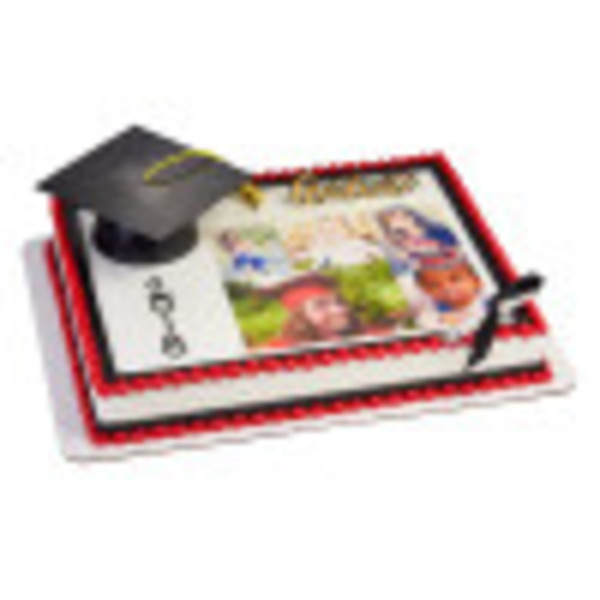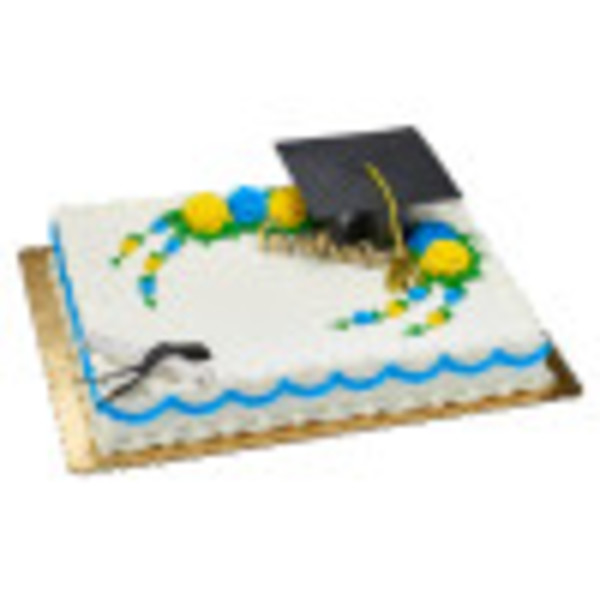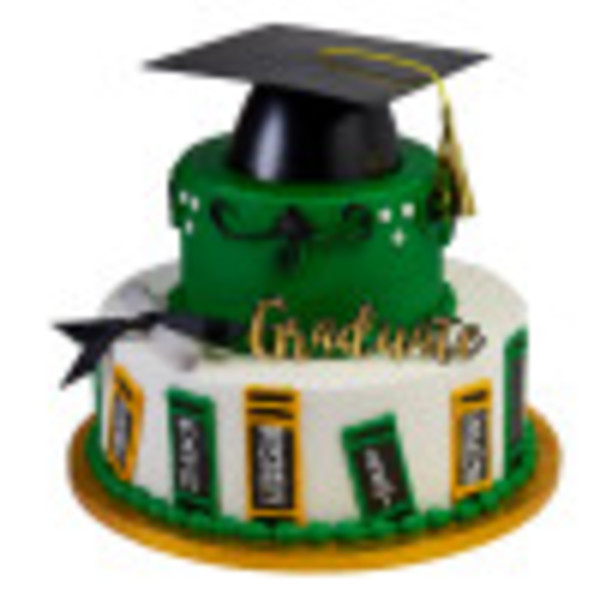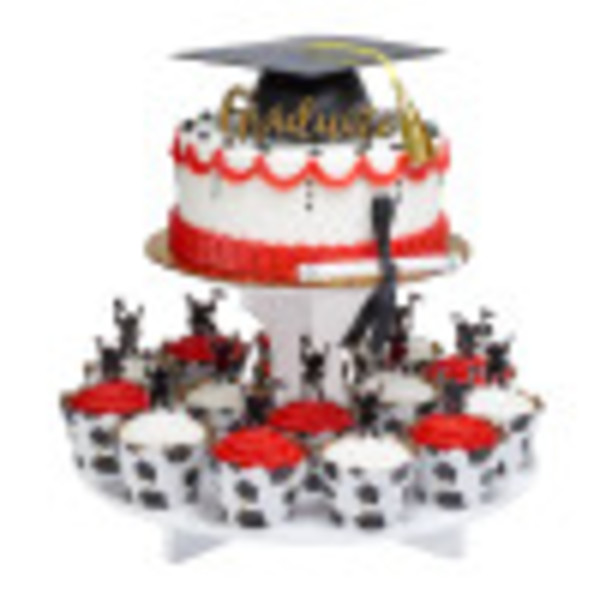 *Note: These support items are free of charge and ship automatically with your first order.
Product Details
It's time to Celebrate with the graduate! This DecoSet includes: Grad Hat, Diploma and Graduate Script DecoPics. 3-Piece set.
Dimensions:
Mega Grad Hat: 5.9 x 5.9 x 2.85 inches
Graduate Pic: 5.15 x 3.0 x 0.15 inches
Diploma: 5.05 x 0.65 x 0.65 inches
WARNING: CHOKING HAZARD. Small parts. Not for children under 3 years.
Related Items
[#<Spree::Product id: 10398, name: "Grad Foil", description: "Celebrate the graduation season with these gold an...", available_on: "2019-09-17 05:00:00", deleted_at: nil, slug: "grad-foil", meta_description: nil, meta_keywords: "[\"H-E-B 2019 Graduation\", \"Graduation\", \"rings\", \"...", tax_category_id: nil, shipping_category_id: 1, created_at: "2017-10-27 06:52:41", updated_at: "2019-09-17 06:52:09", promotionable: true, meta_title: nil, discontinue_on: "2021-07-31 05:00:00", product_group_id: nil, photocake_frame_item: false, choking_hazard: false, trademark_short_description: nil, name_2: "Cupcake Rings", new_prenew: nil, avail_to_purchase: true, coming_soon: false, search_sequence_number: 3129, coming_soon_date: nil, product_type: "item", display_dimensions: ["GRAD: 1.35 x 1.2 x 0.8 inches"], custom: false, generic: true, no_shipping: false, image_credit_item: false, limited_quantities: false, tax_cloud_tic: "00000">, #<Spree::Product id: 10631, name: "Diploma", description: "The diploma is the ultimate end goal for any gradu...", available_on: "2019-09-17 05:00:00", deleted_at: nil, slug: "paper-diploma-layon", meta_description: nil, meta_keywords: "[\"Target Graduation\", \"graduation\", \"diploma\", \"gr...", tax_category_id: nil, shipping_category_id: 1, created_at: "2017-11-22 07:48:22", updated_at: "2019-09-17 06:45:47", promotionable: true, meta_title: nil, discontinue_on: "2022-08-31 05:00:00", product_group_id: nil, photocake_frame_item: false, choking_hazard: false, trademark_short_description: nil, name_2: "Layon", new_prenew: nil, avail_to_purchase: true, coming_soon: false, search_sequence_number: 124, coming_soon_date: nil, product_type: "item", display_dimensions: ["DIPLOMA LAYON: 2.7 x 0.75 x 0.7 inches"], custom: false, generic: true, no_shipping: false, image_credit_item: false, limited_quantities: false, tax_cloud_tic: "00000">, #<Spree::Product id: 11130, name: "Senior", description: "Celebrate with the Senior class by adding these go...", available_on: "2019-09-17 05:00:00", deleted_at: nil, slug: "senior", meta_description: nil, meta_keywords: "senior; grad; graduation; high school; DecoPics; p...", tax_category_id: nil, shipping_category_id: 1, created_at: "2018-03-20 06:52:09", updated_at: "2019-09-17 06:54:39", promotionable: true, meta_title: nil, discontinue_on: "2022-07-31 05:00:00", product_group_id: nil, photocake_frame_item: false, choking_hazard: false, trademark_short_description: nil, name_2: "DecoPics®", new_prenew: nil, avail_to_purchase: true, coming_soon: false, search_sequence_number: 538, coming_soon_date: nil, product_type: "item", display_dimensions: ["BLACK AND GOLD PICS: 2.1 x 1.65 x 0.15 inches"], custom: false, generic: true, no_shipping: false, image_credit_item: false, limited_quantities: false, tax_cloud_tic: "00000">, #<Spree::Product id: 12384, name: "Grad Hat Sayings", description: "Celebrate this graduations season with these excla...", available_on: "2019-09-17 05:00:00", deleted_at: nil, slug: "grad-hat-sayings", meta_description: nil, meta_keywords: "[\"H-E-B 2019 Graduation\", \"celebration\", \"rings\", ...", tax_category_id: nil, shipping_category_id: 1, created_at: "2019-03-05 08:03:16", updated_at: "2019-09-17 07:00:19", promotionable: true, meta_title: nil, discontinue_on: "2025-07-31 05:00:00", product_group_id: nil, photocake_frame_item: false, choking_hazard: false, trademark_short_description: nil, name_2: "Cupcake Rings", new_prenew: nil, avail_to_purchase: true, coming_soon: false, search_sequence_number: 184, coming_soon_date: nil, product_type: "item", display_dimensions: [], custom: false, generic: true, no_shipping: false, image_credit_item: false, limited_quantities: false, tax_cloud_tic: "00000">]