Pokemon™ Light Up Pikachu DecoSet®
The Magic of Cakes® Page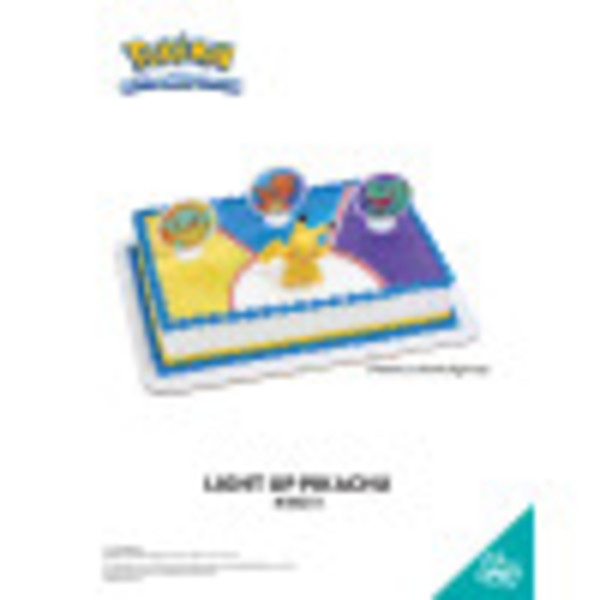 *Note: These support items are free of charge and ship automatically with your first order.
Product Details
This page coordinates with the displayed DecoSet and features an iced cake design. Show your customers the excitement of this cake by adding it to The Magic of Cakes Book at your location!
©2016 POKEMON. © 1995-2016 Nintendo/Creatures Inc./GAME FREAK inc. TM, ® and character names are trademarks of Nintendo.
Related Items
[#<Spree::Product id: 6409, name: "Pokémon™ Lightup Pikachu", description: "Brightly colored and highly detailed PhotoCake® im...", available_on: "2019-01-19 06:00:00", deleted_at: nil, slug: "pokemon-lightup-pikachu-photocake-decoset-backgrou...", meta_description: nil, meta_keywords: nil, tax_category_id: nil, shipping_category_id: 1, created_at: "2017-09-08 06:48:15", updated_at: "2019-01-19 08:06:26", promotionable: true, meta_title: nil, discontinue_on: "2019-01-23 06:00:00", product_group_id: nil, photocake_frame_item: true, choking_hazard: false, trademark_short_description: "©2016 POKEMON. © 1995-2016 Nintendo/Creatures Inc....", name_2: "PhotoCake® DecoSet® Background", new_prenew: nil, avail_to_purchase: true, coming_soon: false, search_sequence_number: 1132, coming_soon_date: nil, product_type: "item", display_dimensions: [], custom: false, generic: false, no_shipping: true, image_credit_item: false, limited_quantities: true, tax_cloud_tic: nil>, #<Spree::Product id: 1899, name: "Pokémon™ I Choose You", description: "Pokémon™ is featured on this cupcake ring. 144 per...", available_on: "2019-01-19 06:00:00", deleted_at: nil, slug: "pokemon-i-choose-you-cupcake-rings", meta_description: nil, meta_keywords: nil, tax_category_id: nil, shipping_category_id: 1, created_at: "2017-09-08 06:33:44", updated_at: "2019-01-19 07:44:20", promotionable: true, meta_title: nil, discontinue_on: "2020-12-31 06:00:00", product_group_id: nil, photocake_frame_item: false, choking_hazard: false, trademark_short_description: "©2016 POKEMON. © 1995-2016 Nintendo/Creatures Inc....", name_2: "Cupcake Rings", new_prenew: nil, avail_to_purchase: true, coming_soon: false, search_sequence_number: 675, coming_soon_date: nil, product_type: "item", display_dimensions: ["Poke Ball (x36): 1.4 x 1.35 x 0.75 inches", "Pokemon Charaters (x108): 1.35 x 1.25 x 0.2 inches"], custom: false, generic: false, no_shipping: false, image_credit_item: false, limited_quantities: false, tax_cloud_tic: nil>, #<Spree::Product id: 2465, name: "Pokémon™ Light Up Pikachu", description: "2-piece set. Features a Pickachu figurine and a La...", available_on: "2019-01-19 06:00:00", deleted_at: nil, slug: "pokemon-tm-light-up-pikachu-cake-kit", meta_description: nil, meta_keywords: "[\"cake kit\", \"pokemon\"]", tax_category_id: nil, shipping_category_id: 1, created_at: "2017-09-08 06:35:32", updated_at: "2019-01-19 07:52:57", promotionable: true, meta_title: nil, discontinue_on: "2020-12-31 06:00:00", product_group_id: 49, photocake_frame_item: false, choking_hazard: true, trademark_short_description: "©2016 POKEMON. © 1995-2016 Nintendo/Creatures Inc....", name_2: "DecoSet®", new_prenew: nil, avail_to_purchase: true, coming_soon: false, search_sequence_number: 973, coming_soon_date: nil, product_type: "item", display_dimensions: ["Pokemon Layons: 2.2 x 0.95 x 2.7 inches", "Pickachu Figurine: 1.4 x 2.95 x 3.25 inches"], custom: false, generic: false, no_shipping: false, image_credit_item: false, limited_quantities: false, tax_cloud_tic: nil>, #<Spree::Product id: 8287, name: "Pokémon™ Light Up Pikachu", description: "2-piece set. Features a Pickachu figurine and a La...", available_on: "2019-01-19 06:00:00", deleted_at: nil, slug: "pokemon-lightup-pikachu", meta_description: nil, meta_keywords: "[\"cake kit\", \"pokemon\"]", tax_category_id: nil, shipping_category_id: 1, created_at: "2017-09-27 22:15:53", updated_at: "2019-01-19 07:51:58", promotionable: true, meta_title: nil, discontinue_on: "2020-12-31 06:00:00", product_group_id: 49, photocake_frame_item: false, choking_hazard: true, trademark_short_description: "©2016 POKEMON. © 1995-2016 Nintendo/Creatures Inc....", name_2: "DecoSet®", new_prenew: nil, avail_to_purchase: true, coming_soon: false, search_sequence_number: 972, coming_soon_date: nil, product_type: "item", display_dimensions: [], custom: false, generic: false, no_shipping: false, image_credit_item: false, limited_quantities: false, tax_cloud_tic: nil>]