Pokemon™ Light Up Pikachu
DecoSet®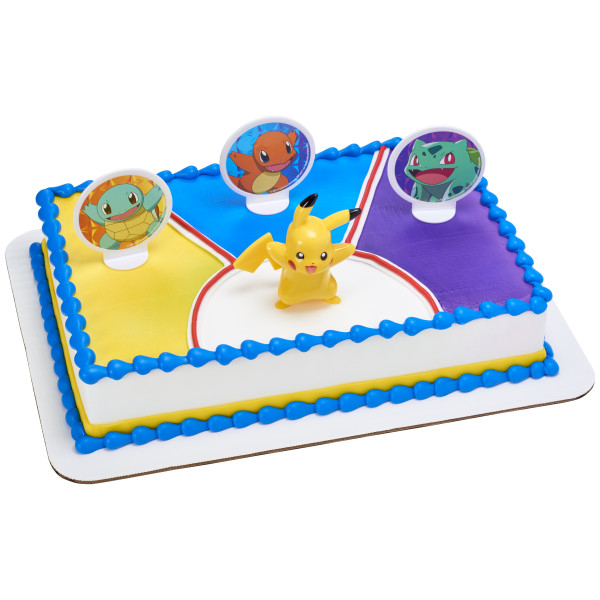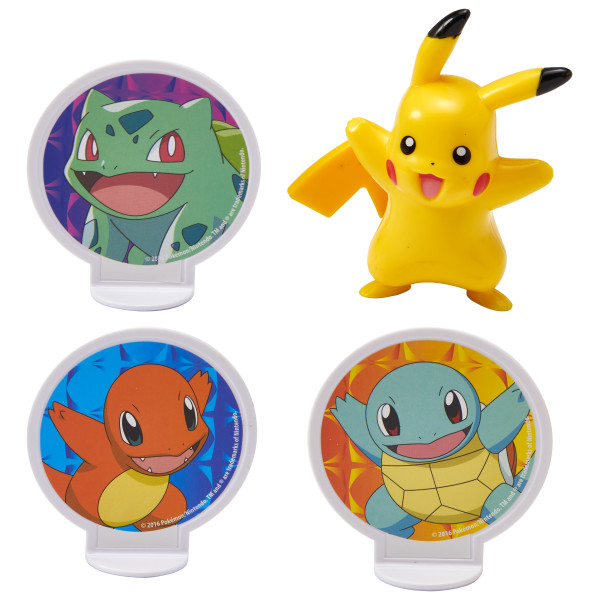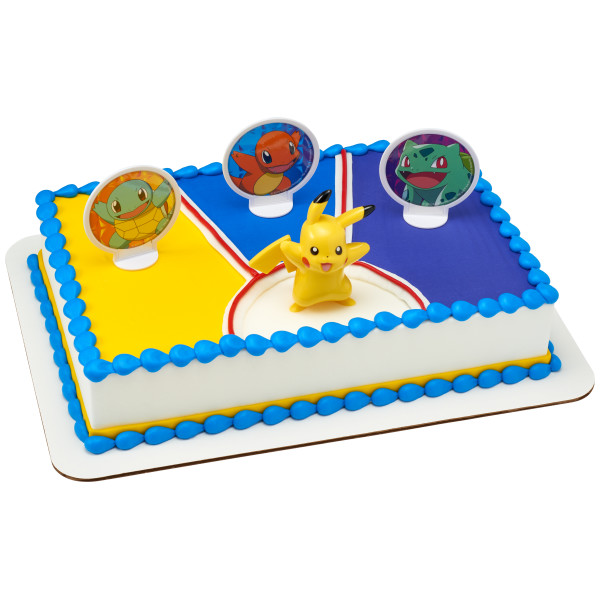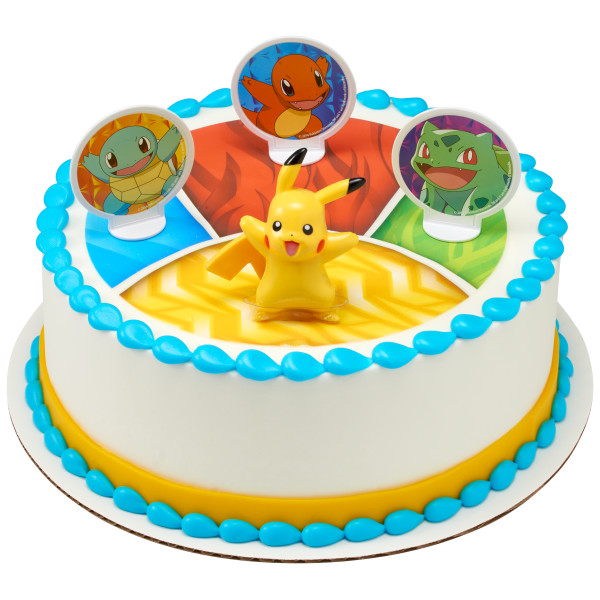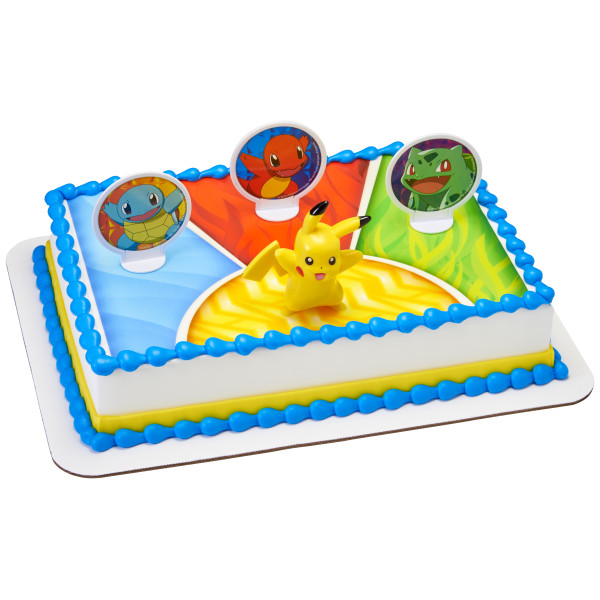 *Note: These support items are free of charge and ship automatically with your first order.
Product Details
2-piece set. Features a Pickachu figurine and a Layon. Available in a 1 pack.
Dimensions:
Pokemon Layons: 2.2 x 0.95 x 2.7 inches
Pickachu Figurine: 1.4 x 2.95 x 3.25 inches
WARNING: CHOKING HAZARD. Small parts. Not for children under 3 years.
©2016 POKEMON. © 1995-2016 Nintendo/Creatures Inc./GAME FREAK inc. TM, ® and character names are trademarks of Nintendo.
Related Items
[#<Spree::Product id: 7879, name: "Pokémon™ Catch Them All!", description: "Use with DecoPac's pre-cut media strips. Three str...", available_on: "2019-01-19 06:00:00", deleted_at: nil, slug: "pokemon-catch-them-all-photocake-image-strips", meta_description: nil, meta_keywords: nil, tax_category_id: nil, shipping_category_id: 1, created_at: "2017-09-08 06:52:55", updated_at: "2019-01-19 07:44:23", promotionable: true, meta_title: nil, discontinue_on: "2019-12-31 06:00:00", product_group_id: nil, photocake_frame_item: true, choking_hazard: false, trademark_short_description: "©2016 POKEMON. © 1995-2016 Nintendo/Creatures Inc....", name_2: "PhotoCake® Image Strips", new_prenew: nil, avail_to_purchase: true, coming_soon: false, search_sequence_number: 6072, coming_soon_date: nil, product_type: "item", display_dimensions: [], custom: false, generic: false, no_shipping: true, image_credit_item: false, limited_quantities: false, tax_cloud_tic: nil>, #<Spree::Product id: 4786, name: "Pokémon™ Ready to Battle", description: "Image can be sized to fit any size icing media. Pr...", available_on: "2019-01-19 06:00:00", deleted_at: nil, slug: "pokemon-ready-to-battle-3-rounds-photocake-image", meta_description: nil, meta_keywords: nil, tax_category_id: nil, shipping_category_id: 1, created_at: "2017-09-08 06:42:53", updated_at: "2019-01-19 08:01:32", promotionable: true, meta_title: nil, discontinue_on: "2019-07-31 05:00:00", product_group_id: nil, photocake_frame_item: true, choking_hazard: false, trademark_short_description: "©2016 POKEMON. © 1995-2016 Nintendo/Creatures Inc....", name_2: "PhotoCake® Image", new_prenew: nil, avail_to_purchase: true, coming_soon: false, search_sequence_number: 2052, coming_soon_date: nil, product_type: "item", display_dimensions: [], custom: false, generic: false, no_shipping: true, image_credit_item: false, limited_quantities: false, tax_cloud_tic: nil>, #<Spree::Product id: 1899, name: "Pokémon™ I Choose You", description: "Pokémon™ is featured on this cupcake ring. 144 per...", available_on: "2019-01-19 06:00:00", deleted_at: nil, slug: "pokemon-i-choose-you-cupcake-rings", meta_description: nil, meta_keywords: nil, tax_category_id: nil, shipping_category_id: 1, created_at: "2017-09-08 06:33:44", updated_at: "2019-01-19 07:44:20", promotionable: true, meta_title: nil, discontinue_on: "2020-12-31 06:00:00", product_group_id: nil, photocake_frame_item: false, choking_hazard: false, trademark_short_description: "©2016 POKEMON. © 1995-2016 Nintendo/Creatures Inc....", name_2: "Cupcake Rings", new_prenew: nil, avail_to_purchase: true, coming_soon: false, search_sequence_number: 675, coming_soon_date: nil, product_type: "item", display_dimensions: ["Poke Ball (x36): 1.4 x 1.35 x 0.75 inches", "Pokemon Charaters (x108): 1.35 x 1.25 x 0.2 inches"], custom: false, generic: false, no_shipping: false, image_credit_item: false, limited_quantities: false, tax_cloud_tic: nil>, #<Spree::Product id: 3655, name: "Pokémon™ Pikachu & Friends", description: "Image can be sized to fit icing media for applicat...", available_on: "2019-01-19 06:00:00", deleted_at: nil, slug: "pokemon-pikachu-friends-photocake-frame", meta_description: nil, meta_keywords: nil, tax_category_id: nil, shipping_category_id: 1, created_at: "2017-09-08 06:39:04", updated_at: "2019-01-19 07:44:28", promotionable: true, meta_title: nil, discontinue_on: "2019-01-23 06:00:00", product_group_id: nil, photocake_frame_item: true, choking_hazard: false, trademark_short_description: "©2016 POKEMON. © 1995-2016 Nintendo/Creatures Inc....", name_2: "PhotoCake® Frame", new_prenew: nil, avail_to_purchase: true, coming_soon: false, search_sequence_number: 2417, coming_soon_date: nil, product_type: "item", display_dimensions: [], custom: false, generic: false, no_shipping: true, image_credit_item: false, limited_quantities: true, tax_cloud_tic: nil>]