Winnie the Pooh Pooh, Piglet & Tigger Hunny Raindrops
DecoSet®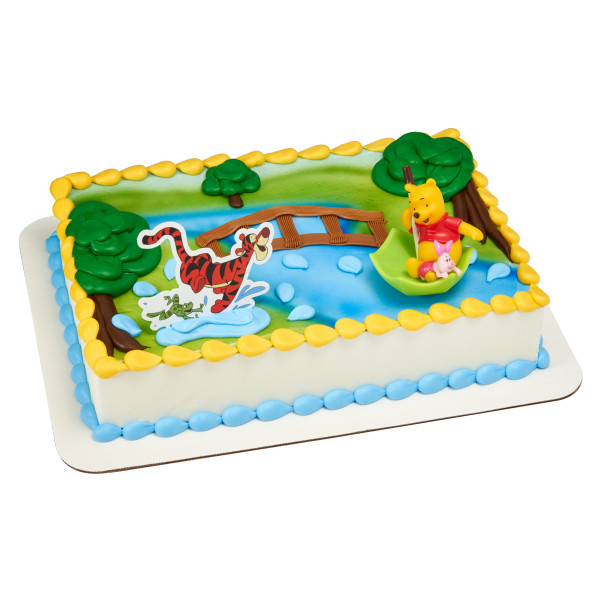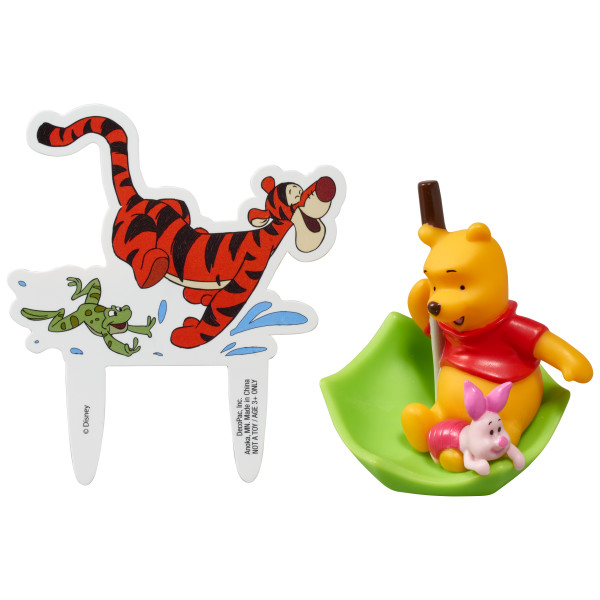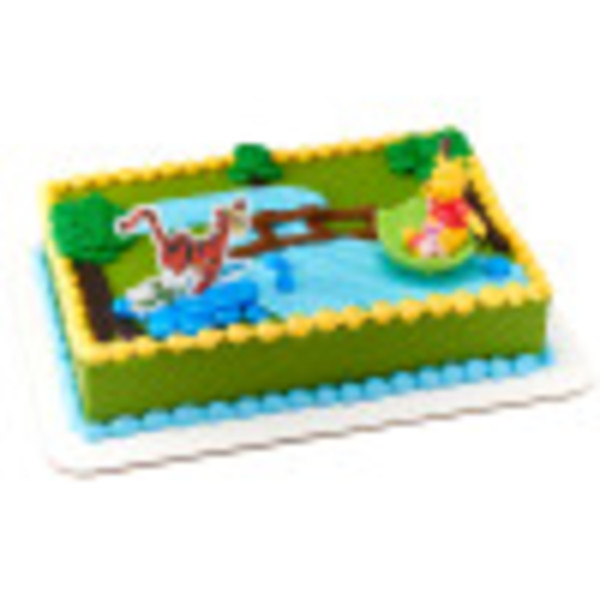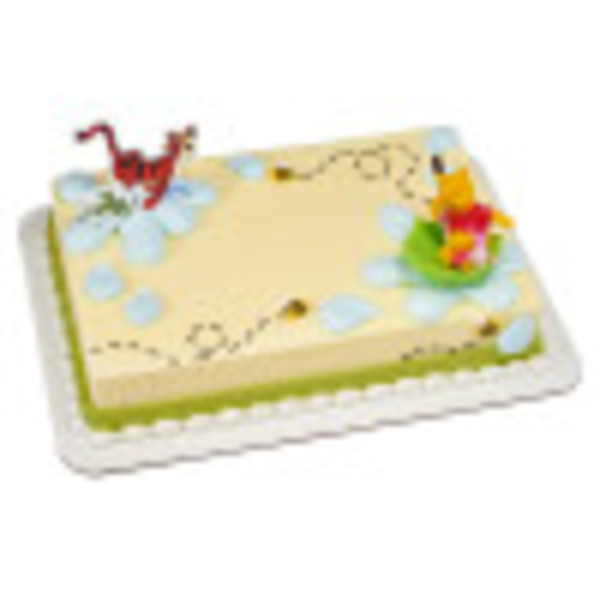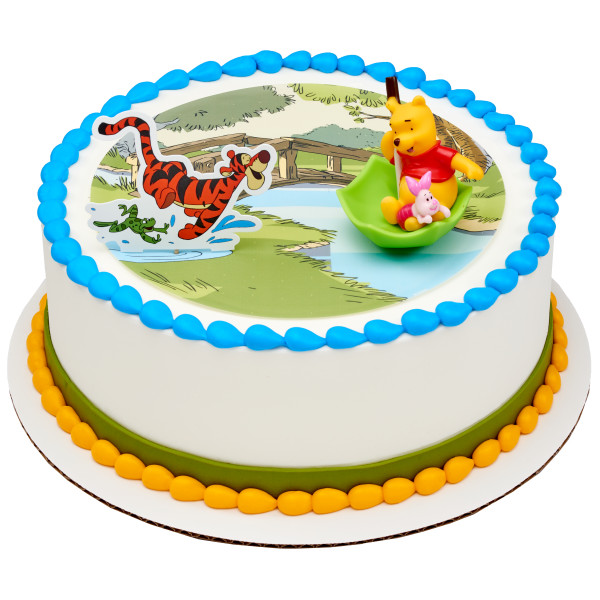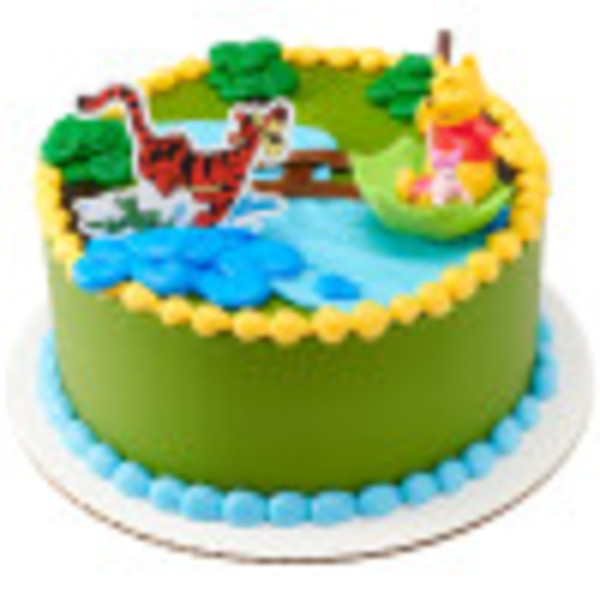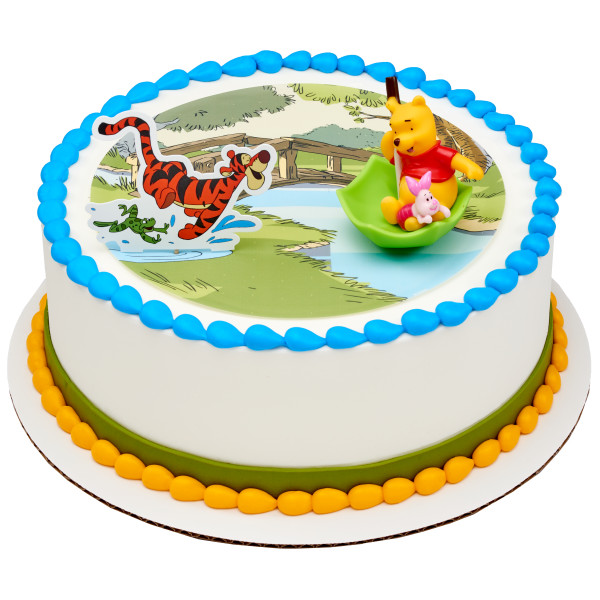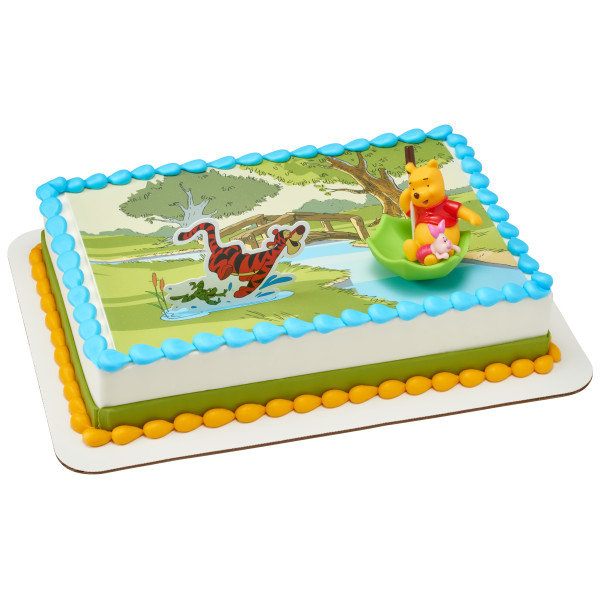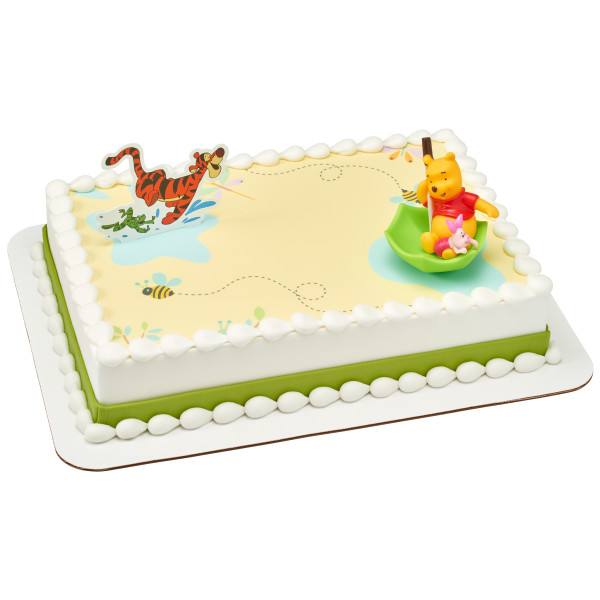 *Note: These support items are free of charge and ship automatically with your first order.
Product Details
Oh bother! Help Winnie the Pooh and Piglet as they take a ride on an umbrella down the river. But never fear, Tigger is near and bouncing in to save the day! This DecoSet includes a figurine of Winnie the Pooh and Piglet in an umbrella and a layon of Tigger and a frog splashing through the water. 2-Piece set.
WARNING: CHOKING HAZARD. Small parts. Not for children under 3 years.
© Disney. Based on the "Winnie the Pooh" works by A.A. Milne and E.H. Shepard.
Related Items
[#<Spree::Product id: 181, name: "Daniel Tiger's Neighborhood® Trolley Friends", description: "Daniel Tiger is ready for his next adventure with ...", available_on: "2019-10-23 05:00:00", deleted_at: nil, slug: "daniel-tiger-s-neighborhood-trolley-and-friends-de...", meta_description: nil, meta_keywords: "Daniel Tiger; Trolley Friends;", tax_category_id: nil, shipping_category_id: 1, created_at: "2017-09-08 06:28:20", updated_at: "2019-10-23 12:26:05", promotionable: true, meta_title: nil, discontinue_on: "2020-12-31 06:00:00", product_group_id: nil, photocake_frame_item: false, choking_hazard: true, trademark_short_description: "© The Fred Rogers Company", name_2: "DecoSet®", new_prenew: nil, avail_to_purchase: true, coming_soon: false, search_sequence_number: 183, coming_soon_date: nil, product_type: "item", display_dimensions: ["Trolly: 3.9 x 2.0 x 2.85 inches", "Daniel Figurine: 1.1 x 1.45 x 2.5 inches", "Owl Stand: 1.3 x 0.5 x 2.05 inches", "Catalina Stand: 0.75 x 0.55 x 2.15 inches"], custom: false, generic: false, no_shipping: false, image_credit_item: false, limited_quantities: false, tax_cloud_tic: "00000">, #<Spree::Product id: 4780, name: "PAW Patrol™ Chase to the Rescue", description: "Just Yelp for Help! The PAW Patrol™ is on the case...", available_on: "2019-10-23 05:00:00", deleted_at: nil, slug: "paw-patrol-chase-to-the-rescue-signature-decoset", meta_description: nil, meta_keywords: "PAW Patrol; birthday;", tax_category_id: nil, shipping_category_id: 1, created_at: "2017-09-08 06:42:52", updated_at: "2019-10-23 07:12:45", promotionable: true, meta_title: nil, discontinue_on: "2020-12-31 06:00:00", product_group_id: 114, photocake_frame_item: false, choking_hazard: true, trademark_short_description: "TM Spin Master Ltd. All Rights Reserved. ©2016 Nic...", name_2: "Signature DecoSet®", new_prenew: nil, avail_to_purchase: true, coming_soon: false, search_sequence_number: 799, coming_soon_date: nil, product_type: "item", display_dimensions: ["Rubble Stand: 1.25 x 1.25 x 2.8 inches", "Chase in Truck Figurine: 3.1 x 1.8 x 3.0 inches", "Green Stand: 5.55 x 5.7 x 0.95 inches", "Ruff Tower Background Stand: 6.35 x 4.45 x 0.1 inches", "Zuma Stand: 1.35 x 1.25 x 2.05 inches"], custom: false, generic: false, no_shipping: false, image_credit_item: false, limited_quantities: false, tax_cloud_tic: "00000">, #<Spree::Product id: 5100, name: "Disney Baby Winnie the Pooh Happy Afternoon", description: "Wrap the sides of your cake with Pooh, Tigger, Eey...", available_on: "2019-10-23 05:00:00", deleted_at: nil, slug: "winnie-the-pooh-happy-afternoon-photocake-image-st...", meta_description: nil, meta_keywords: "Winnie the Pooh; Birthday;", tax_category_id: nil, shipping_category_id: 1, created_at: "2017-09-08 06:43:54", updated_at: "2019-10-23 06:54:08", promotionable: true, meta_title: nil, discontinue_on: "2020-02-28 06:00:00", product_group_id: nil, photocake_frame_item: true, choking_hazard: false, trademark_short_description: "© Disney. Based on the \"Winnie the Pooh\" works by ...", name_2: "PhotoCake® Edible Image® Strips", new_prenew: nil, avail_to_purchase: true, coming_soon: false, search_sequence_number: 6610, coming_soon_date: nil, product_type: "item", display_dimensions: [], custom: false, generic: false, no_shipping: true, image_credit_item: false, limited_quantities: true, tax_cloud_tic: "40030">]