Beach Chair & Umbrella
DecoSet®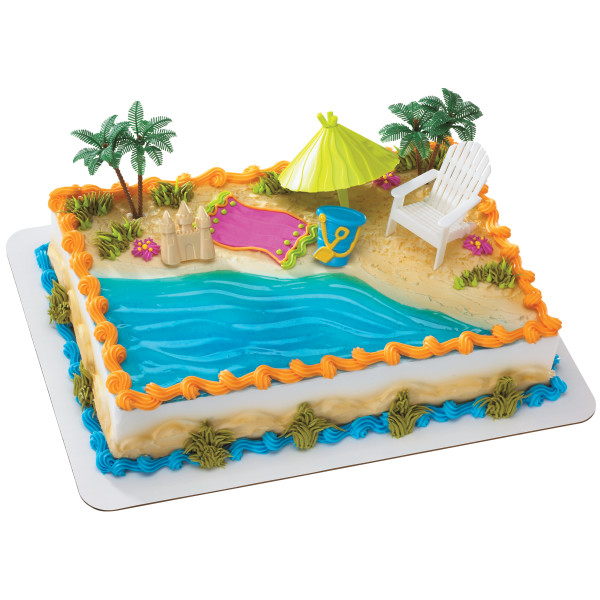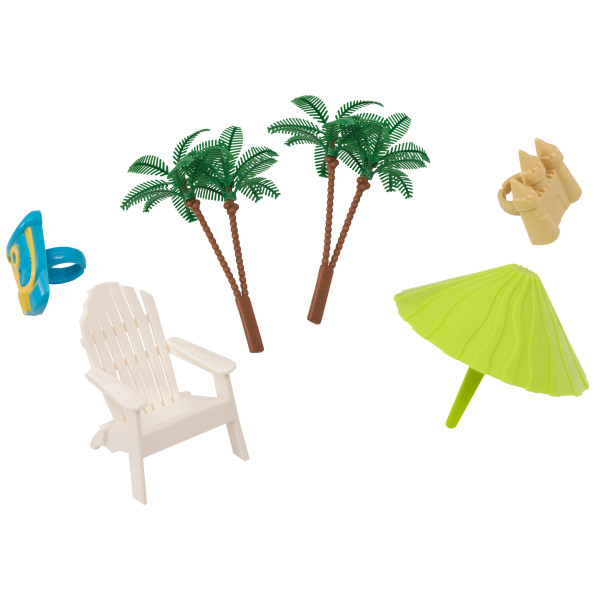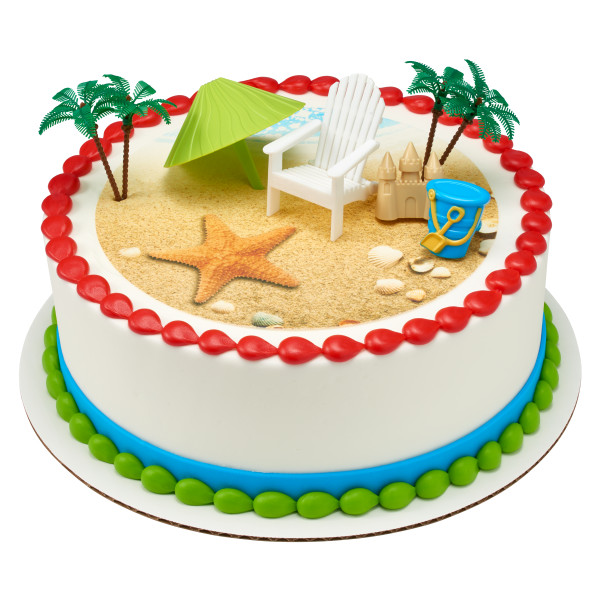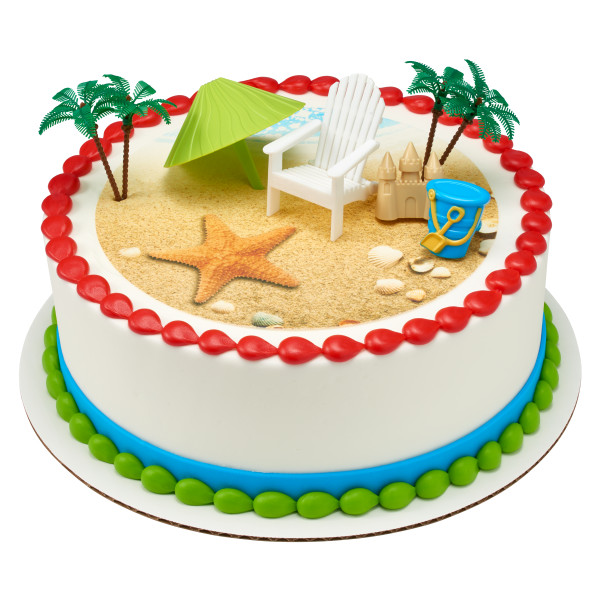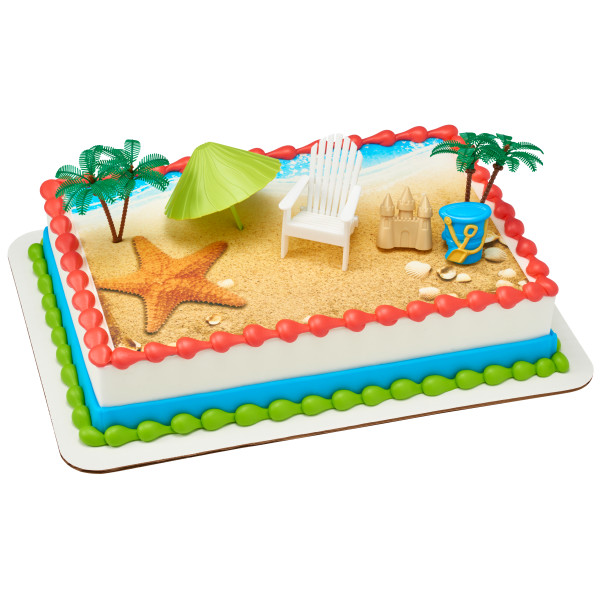 *Note: These support items are free of charge and ship automatically with your first order.
Product Details
Life's a Beach with this tropical design! This DecoSet includes Chair, Umbrella, Ring Castle, Ring Sand Bucket and two palm trees. 6-Piece set.
Dimensions:
Beach Chair: 2.25 x 1.75 x 2.55 inches
Umbrella Pic: 2.35 x 3.1 x 2.3 inches
Sand Castel Ring: 1.35 x 1.3 x 1.4 inches
Sand Bucket Ring: 1.15 x 1.35 x 1.3 inches
Palm Tree Pic (2): 3.65 x 1.95 x 1.65 inches
WARNING: CHOKING HAZARD. Small parts. Not for children under 3 years.
Related Items
[#<Spree::Product id: 1986, name: "Coconut Beach Cabana", description: "It's a luau party! This Signature DecoSet comes wi...", available_on: "2019-09-15 05:00:00", deleted_at: nil, slug: "coconut-cabana-signature-cake-decoset", meta_description: nil, meta_keywords: "Luau; Hawaiian; tiki;", tax_category_id: nil, shipping_category_id: 1, created_at: "2017-09-08 06:34:00", updated_at: "2019-09-15 07:07:33", promotionable: true, meta_title: nil, discontinue_on: "2031-07-31 05:00:00", product_group_id: 30, photocake_frame_item: false, choking_hazard: true, trademark_short_description: nil, name_2: "Signature DecoSet®", new_prenew: nil, avail_to_purchase: true, coming_soon: false, search_sequence_number: 248, coming_soon_date: nil, product_type: "item", display_dimensions: ["Surfboard: 3.9 x 0.95 x 0.3 inches", "Plant Pic (x6): 1.2 x 1.35 x 1.35 inches", "Palm Tree Pic (x3): 3.5 x 2.2 x 1.9 inches", "Tiki Stand (x4): 2.95 x 0.5 x 0.7 inches", "Flower Lei: 8.85 x 6.6 x 2.7 inches"], custom: false, generic: true, no_shipping: false, image_credit_item: false, limited_quantities: true, tax_cloud_tic: "00000">, #<Spree::Product id: 3607, name: "3D Umbrellas", description: "Transport you and your guests to a tropical place ...", available_on: "2019-09-15 05:00:00", deleted_at: nil, slug: "3d-umbrella-decopics", meta_description: nil, meta_keywords: "Umbrella; DecoPics; pics;", tax_category_id: nil, shipping_category_id: 1, created_at: "2017-09-08 06:38:54", updated_at: "2019-09-15 07:09:13", promotionable: true, meta_title: nil, discontinue_on: "2021-08-31 05:00:00", product_group_id: nil, photocake_frame_item: false, choking_hazard: false, trademark_short_description: nil, name_2: "DecoPics®", new_prenew: nil, avail_to_purchase: true, coming_soon: false, search_sequence_number: 635, coming_soon_date: nil, product_type: "item", display_dimensions: ["Plastic 3D Umbrella: 1.55 x 1.55 x 2.7 inches"], custom: false, generic: true, no_shipping: false, image_credit_item: false, limited_quantities: false, tax_cloud_tic: "00000">, #<Spree::Product id: 4756, name: "Surfin'", description: "Surf's up! Add a little surf board to your beach t...", available_on: "2019-09-15 05:00:00", deleted_at: nil, slug: "surfin-layon", meta_description: nil, meta_keywords: "surfing; surf; ocean; swimming; beach;", tax_category_id: nil, shipping_category_id: 1, created_at: "2017-09-08 06:42:47", updated_at: "2019-09-15 07:02:54", promotionable: true, meta_title: nil, discontinue_on: "2021-08-31 05:00:00", product_group_id: nil, photocake_frame_item: false, choking_hazard: false, trademark_short_description: nil, name_2: "Layon", new_prenew: nil, avail_to_purchase: true, coming_soon: false, search_sequence_number: 135, coming_soon_date: nil, product_type: "item", display_dimensions: ["SURFBOARD (BLUE,GREEN,RED,BLACK): 3.75 x 1.1 x 0.6 inches"], custom: false, generic: true, no_shipping: false, image_credit_item: false, limited_quantities: false, tax_cloud_tic: "00000">, #<Spree::Product id: 11500, name: "Tropical Party", description: "It's a pool party! Your customers will love this f...", available_on: "2019-09-15 05:00:00", deleted_at: nil, slug: "tropical-party-signature-decoset", meta_description: nil, meta_keywords: "Pool party; flamingo;", tax_category_id: nil, shipping_category_id: 1, created_at: "2018-06-02 06:53:16", updated_at: "2019-09-15 07:08:57", promotionable: true, meta_title: nil, discontinue_on: "2020-07-31 05:00:00", product_group_id: 128, photocake_frame_item: false, choking_hazard: true, trademark_short_description: nil, name_2: "Signature DecoSet®", new_prenew: nil, avail_to_purchase: true, coming_soon: false, search_sequence_number: 274, coming_soon_date: nil, product_type: "item", display_dimensions: ["FLAMINGO: 5.95 x 5.25 x 5.1 inches", "WOODEN BAR: 5.4 x 6.05 x 1.55 inches"], custom: false, generic: true, no_shipping: false, image_credit_item: false, limited_quantities: false, tax_cloud_tic: "00000">]