Curious George® Train DecoSet®
The Magic of Cakes® Page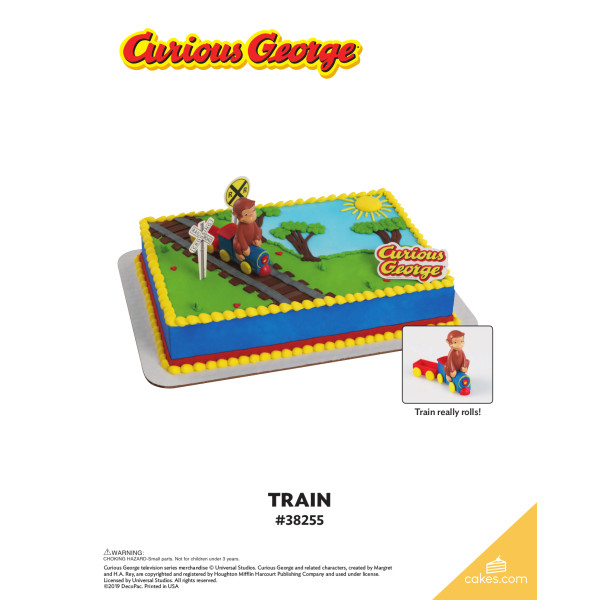 *Note: These support items are free of charge and ship automatically with your first order.
Product Details
Show your customers the excitement of this cake design by adding it to The Magic of Cakes Book at your location! This page coordinates with the Curious George® Train DecoSet and features an iced cake design.
Curious George is Licensed by Universal. All Rights Reserved.
Related Items
[#<Spree::Product id: 3901, name: "Curious George® Big Smiles", description: "This Curious George® PhotoCake Edible Image® is su...", available_on: "2019-08-22 05:00:00", deleted_at: nil, slug: "curious-george-big-smiles-photocake-images", meta_description: nil, meta_keywords: "Curious George; big smiles; faces;", tax_category_id: nil, shipping_category_id: 1, created_at: "2017-09-08 06:39:54", updated_at: "2019-08-22 07:08:36", promotionable: true, meta_title: nil, discontinue_on: "2019-08-31 05:00:00", product_group_id: nil, photocake_frame_item: true, choking_hazard: false, trademark_short_description: "Curious George is Licensed by Universal. All Right...", name_2: "PhotoCake® Edible Image®", new_prenew: nil, avail_to_purchase: true, coming_soon: false, search_sequence_number: 1362, coming_soon_date: nil, product_type: "item", display_dimensions: [], custom: false, generic: false, no_shipping: true, image_credit_item: false, limited_quantities: true, tax_cloud_tic: "31000">, #<Spree::Product id: 3904, name: "Curious George® Funny Faces", description: "This Curious George® PhotoCake is sure to bring a ...", available_on: "2019-08-22 05:00:00", deleted_at: nil, slug: "curious-george-funny-faces-photocake-image-strips", meta_description: nil, meta_keywords: "Curious George; film reel; funny faces;", tax_category_id: nil, shipping_category_id: 1, created_at: "2017-09-08 06:39:54", updated_at: "2019-08-22 07:08:36", promotionable: true, meta_title: nil, discontinue_on: "2020-12-31 06:00:00", product_group_id: nil, photocake_frame_item: true, choking_hazard: false, trademark_short_description: "Curious George is Licensed by Universal. All Right...", name_2: "PhotoCake® Edible Image® Strips", new_prenew: nil, avail_to_purchase: true, coming_soon: false, search_sequence_number: 6288, coming_soon_date: nil, product_type: "item", display_dimensions: [], custom: false, generic: false, no_shipping: true, image_credit_item: false, limited_quantities: false, tax_cloud_tic: "40030">, #<Spree::Product id: 7158, name: "Curious George® Train", description: "What mischief is Curious George® up to today? This...", available_on: "2019-08-22 05:00:00", deleted_at: nil, slug: "curious-george-train-decoset", meta_description: nil, meta_keywords: "Curious George; train;", tax_category_id: nil, shipping_category_id: 1, created_at: "2017-09-08 06:50:39", updated_at: "2019-08-22 20:06:40", promotionable: true, meta_title: nil, discontinue_on: "2020-07-31 05:00:00", product_group_id: nil, photocake_frame_item: false, choking_hazard: true, trademark_short_description: "Curious George is Licensed by Universal. All Right...", name_2: "DecoSet®", new_prenew: nil, avail_to_purchase: true, coming_soon: false, search_sequence_number: 773, coming_soon_date: nil, product_type: "item", display_dimensions: ["George with Train: 4.1 x 1.4 x 3.15 inches", "Layon Train Sign: 3.15 x 1.8 x 0.1 inches"], custom: false, generic: false, no_shipping: false, image_credit_item: false, limited_quantities: false, tax_cloud_tic: "00000">, #<Spree::Product id: 7211, name: "Curious George® Inquisitive", description: "Preschoolers love Curious George® and these rings ...", available_on: "2019-08-22 05:00:00", deleted_at: nil, slug: "curious-george-cutest-monkey-cupcake-rings", meta_description: nil, meta_keywords: "Curious George; PBS; ring;", tax_category_id: nil, shipping_category_id: 1, created_at: "2017-09-08 06:50:49", updated_at: "2019-08-22 18:06:26", promotionable: true, meta_title: nil, discontinue_on: "2020-07-31 05:00:00", product_group_id: nil, photocake_frame_item: false, choking_hazard: false, trademark_short_description: "Curious George is Licensed by Universal. All Right...", name_2: "Cupcake Rings", new_prenew: nil, avail_to_purchase: true, coming_soon: false, search_sequence_number: 141, coming_soon_date: nil, product_type: "item", display_dimensions: ["Curious George: 1.25 x 1.2 x 0.75 inches"], custom: false, generic: false, no_shipping: false, image_credit_item: false, limited_quantities: false, tax_cloud_tic: "00000">]