Finding Dory Fintastic Adventures
DecoSet®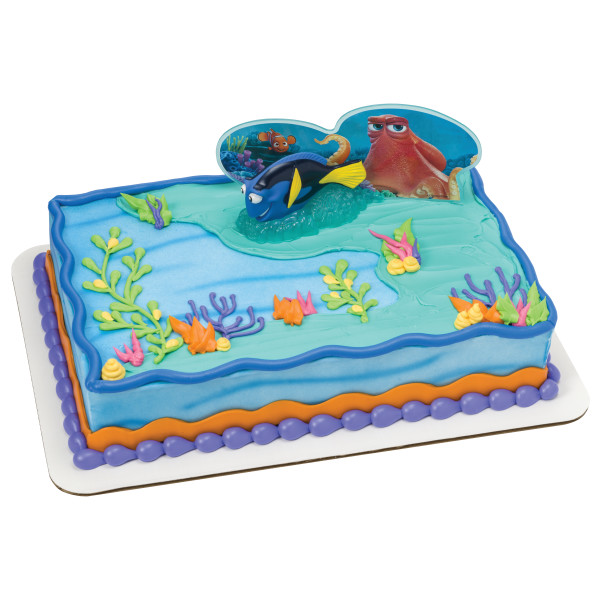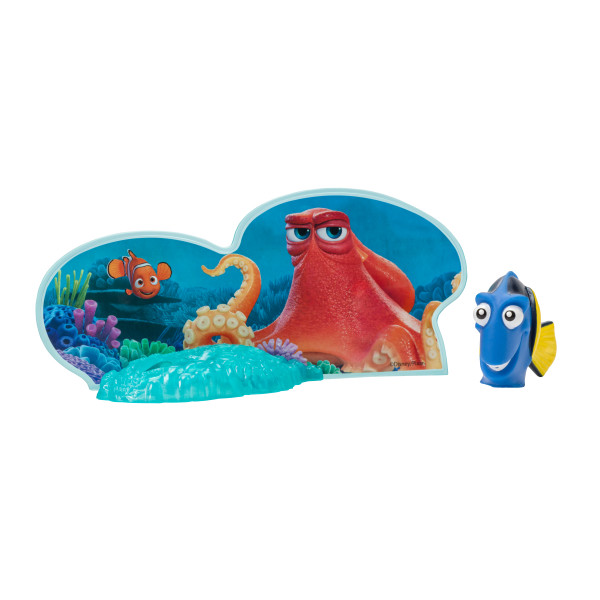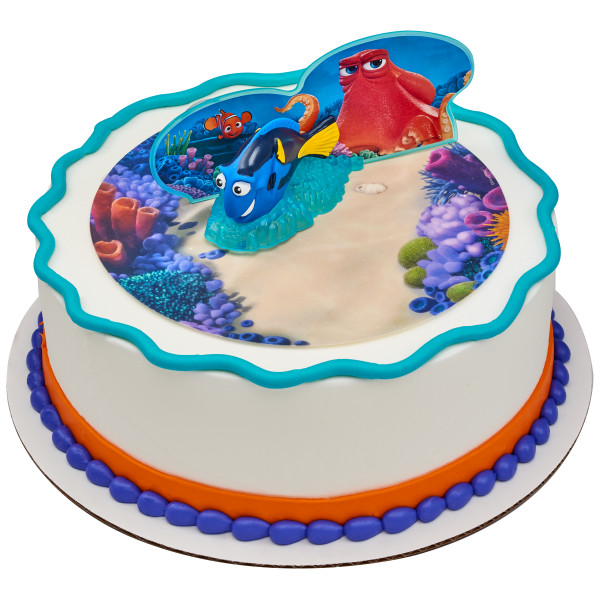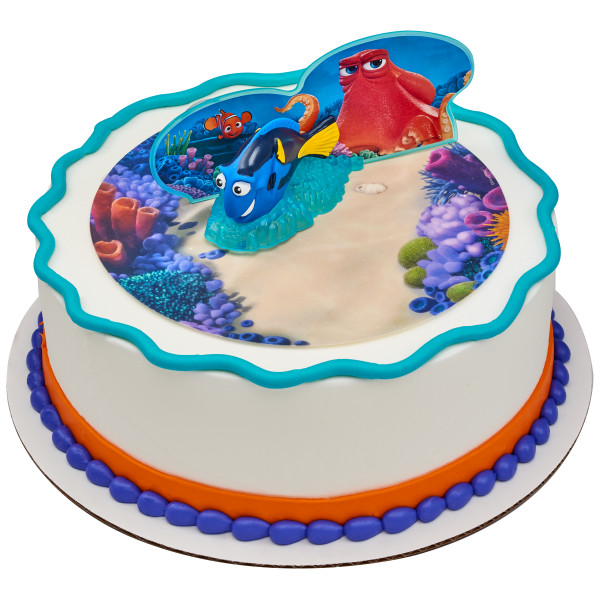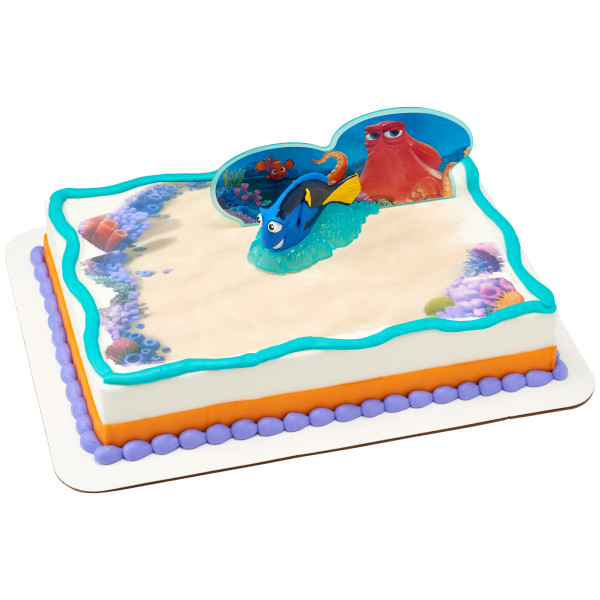 *Note: These support items are free of charge and ship automatically with your first order.
Product Details
Just keep swimming with this Finding Dory DecoSet. Featuring a Dory figurine that squirts water and plastic stickered layon with suction cups and shelf to hold the Dory figurine. 3-Piece set.
Dimensions:
Dory Figurine: 3.35 x 1.75 x 0.85 inches
Hank and Nemo Palque: 3.95 x 1.9 x 0.65 inches
WARNING: CHOKING HAZARD. Small parts. Not for children under 3 years.
©Disney Enterprises, Inc. and Pixar Animation Studios
Related Items
[#<Spree::Product id: 2460, name: "Finding Dory Adventure is Brewing", description: "Just keep on swimming with these fun Dory and Nemo...", available_on: "2019-10-23 05:00:00", deleted_at: nil, slug: "finding-dory-adventure-is-brewing-cupcake-rings", meta_description: nil, meta_keywords: "Dory; Nemo; rings;", tax_category_id: nil, shipping_category_id: 1, created_at: "2017-09-08 06:35:30", updated_at: "2019-10-23 07:00:14", promotionable: true, meta_title: nil, discontinue_on: "2020-07-31 05:00:00", product_group_id: nil, photocake_frame_item: false, choking_hazard: false, trademark_short_description: "©Disney Enterprises, Inc. and Pixar Animation Stud...", name_2: "Cupcake Rings", new_prenew: nil, avail_to_purchase: true, coming_soon: false, search_sequence_number: 1010, coming_soon_date: nil, product_type: "item", display_dimensions: ["Round Shaped Rings (x72): 1.5 x 1.3 x 0.15 inches", "Star Shaped Rings (x72): 1.4 x 1.25 x 0.7 inches"], custom: false, generic: false, no_shipping: false, image_credit_item: false, limited_quantities: false, tax_cloud_tic: "00000">, #<Spree::Product id: 3996, name: "Finding Dory You're Amazing", description: "Finding Dory fans will just keep swimming to find ...", available_on: "2019-10-23 05:00:00", deleted_at: nil, slug: "finding-dory-you-re-amazing-photocake-frame", meta_description: nil, meta_keywords: "Finding Dory; personalize; photo frame; nemo; swim...", tax_category_id: nil, shipping_category_id: 1, created_at: "2017-09-08 06:40:13", updated_at: "2019-10-23 07:10:28", promotionable: true, meta_title: nil, discontinue_on: "2020-07-31 05:00:00", product_group_id: nil, photocake_frame_item: true, choking_hazard: false, trademark_short_description: "©Disney Enterprises, Inc. and Pixar Animation Stud...", name_2: "PhotoCake® Edible Image® Frame", new_prenew: nil, avail_to_purchase: true, coming_soon: false, search_sequence_number: 2401, coming_soon_date: nil, product_type: "item", display_dimensions: [], custom: false, generic: false, no_shipping: true, image_credit_item: false, limited_quantities: false, tax_cloud_tic: "31000">, #<Spree::Product id: 4055, name: "Finding Dory We Swim!", description: "Dory and her friends swim around the cake in these...", available_on: "2019-10-23 05:00:00", deleted_at: nil, slug: "finding-dory-we-swim-photocake-image-strips", meta_description: nil, meta_keywords: "Finding Dory; swimming; ocean;", tax_category_id: nil, shipping_category_id: 1, created_at: "2017-09-08 06:40:24", updated_at: "2019-10-23 07:05:16", promotionable: true, meta_title: nil, discontinue_on: "2020-07-31 05:00:00", product_group_id: nil, photocake_frame_item: true, choking_hazard: false, trademark_short_description: "©Disney Enterprises, Inc. and Pixar Animation Stud...", name_2: "PhotoCake® Edible Image® Strips", new_prenew: nil, avail_to_purchase: true, coming_soon: false, search_sequence_number: 6434, coming_soon_date: nil, product_type: "item", display_dimensions: [], custom: false, generic: false, no_shipping: true, image_credit_item: false, limited_quantities: false, tax_cloud_tic: "40030">, #<Spree::Product id: 5783, name: "Finding Nemo Nemo & Squirt", description: "A sea worthy set, this DecoSet is ready to hitch a...", available_on: "2019-10-23 05:00:00", deleted_at: nil, slug: "finding-nemo-nemo-and-squirt-decoset", meta_description: nil, meta_keywords: "Finding Nemo; nemo; swimming;", tax_category_id: nil, shipping_category_id: 1, created_at: "2017-09-08 06:46:09", updated_at: "2019-10-23 12:12:38", promotionable: true, meta_title: nil, discontinue_on: "2030-08-31 05:00:00", product_group_id: nil, photocake_frame_item: false, choking_hazard: true, trademark_short_description: "©Disney Enterprises, Inc. and Pixar Animation Stud...", name_2: "DecoSet®", new_prenew: nil, avail_to_purchase: true, coming_soon: false, search_sequence_number: 229, coming_soon_date: nil, product_type: "item", display_dimensions: ["Nemo Figurine: 2.75 x 1.25 x 1.75 inches", "Squirt Figurine: 2.5 x 3.1 x 1.05 inches", "Stingray Layon: 6.05 x 4.8 x 0.95 inches"], custom: false, generic: false, no_shipping: false, image_credit_item: false, limited_quantities: true, tax_cloud_tic: "00000">]