Happy Birthday Neon Candles
DecoSet®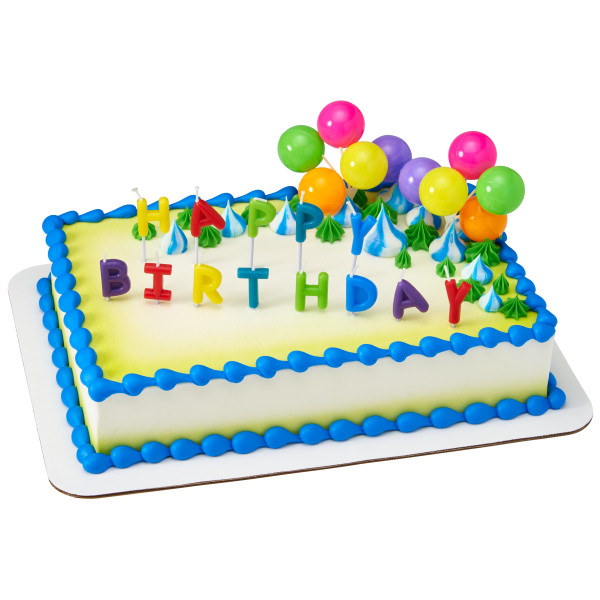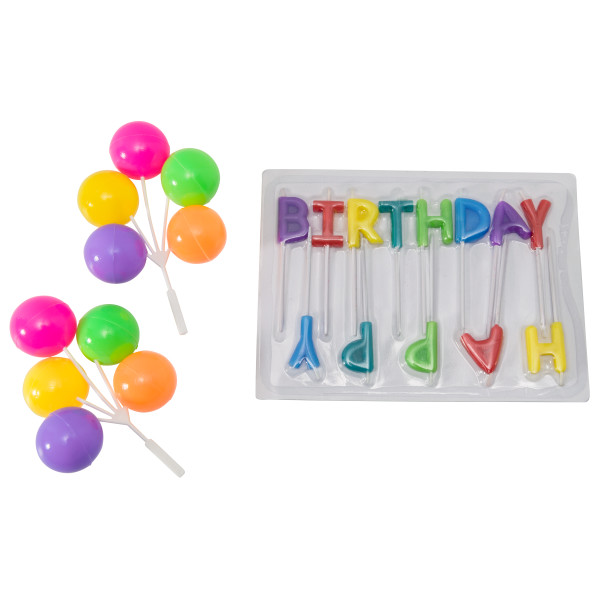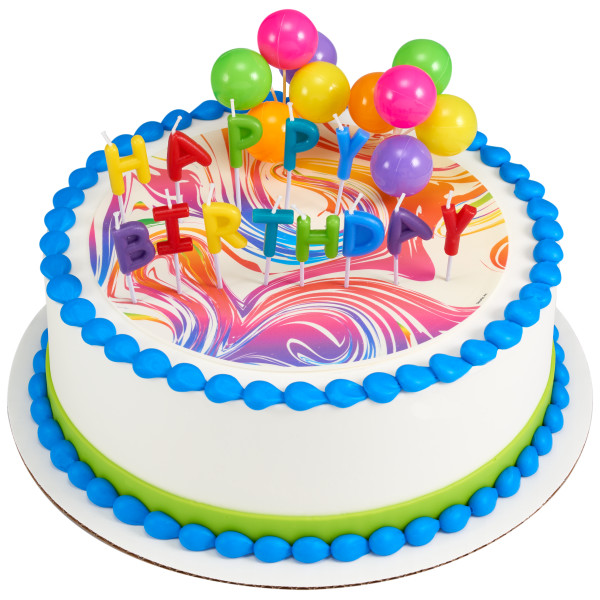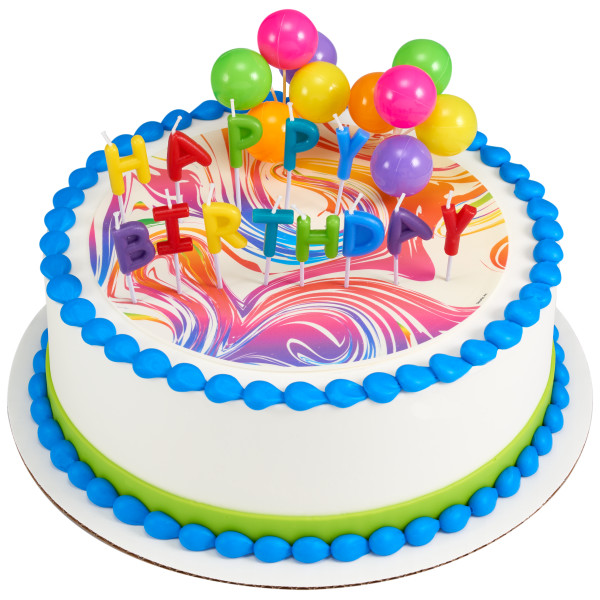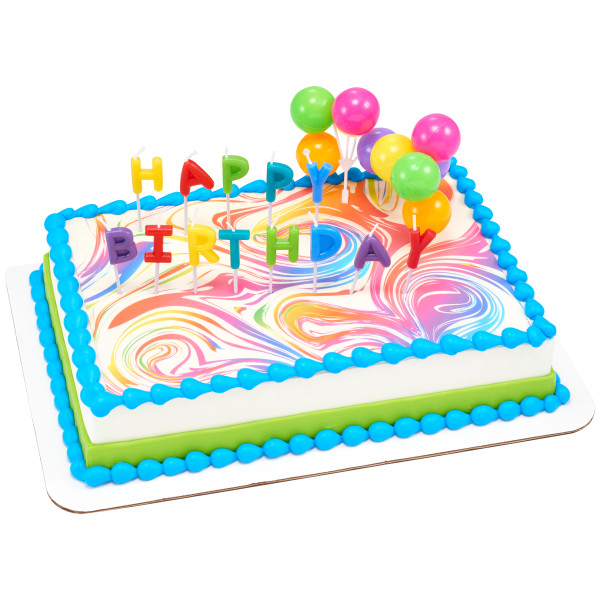 *Note: These support items are free of charge and ship automatically with your first order.
Product Details
Celebrate a colorful birthday with these fun letters and balloons! This DecoSet helps you spell out HAPPY BIRTHDAY on any treat. 15-Piece set.
WARNING: CHOKING HAZARD. Small parts. Not for children under 3 years.
Related Items
[#<Spree::Product id: 954, name: "Happy Birthday Party Hat and Balloon", description: "Make a statement with these fun Happy Birthday Pop...", available_on: "2019-10-20 05:00:00", deleted_at: nil, slug: "happy-birthday-party-hat-and-balloon-pop-tops-deco...", meta_description: nil, meta_keywords: "happy birthday; birthday; celebration;", tax_category_id: nil, shipping_category_id: 1, created_at: "2017-09-08 06:30:47", updated_at: "2019-10-20 14:08:43", promotionable: true, meta_title: nil, discontinue_on: "2021-07-31 05:00:00", product_group_id: nil, photocake_frame_item: false, choking_hazard: false, trademark_short_description: nil, name_2: "Pop Tops®", new_prenew: nil, avail_to_purchase: true, coming_soon: false, search_sequence_number: 2970, coming_soon_date: nil, product_type: "item", display_dimensions: ["Happy Birthday Balloon (x12): 4.25 x 2.55 x 0.85 inches", "Happy Birthday Hat: 4.2 x 3.85 x 0.7 inches"], custom: false, generic: true, no_shipping: false, image_credit_item: false, limited_quantities: false, tax_cloud_tic: "00000">, #<Spree::Product id: 3892, name: "Happy Birthday Script", description: "An easy way to add that pop of color to birthday t...", available_on: "2019-10-20 05:00:00", deleted_at: nil, slug: "happy-birthday-script-decopics", meta_description: nil, meta_keywords: "birthday; happy birthday; DecoPics; pics;", tax_category_id: nil, shipping_category_id: 1, created_at: "2017-09-08 06:39:52", updated_at: "2019-10-20 17:44:25", promotionable: true, meta_title: nil, discontinue_on: "2021-07-31 05:00:00", product_group_id: nil, photocake_frame_item: false, choking_hazard: false, trademark_short_description: nil, name_2: "DecoPics®", new_prenew: nil, avail_to_purchase: true, coming_soon: false, search_sequence_number: 906, coming_soon_date: nil, product_type: "item", display_dimensions: ["Happy Birthday Script: 1.85 x 1.55 x 0.1 inches"], custom: false, generic: true, no_shipping: false, image_credit_item: false, limited_quantities: false, tax_cloud_tic: "00000">, #<Spree::Product id: 7117, name: "Happy Birthday Script Assortment", description: "Make it a bold birthday display with these Happy B...", available_on: "2019-10-20 05:00:00", deleted_at: nil, slug: "happy-birthday-script-layon-assortment", meta_description: nil, meta_keywords: "happy birthday; birthday; celebration;", tax_category_id: nil, shipping_category_id: 1, created_at: "2017-09-08 06:50:31", updated_at: "2019-10-20 06:47:47", promotionable: true, meta_title: nil, discontinue_on: "2021-07-31 05:00:00", product_group_id: nil, photocake_frame_item: false, choking_hazard: false, trademark_short_description: nil, name_2: "Layon", new_prenew: nil, avail_to_purchase: true, coming_soon: false, search_sequence_number: 95, coming_soon_date: nil, product_type: "item", display_dimensions: ["HAPPY BIRTHDAY LAYON (PUR/ORN/BLU/RED): 4.95 x 1.6 x 0.15 inches"], custom: false, generic: true, no_shipping: false, image_credit_item: false, limited_quantities: false, tax_cloud_tic: "00000">, #<Spree::Product id: 8008, name: "Bright Birthday Balloons", description: "Make it a bold birthday display with these party b...", available_on: "2019-10-20 05:00:00", deleted_at: nil, slug: "bright-birthday-balloons-cupcake-rings", meta_description: nil, meta_keywords: "bold; birthday; party; rings;", tax_category_id: nil, shipping_category_id: 1, created_at: "2017-09-08 06:53:20", updated_at: "2019-10-20 07:08:02", promotionable: true, meta_title: nil, discontinue_on: "2021-07-31 05:00:00", product_group_id: nil, photocake_frame_item: false, choking_hazard: false, trademark_short_description: nil, name_2: "Cupcake Rings", new_prenew: nil, avail_to_purchase: true, coming_soon: false, search_sequence_number: 507, coming_soon_date: nil, product_type: "item", display_dimensions: ["Bright Colored Birthday Balloons: 1.3 x 1.25 x 0.85 inches"], custom: false, generic: true, no_shipping: false, image_credit_item: false, limited_quantities: false, tax_cloud_tic: "00000">]