PAW Patrol™ Just Yelp for Help
Cake Decorating Instruction Card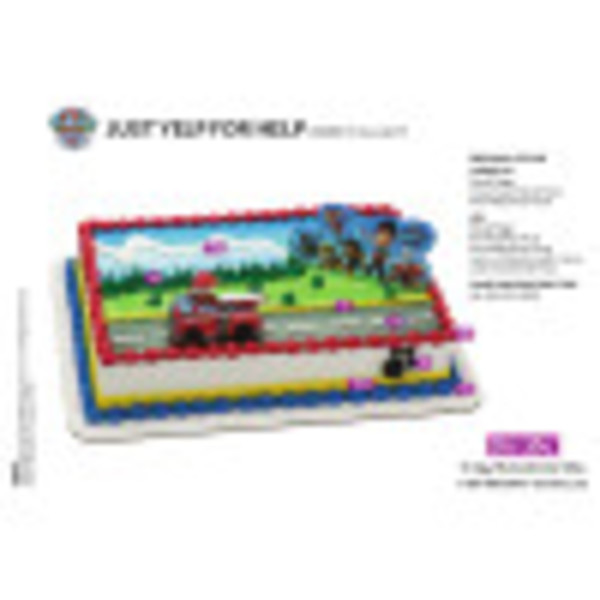 *Note: These support items are free of charge and ship automatically with your first order.
Product Details
Follow the instructions to WOW your customers! This decorating instruction card provides instructions to create this beautiful PAW Patrol™ Just Yelp for Help DecoSet cake design.
TM Spin Master Ltd. All Rights Reserved. ©2016 Nickelodeon and all related titles and logos are trademarks of Viacom International Inc.
Related Items
[#<Spree::Product id: 619, name: "PAW Patrol™ Ruff Ruff Rescue", description: "Preschoolers lover PAW Patrol™ and these character...", available_on: "2019-10-19 05:00:00", deleted_at: nil, slug: "paw-patrol-ruff-ruff-rescue-cupcake-rings", meta_description: nil, meta_keywords: "PAW patrol; rings;", tax_category_id: nil, shipping_category_id: 1, created_at: "2017-09-08 06:29:44", updated_at: "2019-10-19 07:06:13", promotionable: true, meta_title: nil, discontinue_on: "2020-12-31 06:00:00", product_group_id: nil, photocake_frame_item: false, choking_hazard: false, trademark_short_description: "TM Spin Master Ltd. All Rights Reserved. ©2016 Nic...", name_2: "Cupcake Rings", new_prenew: nil, avail_to_purchase: true, coming_soon: false, search_sequence_number: 1053, coming_soon_date: nil, product_type: "item", display_dimensions: ["Paw Patrol Ruff Ruff Rescue Rings: 1.4 x 1.4 x 0.85 inches"], custom: false, generic: false, no_shipping: false, image_credit_item: false, limited_quantities: false, tax_cloud_tic: "00000">, #<Spree::Product id: 1948, name: "PAW Patrol™ Just Yelp for Help", description: "PAW Patrol™ adventure seekers can now be part of t...", available_on: "2019-10-19 05:00:00", deleted_at: nil, slug: "paw-patrol-just-yelp-for-help-decoset", meta_description: "", meta_keywords: "PAW Patrol; yelp for help; birthday;", tax_category_id: nil, shipping_category_id: 1, created_at: "2017-09-08 06:33:53", updated_at: "2019-10-19 07:07:34", promotionable: true, meta_title: "", discontinue_on: "2021-01-31 06:00:00", product_group_id: 39, photocake_frame_item: false, choking_hazard: true, trademark_short_description: "TM Spin Master Ltd. All Rights Reserved. ©2016 Nic...", name_2: "DecoSet®", new_prenew: nil, avail_to_purchase: true, coming_soon: false, search_sequence_number: 414, coming_soon_date: nil, product_type: "item", display_dimensions: ["FIRE TRUCK: 3.05 x 1.55 x 2.0 inches", "CARD PIC: 4.85 x 0.45 x 3.65 inches"], custom: false, generic: false, no_shipping: false, image_credit_item: false, limited_quantities: false, tax_cloud_tic: "00000">, #<Spree::Product id: 6913, name: "PAW Patrol™ Just Yelp for Help", description: "PAW Patrol™ adventure seekers can now be part of t...", available_on: "2019-10-19 05:00:00", deleted_at: nil, slug: "paw-patrol-just-yelp-for-help-decosets", meta_description: "", meta_keywords: "PAW Patrol; yelp for help; birthday;", tax_category_id: nil, shipping_category_id: 1, created_at: "2017-09-08 06:49:50", updated_at: "2019-10-19 06:50:18", promotionable: true, meta_title: "", discontinue_on: "2020-12-31 06:00:00", product_group_id: 39, photocake_frame_item: false, choking_hazard: true, trademark_short_description: "TM Spin Master Ltd. All Rights Reserved. ©2016 Nic...", name_2: "DecoSet®", new_prenew: nil, avail_to_purchase: true, coming_soon: false, search_sequence_number: 404, coming_soon_date: nil, product_type: "item", display_dimensions: ["FIRE TRUCK: 3.05 x 1.55 x 2.0 inches", "BACKGROUND PIC: 4.85 x 0.45 x 3.65 inches"], custom: false, generic: false, no_shipping: false, image_credit_item: false, limited_quantities: false, tax_cloud_tic: "00000">]