PAW Patrol™ Just Yelp for Help
DecoSet®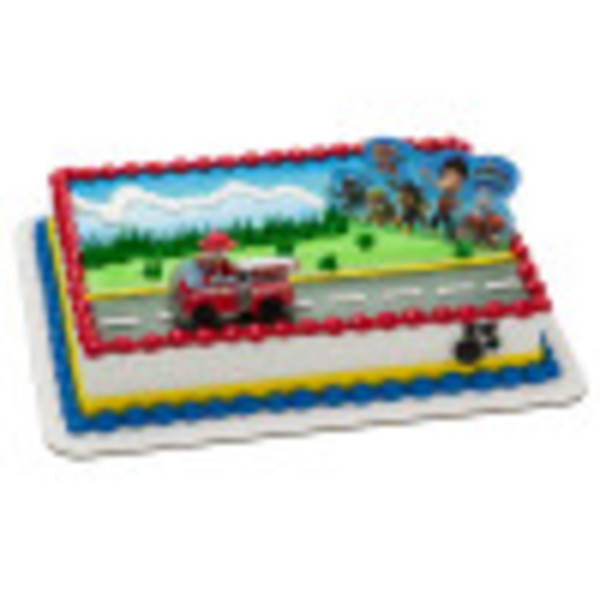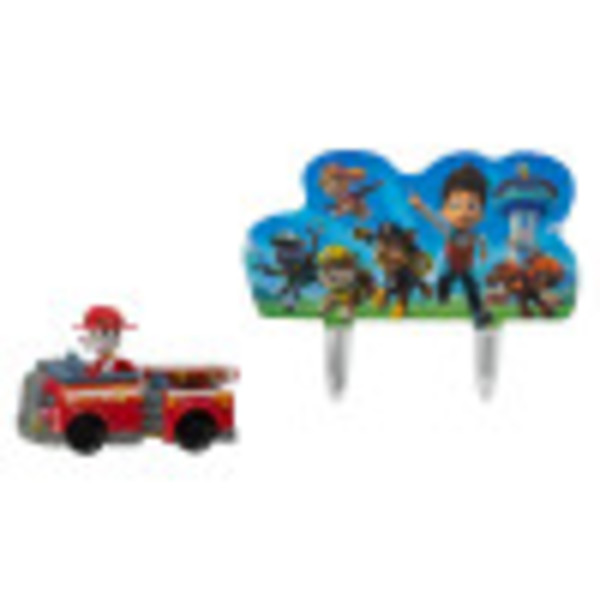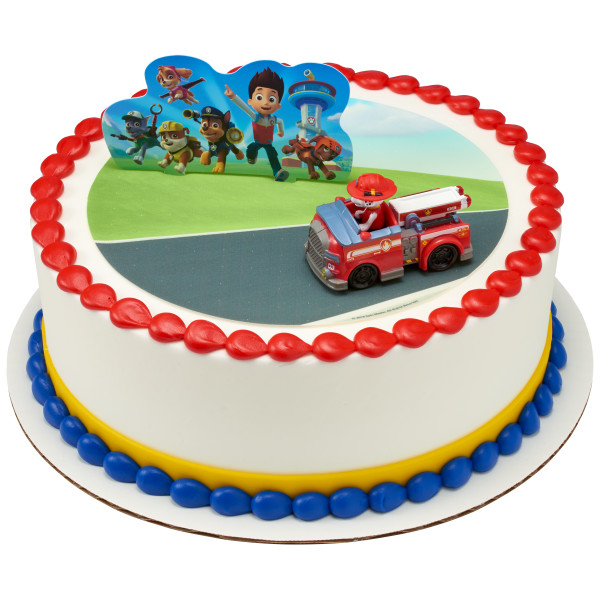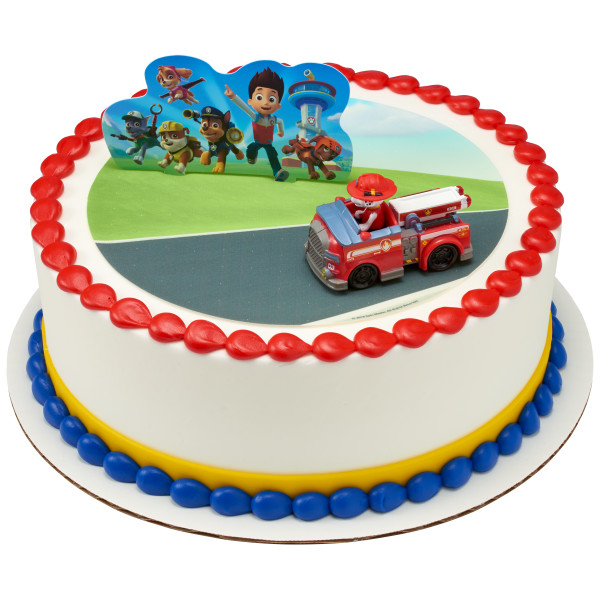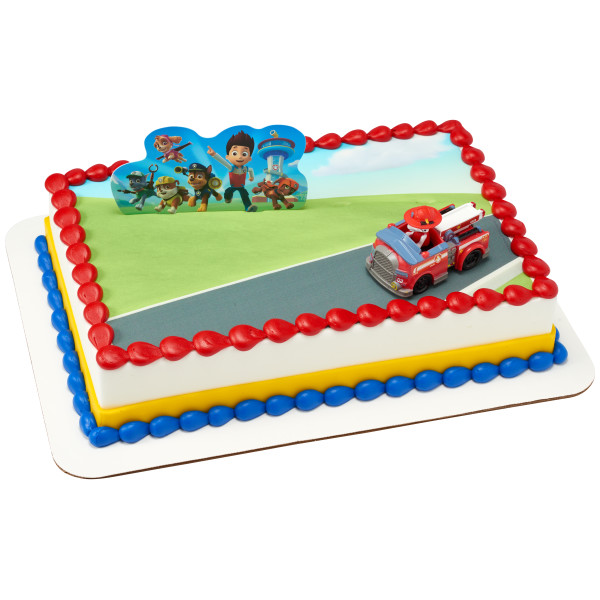 *Note: These support items are free of charge and ship automatically with your first order.
Product Details
PAW Patrol™ adventure seekers can now be part of the action with this DecoSet®. Interactive keepsake toy fire engine will keep young kids entertained. 2-Piece set.
WARNING: CHOKING HAZARD. Small parts. Not for children under 3 years.
TM Spin Master Ltd. All Rights Reserved. ©2016 Nickelodeon and all related titles and logos are trademarks of Viacom International Inc.
Related Items
[#<Spree::Product id: 619, name: "PAW Patrol™ Ruff Ruff Rescue", description: "These rings feature favorite PAW Patrol characters...", available_on: "2019-03-22 05:00:00", deleted_at: nil, slug: "paw-patrol-ruff-ruff-rescue-cupcake-rings", meta_description: nil, meta_keywords: nil, tax_category_id: nil, shipping_category_id: 1, created_at: "2017-09-08 06:29:44", updated_at: "2019-03-22 07:04:48", promotionable: true, meta_title: nil, discontinue_on: "2020-12-31 06:00:00", product_group_id: nil, photocake_frame_item: false, choking_hazard: false, trademark_short_description: "TM Spin Master Ltd. All Rights Reserved. ©2016 Nic...", name_2: "Cupcake Rings", new_prenew: nil, avail_to_purchase: true, coming_soon: false, search_sequence_number: 710, coming_soon_date: nil, product_type: "item", display_dimensions: ["Paw Patrol Ruff Ruff Rescue Rings: 1.4 x 1.4 x 0.85 inches"], custom: false, generic: false, no_shipping: false, image_credit_item: false, limited_quantities: false, tax_cloud_tic: "00000">, #<Spree::Product id: 4554, name: "PAW Patrol™ Marshall", description: "Marshall, the fire pup, takes charge in this PAW P...", available_on: "2019-03-22 05:00:00", deleted_at: nil, slug: "paw-patrol-marshall-photocake-frame", meta_description: nil, meta_keywords: "PAW Patrol;", tax_category_id: nil, shipping_category_id: 1, created_at: "2017-09-08 06:42:08", updated_at: "2019-03-22 07:11:45", promotionable: true, meta_title: nil, discontinue_on: "2019-08-31 05:00:00", product_group_id: nil, photocake_frame_item: true, choking_hazard: false, trademark_short_description: "TM Spin Master Ltd. All Rights Reserved. ©2016 Nic...", name_2: "PhotoCake® Edible Image® Frame", new_prenew: nil, avail_to_purchase: true, coming_soon: false, search_sequence_number: 2373, coming_soon_date: nil, product_type: "item", display_dimensions: [], custom: false, generic: false, no_shipping: true, image_credit_item: false, limited_quantities: true, tax_cloud_tic: "31000">, #<Spree::Product id: 3886, name: "PAW Patrol™ All Paws on Deck", description: "All paws are on deck in this PhotoCake® Image Stri...", available_on: "2019-03-22 05:00:00", deleted_at: nil, slug: "paw-patrol-all-paws-on-deck-photocake-image-strips", meta_description: nil, meta_keywords: "PAW Patrol;", tax_category_id: nil, shipping_category_id: 1, created_at: "2017-09-08 06:39:51", updated_at: "2019-03-22 07:07:17", promotionable: true, meta_title: nil, discontinue_on: "2020-12-31 06:00:00", product_group_id: nil, photocake_frame_item: true, choking_hazard: false, trademark_short_description: "TM Spin Master Ltd. All Rights Reserved. ©2016 Nic...", name_2: "PhotoCake® Edible Image® Strips", new_prenew: nil, avail_to_purchase: true, coming_soon: false, search_sequence_number: 6032, coming_soon_date: nil, product_type: "item", display_dimensions: [], custom: false, generic: false, no_shipping: true, image_credit_item: false, limited_quantities: false, tax_cloud_tic: "40030">, #<Spree::Product id: 7790, name: "PAW Patrol™ Just Yelp for Help", description: "Preschoolers love PAW Patrol™ and will love this E...", available_on: "2019-03-22 05:00:00", deleted_at: nil, slug: "paw-patrol-just-yelp-for-help-photocake-image", meta_description: nil, meta_keywords: "PAW Patrol;", tax_category_id: nil, shipping_category_id: 1, created_at: "2017-09-08 06:52:37", updated_at: "2019-03-22 07:08:39", promotionable: true, meta_title: nil, discontinue_on: "2019-12-31 06:00:00", product_group_id: nil, photocake_frame_item: true, choking_hazard: false, trademark_short_description: "TM Spin Master Ltd. All Rights Reserved. ©2016 Nic...", name_2: "PhotoCake® Edible Image®", new_prenew: nil, avail_to_purchase: true, coming_soon: false, search_sequence_number: 2047, coming_soon_date: nil, product_type: "item", display_dimensions: [], custom: false, generic: false, no_shipping: true, image_credit_item: false, limited_quantities: false, tax_cloud_tic: "31000">]