Sesame Street® Let's Play
DecoSet®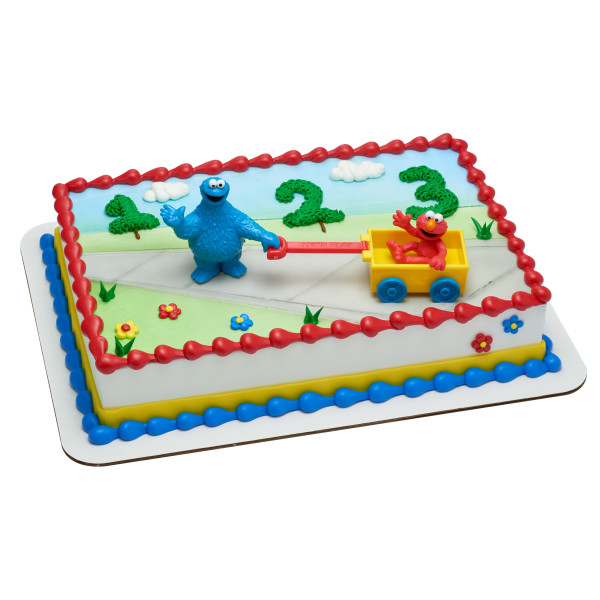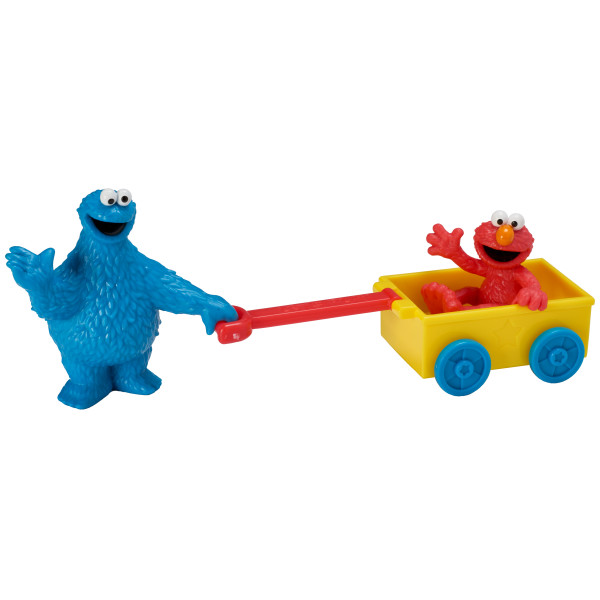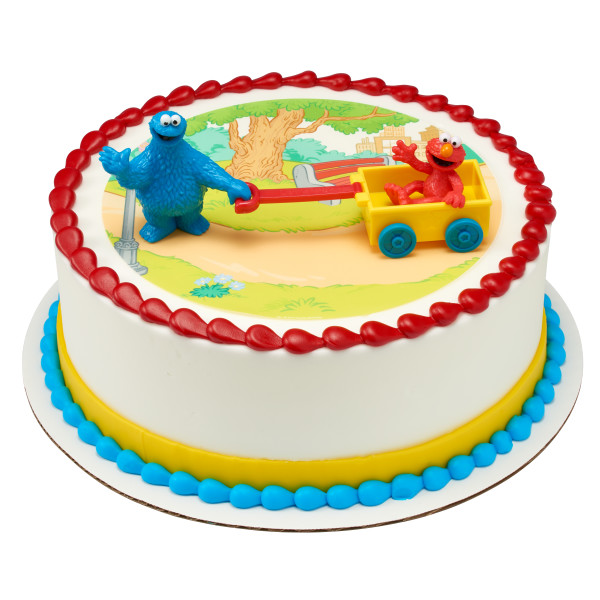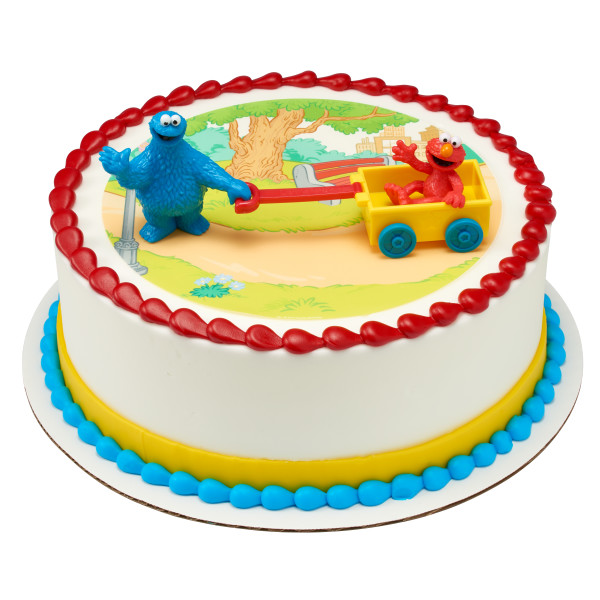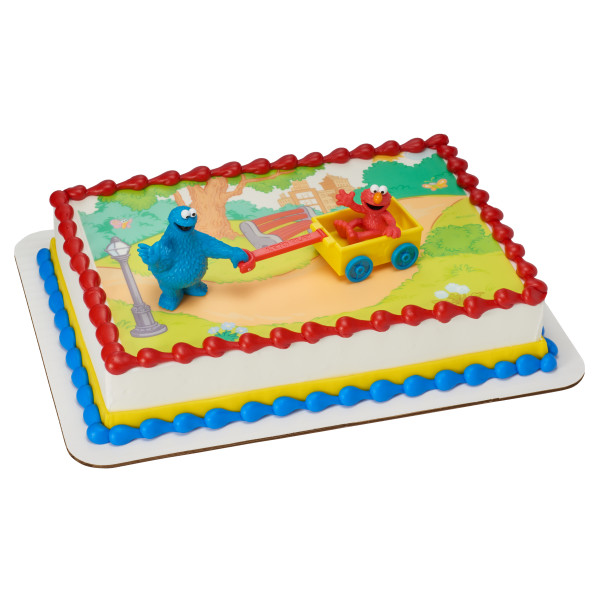 *Note: These support items are free of charge and ship automatically with your first order.
Product Details
Join Cookie Monster as he pulls Elmo around in his little wagon. This Sesame Street® DecoSet is great for after play fun. 3-Piece set.
Dimensions:
Cookie Monster Figurine: 2.85 x 1.4 x 2.9 inches
elmo in wagon: 2.85 x 1.85 x 2.9 inches
WARNING: CHOKING HAZARD. Small parts. Not for children under 3 years.
Sesame Street ® and associated characters, trademarks and design elements are owned and licensed by Sesame Workshop. © 2016.
Related Items
[#<Spree::Product id: 2443, name: "Sesame Street® Bright & Fun", description: "Can you tell me how to get - how to get to Sesame ...", available_on: "2019-09-22 05:00:00", deleted_at: nil, slug: "sesame-street-blocks-cupcake-rings", meta_description: nil, meta_keywords: "sesame street; cookie monster; Elmo; big bird; Gro...", tax_category_id: nil, shipping_category_id: 1, created_at: "2017-09-08 06:35:27", updated_at: "2019-09-22 06:58:27", promotionable: true, meta_title: nil, discontinue_on: "2020-07-31 05:00:00", product_group_id: nil, photocake_frame_item: false, choking_hazard: false, trademark_short_description: "Sesame Street ® and associated characters, tradema...", name_2: "Cupcake Rings", new_prenew: nil, avail_to_purchase: true, coming_soon: false, search_sequence_number: 448, coming_soon_date: nil, product_type: "item", display_dimensions: ["SESAME STREET RING (VARIOUS CHARACTERS): 1.4 x 1.4 x 0.85 inches"], custom: false, generic: false, no_shipping: false, image_credit_item: false, limited_quantities: false, tax_cloud_tic: "00000">, #<Spree::Product id: 4784, name: "Sesame Street® Hooray For You", description: "Celebrate a Preschooler's special occasion with ba...", available_on: "2019-09-22 05:00:00", deleted_at: nil, slug: "sesame-street-hooray-for-you-photocake-frame", meta_description: nil, meta_keywords: "Sesame Street; Celebration;", tax_category_id: nil, shipping_category_id: 1, created_at: "2017-09-08 06:42:53", updated_at: "2019-09-22 07:11:56", promotionable: true, meta_title: nil, discontinue_on: "2020-07-31 05:00:00", product_group_id: nil, photocake_frame_item: true, choking_hazard: false, trademark_short_description: "Sesame Street ® and associated characters, tradema...", name_2: "PhotoCake® Edible Image® Frame", new_prenew: nil, avail_to_purchase: true, coming_soon: false, search_sequence_number: 2481, coming_soon_date: nil, product_type: "item", display_dimensions: [], custom: false, generic: false, no_shipping: true, image_credit_item: false, limited_quantities: false, tax_cloud_tic: "31000">, #<Spree::Product id: 6240, name: "Sesame Street® Giggle Together", description: "Can you tell me how to get - how to get to Sesame ...", available_on: "2019-09-22 05:00:00", deleted_at: nil, slug: "sesame-street-giggle-together-cupcake-rings", meta_description: nil, meta_keywords: "sesame street; cookie monster; Elmo; big bird; Gro...", tax_category_id: nil, shipping_category_id: 1, created_at: "2017-09-08 06:47:43", updated_at: "2019-09-22 07:11:35", promotionable: true, meta_title: nil, discontinue_on: "2030-07-31 05:00:00", product_group_id: nil, photocake_frame_item: false, choking_hazard: false, trademark_short_description: "Sesame Street ® and associated characters, tradema...", name_2: "Cupcake Rings", new_prenew: nil, avail_to_purchase: true, coming_soon: false, search_sequence_number: 719, coming_soon_date: nil, product_type: "item", display_dimensions: ["CIRCLE RING(BLUE,RED)(2 STICKERS): 1.2 x 1.2 x 0.65 inches", "TRIANGLE RING(RED,YELLOW)(2 STICKERS): 1.4 x 1.2 x 0.85 inches", "HEXAGON RING(RED,BLUE)(2 STICKERS): 1.4 x 1.2 x 0.65 inches"], custom: false, generic: false, no_shipping: false, image_credit_item: false, limited_quantities: true, tax_cloud_tic: "00000">]