Sesame Street® Let's Play
Cake Decorating Instruction Card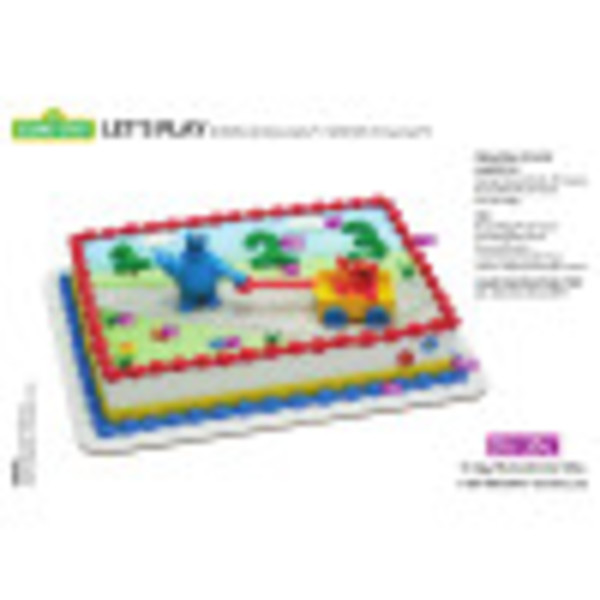 *Note: These support items are free of charge and ship automatically with your first order.
Product Details
Follow the instructions to WOW your customers! This decorating instruction card provides instructions to create this beautiful Sesame Street Let's Play DecoSet cake design.
Sesame Street ® and associated characters, trademarks and design elements are owned and licensed by Sesame Workshop. © 2016.
Related Items
[#<Spree::Product id: 716, name: "Sesame Street® Let's Play", description: "Join Cookie Monster as he pulls Elmo around in his...", available_on: "2019-10-22 05:00:00", deleted_at: nil, slug: "sesame-street-let-s-play-decoset", meta_description: nil, meta_keywords: "Sesame Street;", tax_category_id: nil, shipping_category_id: 1, created_at: "2017-09-08 06:30:03", updated_at: "2019-10-23 00:27:00", promotionable: true, meta_title: nil, discontinue_on: "2020-08-31 05:00:00", product_group_id: 31, photocake_frame_item: false, choking_hazard: true, trademark_short_description: "Sesame Street ® and associated characters, tradema...", name_2: "DecoSet®", new_prenew: nil, avail_to_purchase: true, coming_soon: false, search_sequence_number: 420, coming_soon_date: nil, product_type: "item", display_dimensions: ["Cookie Monster Figurine: 2.85 x 1.4 x 2.9 inches", "elmo in wagon: 2.85 x 1.85 x 2.9 inches"], custom: false, generic: false, no_shipping: false, image_credit_item: false, limited_quantities: false, tax_cloud_tic: "00000">, #<Spree::Product id: 6307, name: "Sesame Street® Let's Play", description: "Background coordinates with the displayed DecoSet ...", available_on: "2019-10-22 05:00:00", deleted_at: nil, slug: "sesame-street-let-s-play-photocake-decoset-backgro...", meta_description: nil, meta_keywords: "Sesame Street; Celebration;", tax_category_id: nil, shipping_category_id: 1, created_at: "2017-09-08 06:47:55", updated_at: "2019-10-22 07:13:00", promotionable: true, meta_title: nil, discontinue_on: "2020-07-31 05:00:00", product_group_id: nil, photocake_frame_item: true, choking_hazard: false, trademark_short_description: "Sesame Street ® and associated characters, tradema...", name_2: "PhotoCake® Edible Image® DecoSet® Background", new_prenew: nil, avail_to_purchase: true, coming_soon: false, search_sequence_number: 1167, coming_soon_date: nil, product_type: "item", display_dimensions: [], custom: false, generic: false, no_shipping: true, image_credit_item: false, limited_quantities: false, tax_cloud_tic: "31000">, #<Spree::Product id: 7505, name: "Sesame Street® Let's Play DecoSet®", description: "Show your customers the excitement of this cake de...", available_on: "2019-10-22 05:00:00", deleted_at: nil, slug: "sesame-street-let-s-play-decoset-1-4-sheet-the-mag...", meta_description: nil, meta_keywords: "TMOC, Book, display, promote, Iced, iced only", tax_category_id: nil, shipping_category_id: 1, created_at: "2017-09-08 06:51:42", updated_at: "2019-10-22 18:18:49", promotionable: true, meta_title: nil, discontinue_on: "2020-08-31 05:00:00", product_group_id: nil, photocake_frame_item: false, choking_hazard: false, trademark_short_description: "Sesame Street ® and associated characters, tradema...", name_2: "The Magic of Cakes® Page", new_prenew: nil, avail_to_purchase: true, coming_soon: false, search_sequence_number: 4372, coming_soon_date: nil, product_type: "tmoc", display_dimensions: [], custom: false, generic: false, no_shipping: false, image_credit_item: false, limited_quantities: false, tax_cloud_tic: "00000">]