Silver Cross
DecoSet®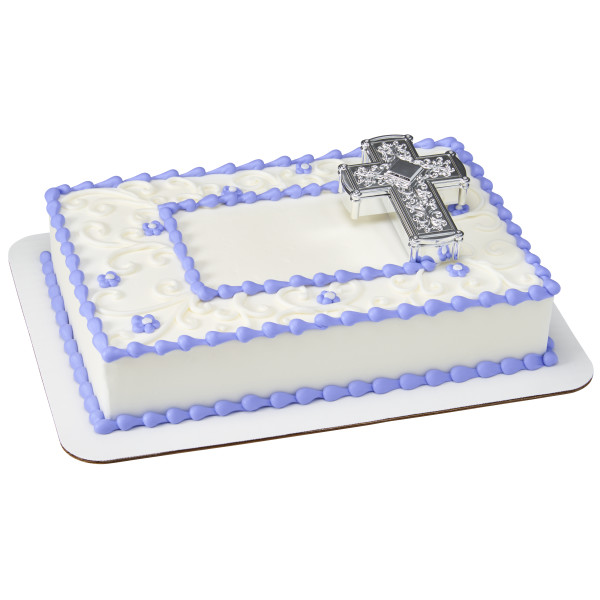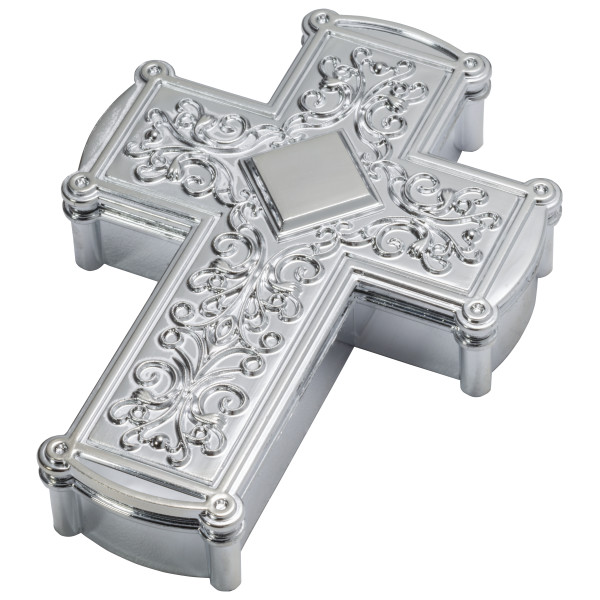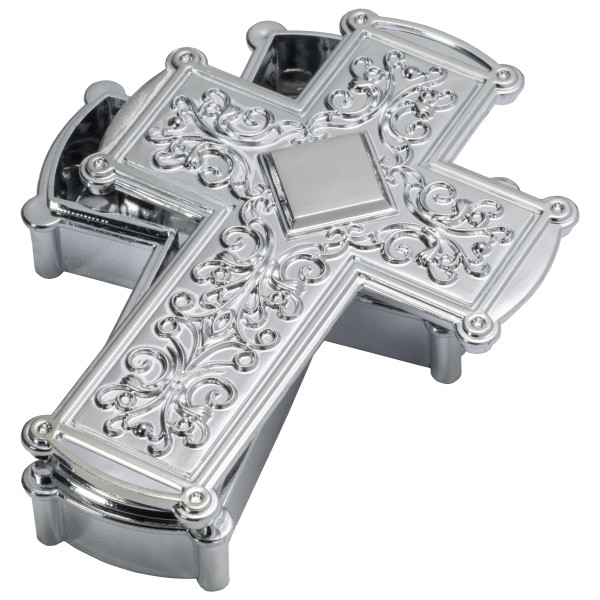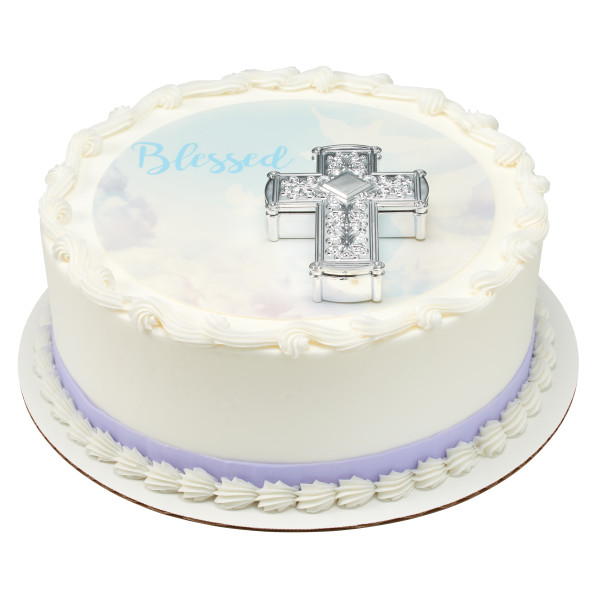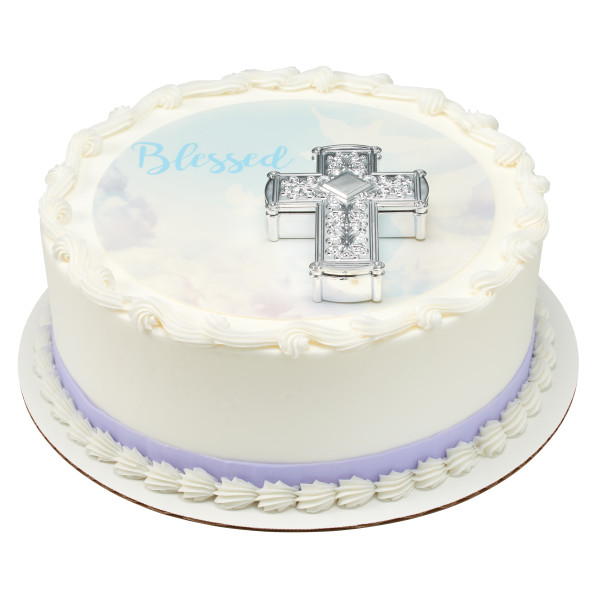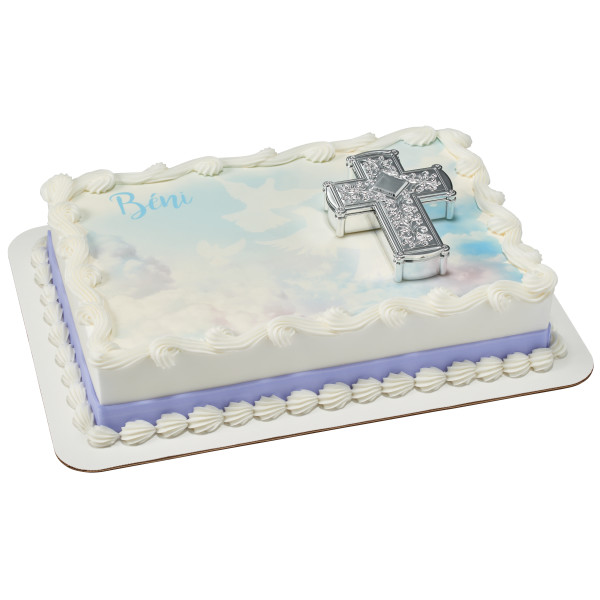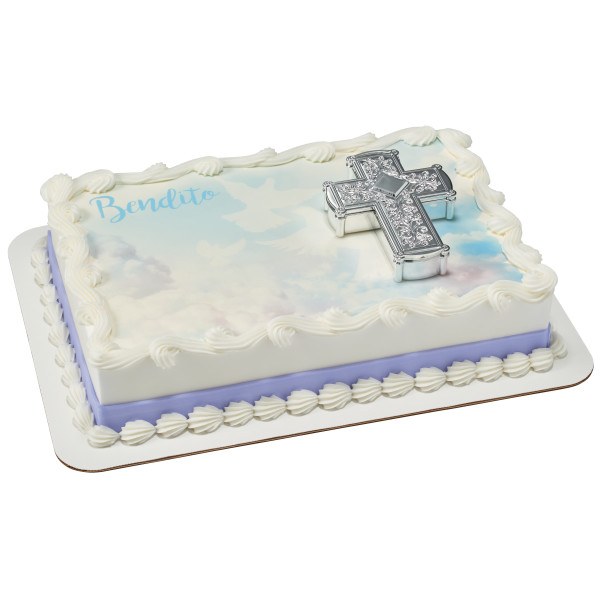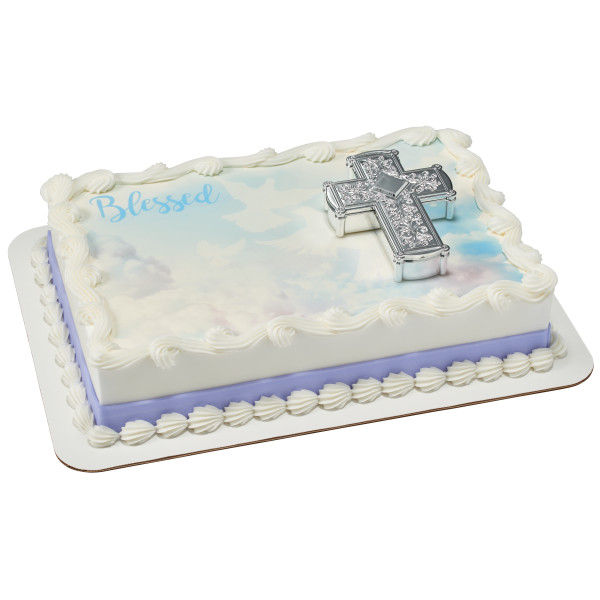 *Note: These support items are free of charge and ship automatically with your first order.
Product Details
Classic silver cross with scrolling details on the top is also a keepsake box for cherished memories of the occasion. Ideal for use with confirmation, baptism, or other religious cake designs. 1-Piece set.
WARNING: CHOKING HAZARD. Small parts. Not for children under 3 years.
Related Items
[#<Spree::Product id: 3829, name: "Ornate Cross", description: "Celebrate Easter and communion with this ornate, e...", available_on: "2019-09-14 05:00:00", deleted_at: nil, slug: "ornate-cross-white-gum-paste-ornament", meta_description: nil, meta_keywords: "gum paste; Easter; communion; cross;", tax_category_id: nil, shipping_category_id: 1, created_at: "2017-09-08 06:39:39", updated_at: "2019-09-14 07:08:53", promotionable: true, meta_title: nil, discontinue_on: "2021-07-31 05:00:00", product_group_id: nil, photocake_frame_item: false, choking_hazard: false, trademark_short_description: nil, name_2: "Gum Paste Layon", new_prenew: nil, avail_to_purchase: true, coming_soon: false, search_sequence_number: 6010, coming_soon_date: nil, product_type: "item", display_dimensions: ["Ornate White Cross: 3.85 x 2.85 x 0.55 inches"], custom: false, generic: true, no_shipping: false, image_credit_item: false, limited_quantities: false, tax_cloud_tic: "40030">, #<Spree::Product id: 8034, name: "Bible", description: "Celebrate Easter and communion with this elegant w...", available_on: "2019-09-14 05:00:00", deleted_at: nil, slug: "bible-gum-paste-decoration", meta_description: nil, meta_keywords: "gum paste; Easter; communion; bible;", tax_category_id: nil, shipping_category_id: 1, created_at: "2017-09-08 06:53:25", updated_at: "2019-09-14 20:06:04", promotionable: true, meta_title: nil, discontinue_on: "2021-07-31 05:00:00", product_group_id: nil, photocake_frame_item: false, choking_hazard: false, trademark_short_description: nil, name_2: "Gum Paste Layon", new_prenew: nil, avail_to_purchase: true, coming_soon: false, search_sequence_number: 5995, coming_soon_date: nil, product_type: "item", display_dimensions: ["White Bible: 3.8 x 2.75 x 1.8 inches"], custom: false, generic: true, no_shipping: false, image_credit_item: false, limited_quantities: false, tax_cloud_tic: "40030">, #<Spree::Product id: 8318, name: "Spiritual Icons", description: "The beautiful assortment of golden religious symbo...", available_on: "2019-09-14 05:00:00", deleted_at: nil, slug: "spiritual-icons", meta_description: nil, meta_keywords: "religious; dove; cross; DecoPics; pics;", tax_category_id: nil, shipping_category_id: 1, created_at: "2017-10-12 07:18:00", updated_at: "2019-09-14 06:57:14", promotionable: true, meta_title: nil, discontinue_on: "2022-07-31 05:00:00", product_group_id: nil, photocake_frame_item: false, choking_hazard: false, trademark_short_description: nil, name_2: "DecoPics®", new_prenew: nil, avail_to_purchase: true, coming_soon: false, search_sequence_number: 620, coming_soon_date: nil, product_type: "item", display_dimensions: ["CROSS PIC (48): 1.25 x 1.2 x 0.1 inches", "FISH CROSS PIC (48): 1.25 x 1.65 x 0.1 inches", "DOVE PIC (48): 1.35 x 1.8 x 0.1 inches"], custom: false, generic: true, no_shipping: false, image_credit_item: false, limited_quantities: false, tax_cloud_tic: "00000">, #<Spree::Product id: 8344, name: "Gold Cross Assortment", description: "The beautiful assortment of golden crosses are gre...", available_on: "2019-09-14 05:00:00", deleted_at: nil, slug: "gold-cross-assortment", meta_description: nil, meta_keywords: "religious; cross; DecoPics; pics;", tax_category_id: nil, shipping_category_id: 1, created_at: "2017-10-18 06:47:28", updated_at: "2019-09-14 06:50:07", promotionable: true, meta_title: nil, discontinue_on: "2022-07-31 05:00:00", product_group_id: nil, photocake_frame_item: false, choking_hazard: false, trademark_short_description: nil, name_2: "DecoPics®", new_prenew: nil, avail_to_purchase: true, coming_soon: false, search_sequence_number: 551, coming_soon_date: nil, product_type: "item", display_dimensions: ["GOLD CROSS PIC (VARIOUS DESIGNS): 3 x 1.4 x 0.1 inches"], custom: false, generic: true, no_shipping: false, image_credit_item: false, limited_quantities: false, tax_cloud_tic: "00000">]