Star Wars™ Darth Vader™
Cake Decorating Instruction Card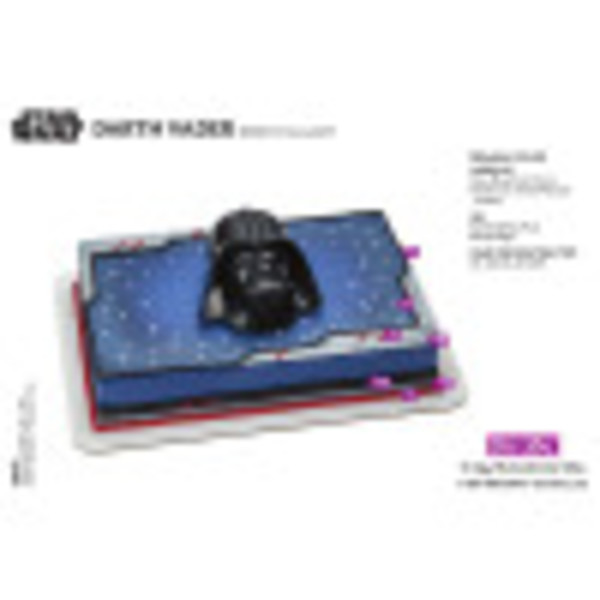 *Note: These support items are free of charge and ship automatically with your first order.
Product Details
Follow the instructions to WOW your customers! This decorating instruction card provides instructions to create this beautiful Star Wars™ Darth Vader™ DecoSet cake design.
©2016 Lucasfilm Ltd. & TM. All Rights Reserved. Used Under Authorization. FOR SALE IN THE U.S./CANADA ONLY.
Related Items
[#<Spree::Product id: 2023, name: "Star Wars™ Darth Vader™ DecoSet®", description: "Show your customers the excitement of this cake de...", available_on: "2019-10-21 05:00:00", deleted_at: nil, slug: "star-wars-darth-vader-decoset-1-4-sheet-tmoc-page", meta_description: nil, meta_keywords: "TMOC, Book, display, promote, Iced, iced only", tax_category_id: nil, shipping_category_id: 1, created_at: "2017-09-08 06:34:06", updated_at: "2019-10-21 06:59:51", promotionable: true, meta_title: nil, discontinue_on: "2020-12-31 06:00:00", product_group_id: nil, photocake_frame_item: false, choking_hazard: false, trademark_short_description: "©2016 Lucasfilm Ltd. & TM. All Rights Reserved. Us...", name_2: "The Magic of Cakes® Page", new_prenew: nil, avail_to_purchase: true, coming_soon: false, search_sequence_number: 4394, coming_soon_date: nil, product_type: "tmoc", display_dimensions: [], custom: false, generic: false, no_shipping: false, image_credit_item: false, limited_quantities: false, tax_cloud_tic: "00000">, #<Spree::Product id: 3585, name: "Star Wars™ Darth Vader™", description: "The force is strong with this DecoSet. Bring part ...", available_on: "2019-10-21 05:00:00", deleted_at: nil, slug: "star-wars-darth-vader-decoset", meta_description: nil, meta_keywords: "DARTH VADER™; Galaxy; star wars;", tax_category_id: nil, shipping_category_id: 1, created_at: "2017-09-08 06:38:50", updated_at: "2019-10-21 22:13:59", promotionable: true, meta_title: nil, discontinue_on: "2020-12-31 06:00:00", product_group_id: 41, photocake_frame_item: false, choking_hazard: true, trademark_short_description: "©2016 Lucasfilm Ltd. & TM. All Rights Reserved. Us...", name_2: "DecoSet®", new_prenew: nil, avail_to_purchase: true, coming_soon: false, search_sequence_number: 440, coming_soon_date: nil, product_type: "item", display_dimensions: ["Darth Vader Head: 4.6 x 4.0 x 2.2 inches"], custom: false, generic: false, no_shipping: false, image_credit_item: false, limited_quantities: false, tax_cloud_tic: "00000">]