Crown and Scepter
DecoSet®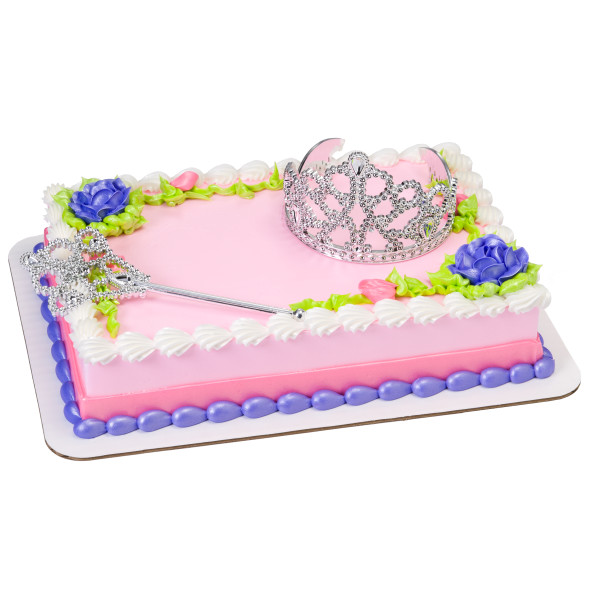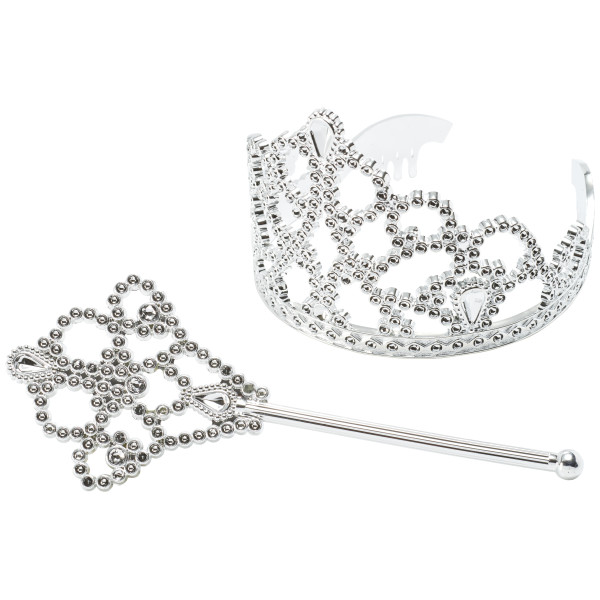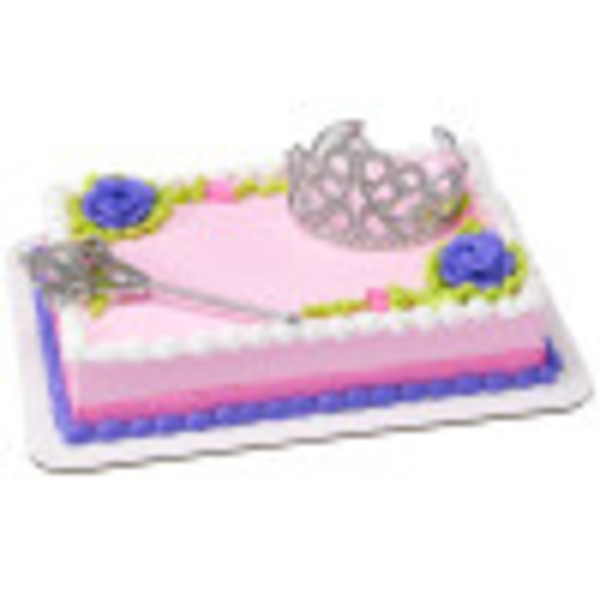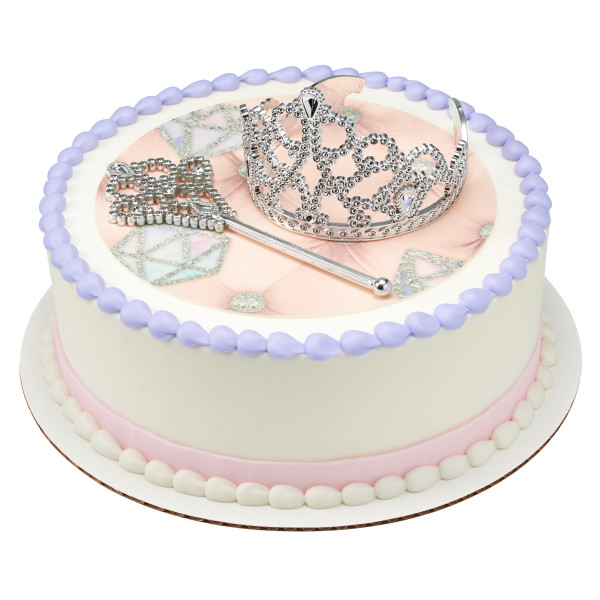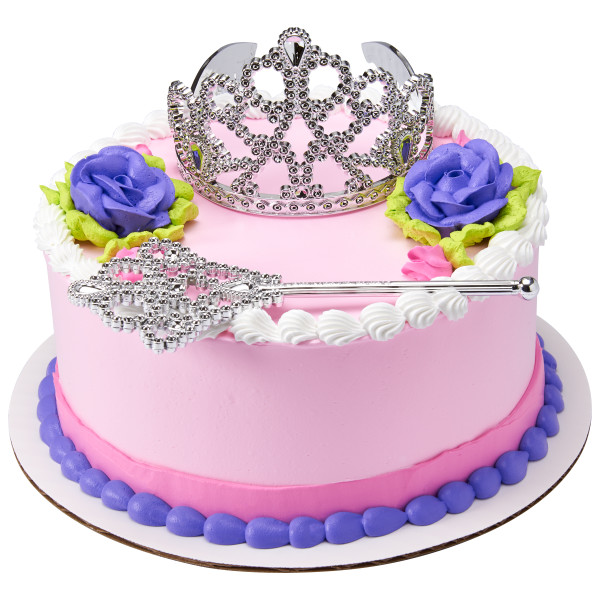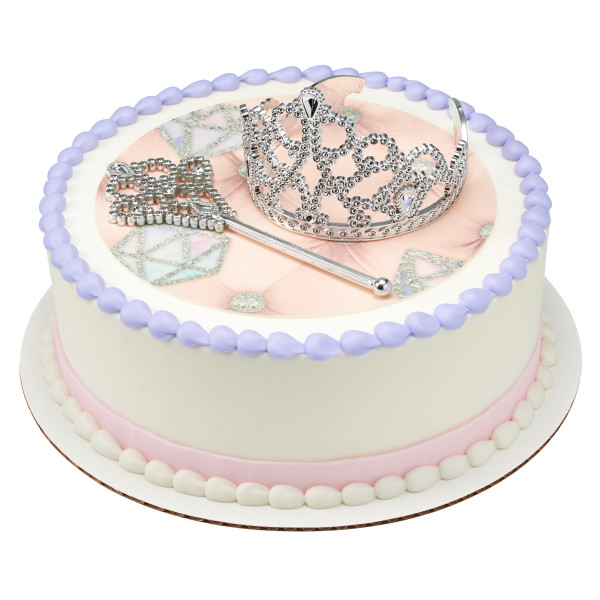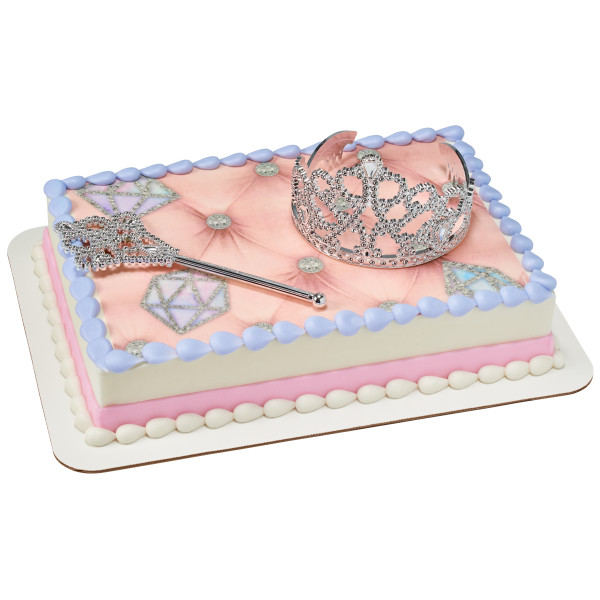 *Note: These support items are free of charge and ship automatically with your first order.
Product Details
Make princess dreams come true! This DecoSet features a sparkly tiara and scepter that is great for after party play. 2-Piece set.
Dimensions:
Crown: 4.95 x 4.5 x 3.35 inches
Scepter: 7.15 x 2.65 x 0.5 inches
WARNING: CHOKING HAZARD. Small parts. Not for children under 3 years.
Related Items
[#<Spree::Product id: 4287, name: "Queen Crowns", description: "Make a little girl a queen for a day with these fu...", available_on: "2019-10-22 05:00:00", deleted_at: nil, slug: "queen-crowns-cupcake-rings", meta_description: nil, meta_keywords: "queen; princess; crown; tiara; rings;", tax_category_id: nil, shipping_category_id: 1, created_at: "2017-09-08 06:41:10", updated_at: "2019-10-23 00:24:32", promotionable: true, meta_title: nil, discontinue_on: "2021-07-31 05:00:00", product_group_id: nil, photocake_frame_item: false, choking_hazard: false, trademark_short_description: nil, name_2: "Cupcake Rings", new_prenew: nil, avail_to_purchase: true, coming_soon: false, search_sequence_number: 532, coming_soon_date: nil, product_type: "item", display_dimensions: ["Crown Ring: 1.6 x 1.3 x 1.25 inches"], custom: false, generic: true, no_shipping: false, image_credit_item: false, limited_quantities: false, tax_cloud_tic: "00000">, #<Spree::Product id: 4763, name: "You Are", description: "You are…so many wonderful things. Let your custome...", available_on: "2019-10-22 05:00:00", deleted_at: nil, slug: "you-are-photocake-image-strips", meta_description: nil, meta_keywords: "Affirmation; kind words; celebration;", tax_category_id: nil, shipping_category_id: 1, created_at: "2017-09-08 06:42:49", updated_at: "2019-10-22 07:12:12", promotionable: true, meta_title: nil, discontinue_on: "2020-12-31 06:00:00", product_group_id: nil, photocake_frame_item: true, choking_hazard: false, trademark_short_description: nil, name_2: "PhotoCake® Edible Image® Strips", new_prenew: nil, avail_to_purchase: false, coming_soon: false, search_sequence_number: 6610, coming_soon_date: nil, product_type: "item", display_dimensions: [], custom: false, generic: true, no_shipping: true, image_credit_item: false, limited_quantities: false, tax_cloud_tic: "40030">, #<Spree::Product id: 10550, name: "Unicorn Creations", description: "Unleash your creativity with this Unicorn Creation...", available_on: "2019-10-22 05:00:00", deleted_at: nil, slug: "unicorn-creations", meta_description: nil, meta_keywords: "[\"H-E-B 2019 Graduation\", \"Unicorn\", \"Fantasy\"]", tax_category_id: nil, shipping_category_id: 1, created_at: "2017-11-06 15:37:25", updated_at: "2019-10-23 01:36:07", promotionable: true, meta_title: nil, discontinue_on: "2021-07-31 05:00:00", product_group_id: 116, photocake_frame_item: false, choking_hazard: true, trademark_short_description: nil, name_2: "DecoSet®", new_prenew: nil, avail_to_purchase: true, coming_soon: false, search_sequence_number: 473, coming_soon_date: nil, product_type: "item", display_dimensions: ["Horn: 6.5 x 0.95 x 0.95 inches", "Eyelashes: 1.65 x 0.8 x 1.25 inches", "Ears: 2.75 x 1.75 x 0.65 inches"], custom: false, generic: true, no_shipping: false, image_credit_item: false, limited_quantities: false, tax_cloud_tic: "00000">, #<Spree::Product id: 10735, name: "Mystical Mermaid", description: "This Mystical Mermaid DecoSet will sure to be the ...", available_on: "2019-10-22 05:00:00", deleted_at: nil, slug: "mystical-mermaid", meta_description: nil, meta_keywords: "Mermaid; fantasy;", tax_category_id: nil, shipping_category_id: 1, created_at: "2017-12-14 07:45:07", updated_at: "2019-10-23 01:36:08", promotionable: true, meta_title: nil, discontinue_on: "2021-07-31 05:00:00", product_group_id: nil, photocake_frame_item: false, choking_hazard: true, trademark_short_description: nil, name_2: "DecoSet®", new_prenew: nil, avail_to_purchase: true, coming_soon: false, search_sequence_number: 273, coming_soon_date: nil, product_type: "item", display_dimensions: ["Mystical Mermaid: 5.5 x 3.0 x 1.05 inches", "Purple Seaweed: 2.4 x 1.85 x 0.5 inches", "Pink Crown: 2.6 x 1.8 x 0.45 inches", "Seahorse: 3.3 x 1.1 x 0.1 inches"], custom: false, generic: true, no_shipping: false, image_credit_item: false, limited_quantities: false, tax_cloud_tic: "00000">]