Unicorn Creations
DecoSet®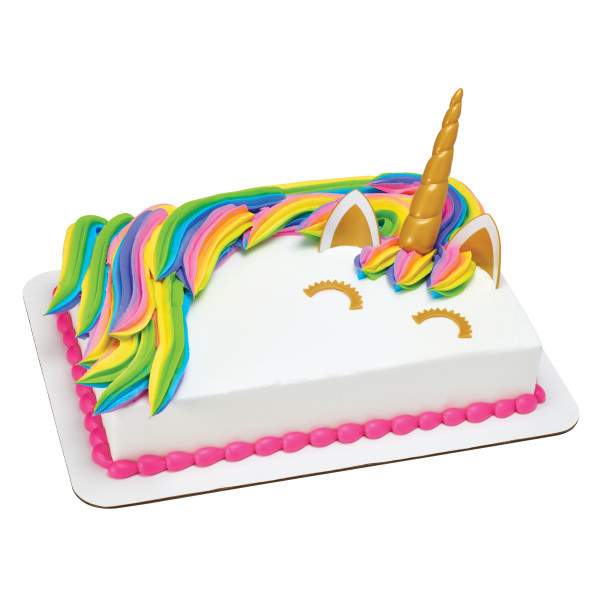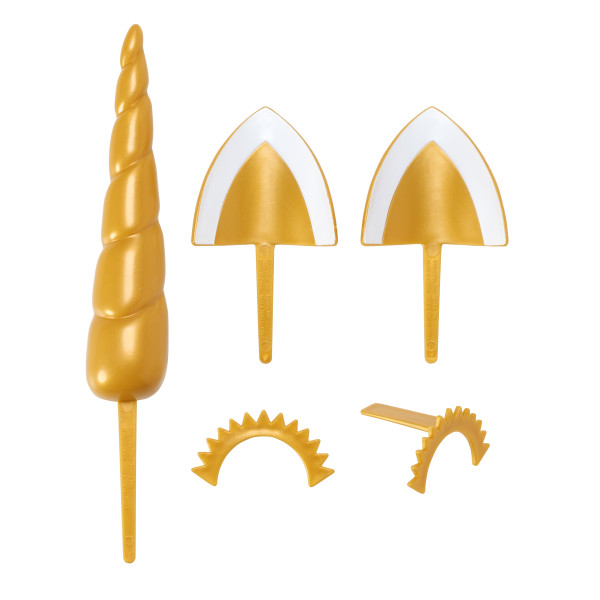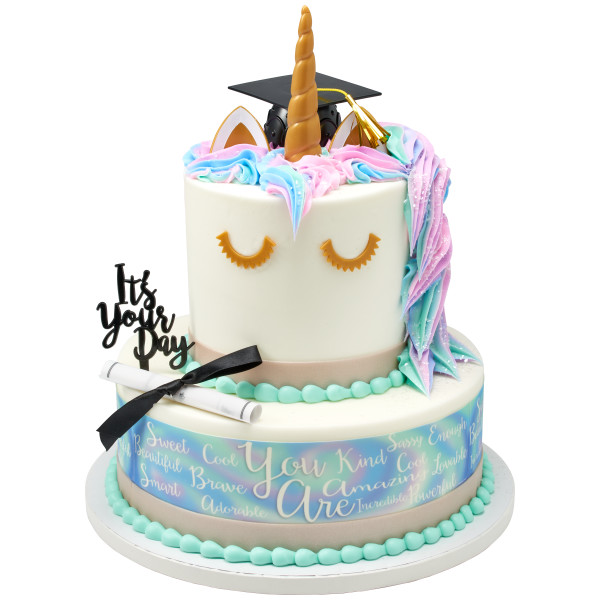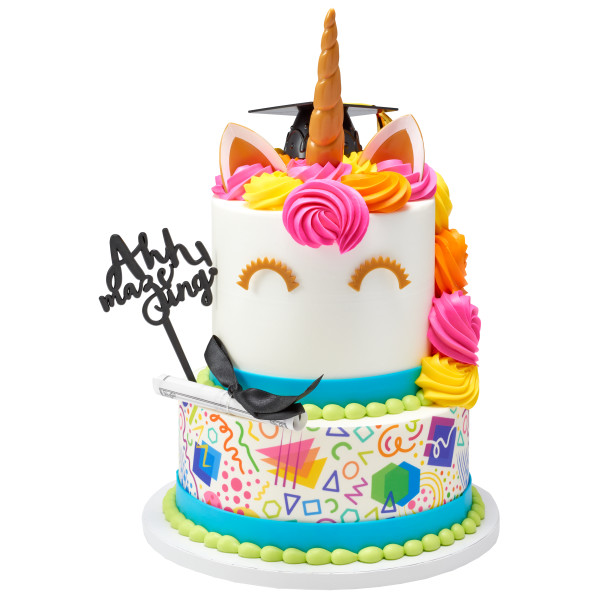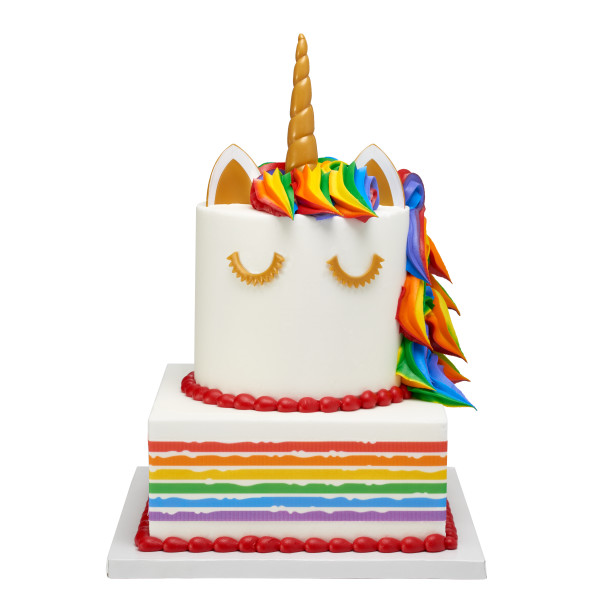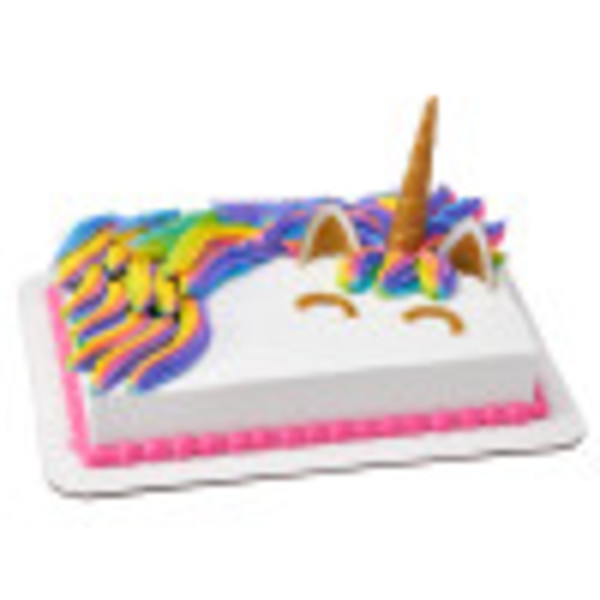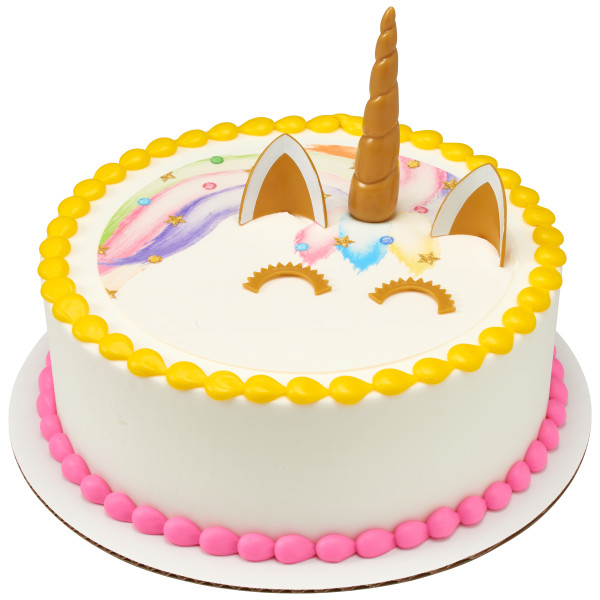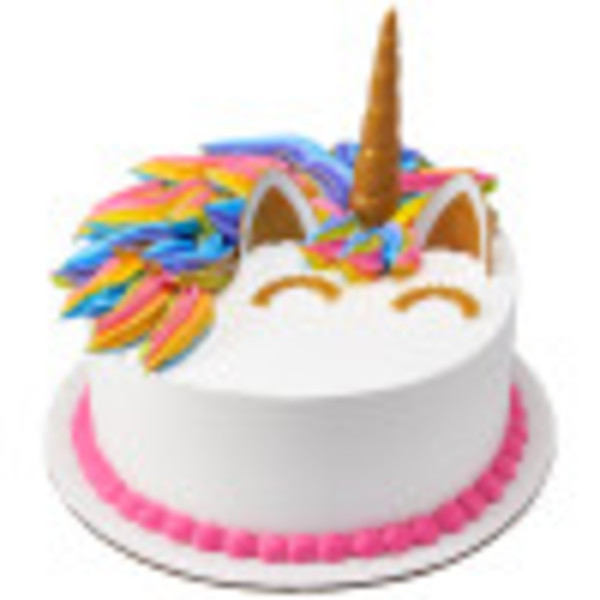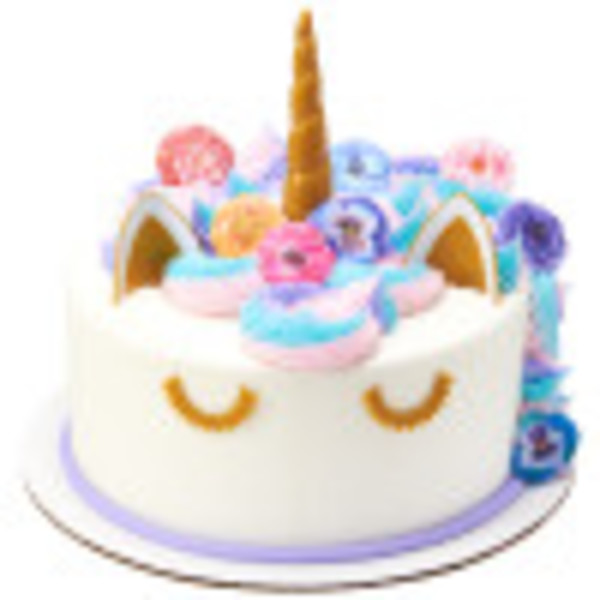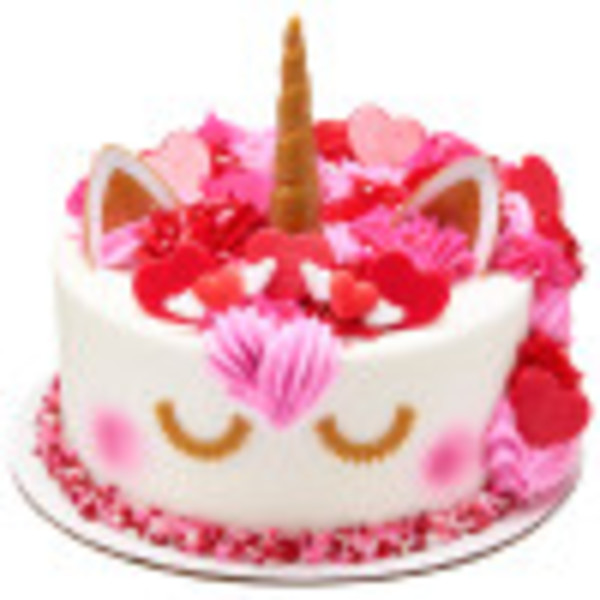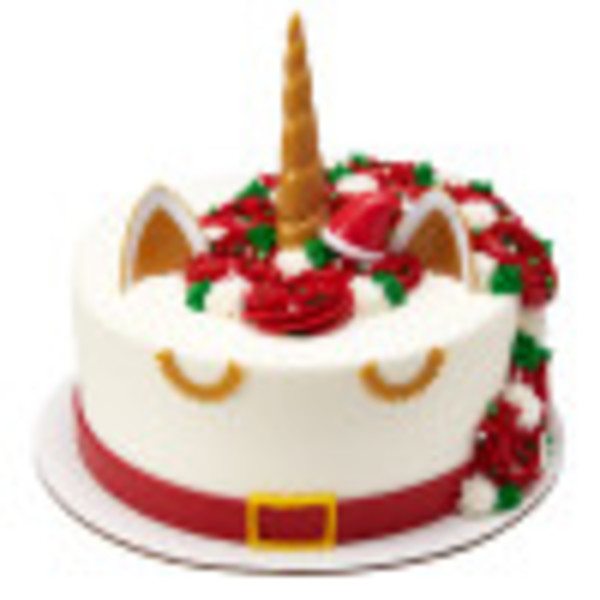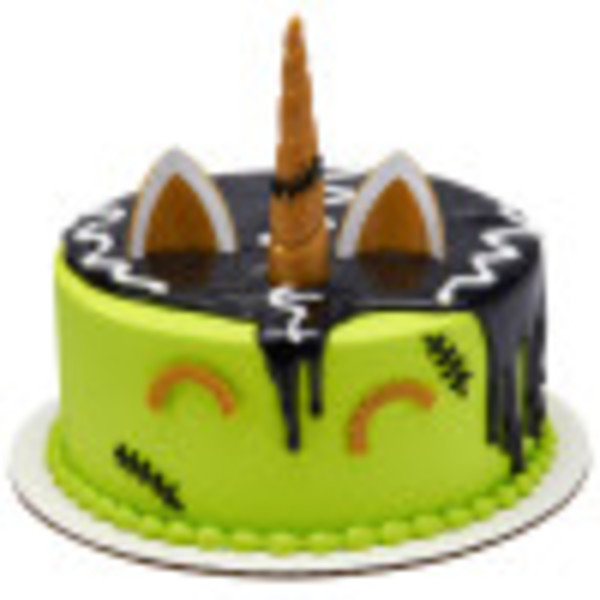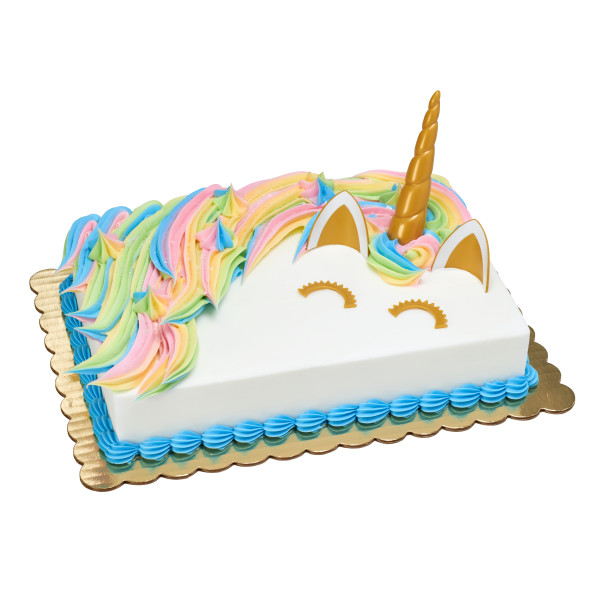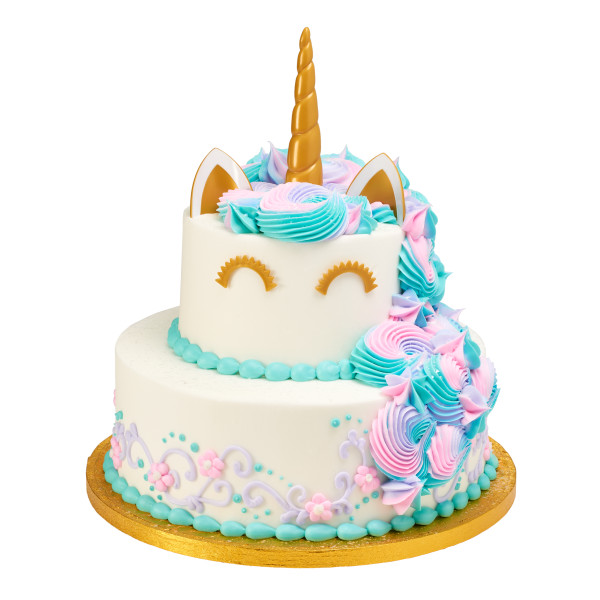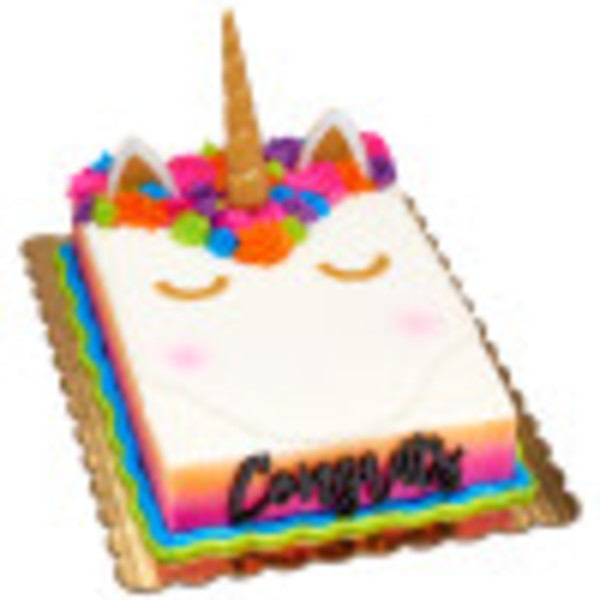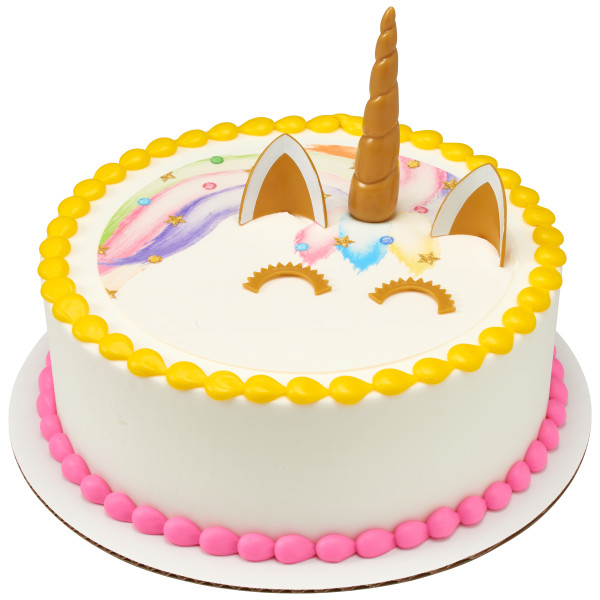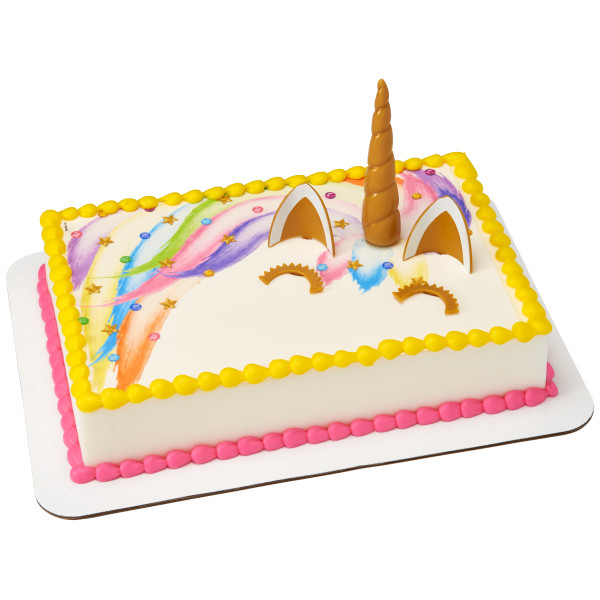 *Note: These support items are free of charge and ship automatically with your first order.
Product Details
Unleash your creativity with this Unicorn Creations DecoSet! Make cakes of all shapes and sizes. Perfect for every celebration. Includes horn, eyelashes, and ears that make your Unicorn Creation all yours. 5-Piece set.
Dimensions:
Horn: 6.5 x 0.95 x 0.95 inches
Eyelashes: 1.65 x 0.8 x 1.25 inches
Ears: 2.75 x 1.75 x 0.65 inches
WARNING: CHOKING HAZARD. Small parts. Not for children under 3 years.
Videos
Spotlight: The Unicorn Trend
Create a colorful unicorn mane in no time with this simple trick straight from our cake decorators!
Related Items
[#<Spree::Product id: 6054, name: "Unicorn", description: "These unicorn rings are colorful and iridescent. A...", available_on: "2019-10-22 05:00:00", deleted_at: nil, slug: "unicorn-cupcake-rings", meta_description: nil, meta_keywords: "unicorn; rings;", tax_category_id: nil, shipping_category_id: 1, created_at: "2017-09-08 06:47:07", updated_at: "2019-10-23 01:59:18", promotionable: true, meta_title: nil, discontinue_on: "2021-07-31 05:00:00", product_group_id: nil, photocake_frame_item: false, choking_hazard: false, trademark_short_description: nil, name_2: "Cupcake Rings", new_prenew: nil, avail_to_purchase: true, coming_soon: false, search_sequence_number: 3165, coming_soon_date: nil, product_type: "item", display_dimensions: ["Unicorn: 1.4 x 1.2 x 1.4 inches"], custom: false, generic: true, no_shipping: false, image_credit_item: false, limited_quantities: false, tax_cloud_tic: "00000">, #<Spree::Product id: 8178, name: "Crown & Scepter", description: "Make princess dreams come true! This DecoSet featu...", available_on: "2019-10-22 05:00:00", deleted_at: nil, slug: "crown-and-scepter-decoset-c3d0e54b-3b67-49e2-abc1-...", meta_description: nil, meta_keywords: "Princess; tiara; scepter;", tax_category_id: nil, shipping_category_id: 1, created_at: "2017-09-08 06:53:53", updated_at: "2019-10-23 02:42:51", promotionable: true, meta_title: nil, discontinue_on: "2021-07-31 05:00:00", product_group_id: 62, photocake_frame_item: false, choking_hazard: true, trademark_short_description: nil, name_2: "DecoSet®", new_prenew: nil, avail_to_purchase: true, coming_soon: false, search_sequence_number: 177, coming_soon_date: nil, product_type: "item", display_dimensions: ["Crown: 4.95 x 4.5 x 3.35 inches", "Scepter: 7.15 x 2.65 x 0.5 inches"], custom: false, generic: true, no_shipping: false, image_credit_item: false, limited_quantities: false, tax_cloud_tic: "00000">, #<Spree::Product id: 10735, name: "Mystical Mermaid", description: "This Mystical Mermaid DecoSet will sure to be the ...", available_on: "2019-10-22 05:00:00", deleted_at: nil, slug: "mystical-mermaid", meta_description: nil, meta_keywords: "Mermaid; fantasy;", tax_category_id: nil, shipping_category_id: 1, created_at: "2017-12-14 07:45:07", updated_at: "2019-10-23 02:58:13", promotionable: true, meta_title: nil, discontinue_on: "2021-07-31 05:00:00", product_group_id: nil, photocake_frame_item: false, choking_hazard: true, trademark_short_description: nil, name_2: "DecoSet®", new_prenew: nil, avail_to_purchase: true, coming_soon: false, search_sequence_number: 273, coming_soon_date: nil, product_type: "item", display_dimensions: ["Mystical Mermaid: 5.5 x 3.0 x 1.05 inches", "Purple Seaweed: 2.4 x 1.85 x 0.5 inches", "Pink Crown: 2.6 x 1.8 x 0.45 inches", "Seahorse: 3.3 x 1.1 x 0.1 inches"], custom: false, generic: true, no_shipping: false, image_credit_item: false, limited_quantities: false, tax_cloud_tic: "00000">, #<Spree::Product id: 11004, name: "Rainbow Unicorn Assortment", description: "Complete a fantasy look with these rainbow and uni...", available_on: "2019-10-22 05:00:00", deleted_at: nil, slug: "rainbow-unicorn", meta_description: nil, meta_keywords: "unicorn; rainbow; star; rings;", tax_category_id: nil, shipping_category_id: 1, created_at: "2018-02-13 07:50:02", updated_at: "2019-10-23 01:10:04", promotionable: true, meta_title: nil, discontinue_on: "2021-01-31 06:00:00", product_group_id: nil, photocake_frame_item: false, choking_hazard: false, trademark_short_description: nil, name_2: "Cupcake Rings", new_prenew: nil, avail_to_purchase: true, coming_soon: false, search_sequence_number: 754, coming_soon_date: nil, product_type: "item", display_dimensions: ["Ring-Rainbow: 1.25 x 1.55 x 1.05 inches", "Ring-Unicorn : 1.5 x 1.4 x 0.95 inches", "Ring-Star: 1.45 x 1.35 x 0.8 inches"], custom: false, generic: true, no_shipping: false, image_credit_item: false, limited_quantities: false, tax_cloud_tic: "00000">]